Ontario's Premier
River Guide Service
Your Trout and Steelhead Specialists.
A Perfect Drift Guide Company
Take a peek inside our World
Ontario's Best River Guide Service
We have been Ontarios Best River Guide service for the last 10 years with over 250 days booked per year. While other guide services only offer one method of fishing, Our guides offer guide trips with fly rods, centerpin rods, and spinning rods.
It's Spring Steelhead And Trout Time!
The steelhead start to enter some rivers in late February and the runs get bigger and better into March and April. Last year we had double-digit days of hard fighting bright silver steelhead starting in early March.

Our Dates Are limited so DON'T MISS OUT!
Learn all about Ontario steelhead fishing on my page Fishing For Ontario Steelhead: Tips and Advice From A Guide
Trout fishing starts on the 4th Saturday in April and we recommend booking your trout trip from May 6th to June 15th. We are always fully booked during this time so let us know what works for you and we will book you in. Guide Trips and Rates
Being the #1 guide service means we often book up fast. . .  See you on the water.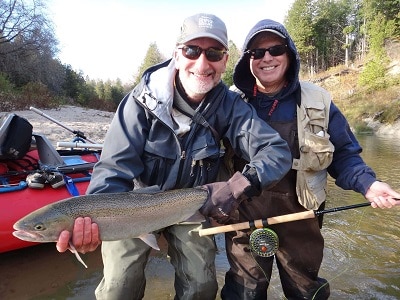 Thousands of Images
After guiding for over 20 years I now have over 20,000 photos. I took the best ones and added them to the photo album so don't forget to check them out.
2022 Covid-19 Update - YES, we are guiding in 2021
2020 and 2021 were a very busy seasons and were a great success with a lot of good trout and steelhead for our clients. 2022 should be even better.

 The number of Covid-19 cases seems to drop in late spring and throughout the summer and with the vaccinations rolling out we expect that 2022 should be just as good or better, so do not hesitate to contact us for your next trip.
– We hand sanitize before during and after our trips.
– The equipment is cleaned and sanitized for your safety.
– We are limiting all guide trips to 1 or 2 anglers at a time and per day. No 3 anglers except in classes if permitted.
– We are canceling any trips with clients that show symptoms of Covid-19.
– Mask may be worn but are not mandatory outside.
– We may be able to accommodate special requests.
Still Going Strong As Ontario's Top River Guide Service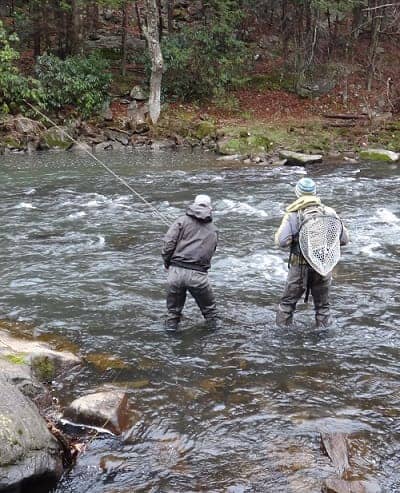 We continue to be Ontario's top river guide service because our guides are well trained and our customer service is exceptional.
Our guides are highly skilled in fly fishing, float fishing and spin fishing and we guide the best trout and steelhead rivers in Southern Ontario. What more can you ask for?
Check out or Guide Trips and Guide Rates page
Check out our Lesson and Classes page.
You won't find a better and more well rounded river guide service in Ontario.
Fly fish, Float Fish, and Spin Fish with us
Most frequent questions and answers
We are based in Orangeville Ontario which is known as the "Hills of the Headwaters" and is centrally located minutes from 4 of Southern Ontario's best trout and steelhead rivers. The Grand River, The Credit River, The Humber River, and the Nottawasaga Rivers are all located within a 15 minutes drive from us.
Our Co-Founder Graham Bristow has over 37 years of fly fishing and float fishing/centerpin fishing experience with over 20 years of guiding experience. Graham has fished with and trained with many great anglers and shares that knowledge with our top guides. Graham now trains the guides at A Perfect Drift Guide Company so you know that you are still getting his expertise and knowledge through your guide.
We offer our beginner and experienced clients professional, friendly and educational guided river trips by drift boat or by foot to over 12 rivers and creeks. We specialize and teach the most modern and most effective methods that are not yet used by most Ontario anglers or other guide services.
Fly fishing, Centerpin fishing, Float Fishing or Spin fishing: what ever fishing style you prefer, we can provide you with a fun filled and educational guided river trip, lesson or a class. We can also provide nearly everything you need for your trip out at no extra charge. Click HERE to see what we can provide and what you should bring.
River Fishing Classes / Lessons: There are a lot of firsts for us and that includes our river fishing classes. No where else in Ontario can you take river fishing classes that cover beginner to advanced fly fishing tactics or get Centerpin/float fishing classes. Our classes are always on the river so you may even catch some fish while learning.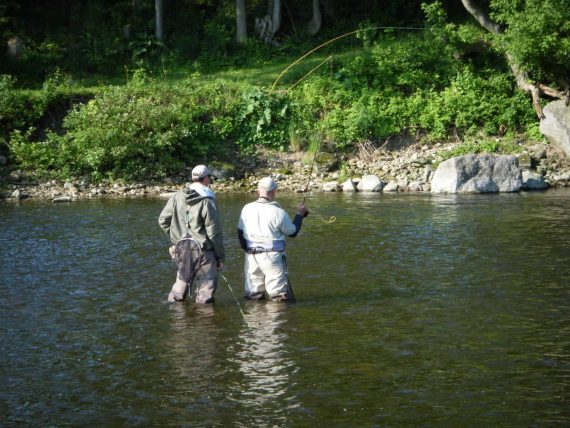 RIVER FISHING TIPS AND ADVICE FOR BEGINNERS
New to Fly Fishing and Centerpin fishing? That's Ok, you're not alone.

Brand new anglers ask me all the time about what rods and reels and other gear that I recommend, or they ask me about my best flies, best methods or even which rivers are good to fish. I simply got to the point where I couldn't keep up with the questions anymore, there just wasn't enough time in the day, so I build a website that cover's all of that. You should checkout our sister site where we tell you exactly what gear you need and tips and tricks to help you get started. Check out www.ontariotroutandsteelhead.com
We're the longest running full time river guide in Ontario!
We have received thousands of thank you emails and testimonials and we are highly recommended.
Graham is good natured, easy going and is a patient coach/guide. Match that with his diverse skills as an angler and willingness to share his knowledge of Ontario's waterways and you are guaranteed to learn something new. Thanks for a great day on the water Graham!
By far the best trout and steelhead guide in Ontario and the only guide I will go out with or recommend. If you want to learn float fishing or fly fishing on the best rivers in Ontario then these are the guys for you.
Graham is a fantastic coach and guide. Whether you want to learn the finer points of fly or float fishing. Incredible knowledge base, patient and a lot of fun. Graham got us into the the biggest fish ever. An absolute professional! We can't wait to go out again.
We're the first and only full time
float fishing / Centerpin guide Service in Ontario!
If you want to see what a day on the water is like with us, check out these TV shows we did with The New Fly Fisher TV show.
Watch as Host Colin and Graham explore the Credit River in search of it's big elusive brown trout.
FISHING FOR FALL STEELHEAD
Watch Graham as he teaches Bill Spicer how to catch steelhead on the Nottawasaga River.
FISHING FOR SPRING STEELHEAD
Bill Spicer and Mark Melnyk take a boat trip with Graham on the lower Credit river for some spring steelhead.
We're the only guide service to provide a unique summary
of the many things you'll learn on your trip with us!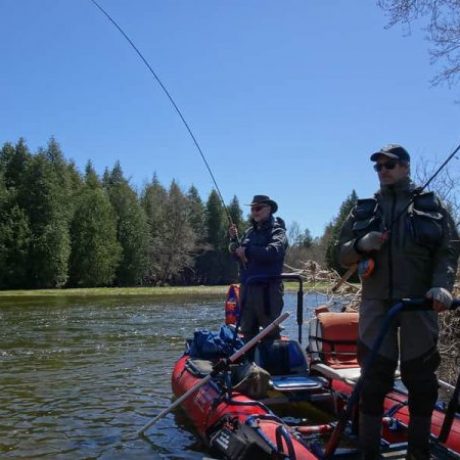 Check out our blog post on how to improve your nymphing skills and see many more articles like this. See All Posts Here . . . . 
CenterPin and Float Fishing
Check out our blog post on how to improved your float fishing skills and see many more articles like this. See All Posts Here . . . .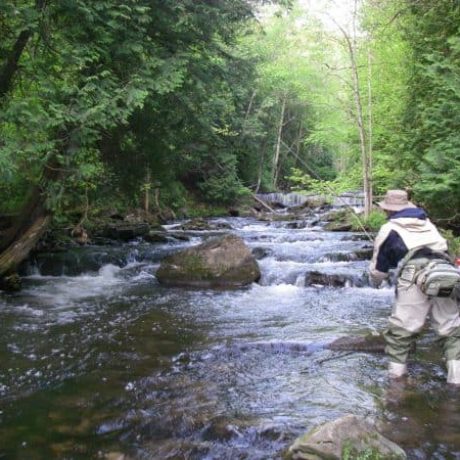 Not sure where to go fishing for river trout or steelhead.. Check this out and see many more articles like this. See All Blog Posts . . . .
Spring Steelhead And Trout
Add Your Heading Text Hereghhghhjjj