The Best Fly Fishing
Guides in Ontario
Finding The Best Guide For Your.
Ontario Fly Fishing Guides
Ontario has a few dozen good fly fishing guides that you can choose from.
Some Ontario fly fishing guides are veteran guides that have been in the business for many years and these are the guides that you want to seek out and hire.
You want to look for the full time guides that are on the water 5 to 7 days a week because these are the guide with the most experience in fishing but also in guiding and teaching.
Some Ontario fly fishing guides are part time guides or shop guides that have very little experience. You pay the same price for the shop's head guide as you do the shops part time guide so I recommend that you demand the shops top guide only and except nothing less.
In Ontario guides are not regulated, licensed, or required to have any training or experience at all.
Anyone can be a guide at any time they choose regardless of their skills or qualifications.
This page discusses tips for finding and hiring the best Ontario fly fishing guides and may give you some things to think about to help you get the best guide for you.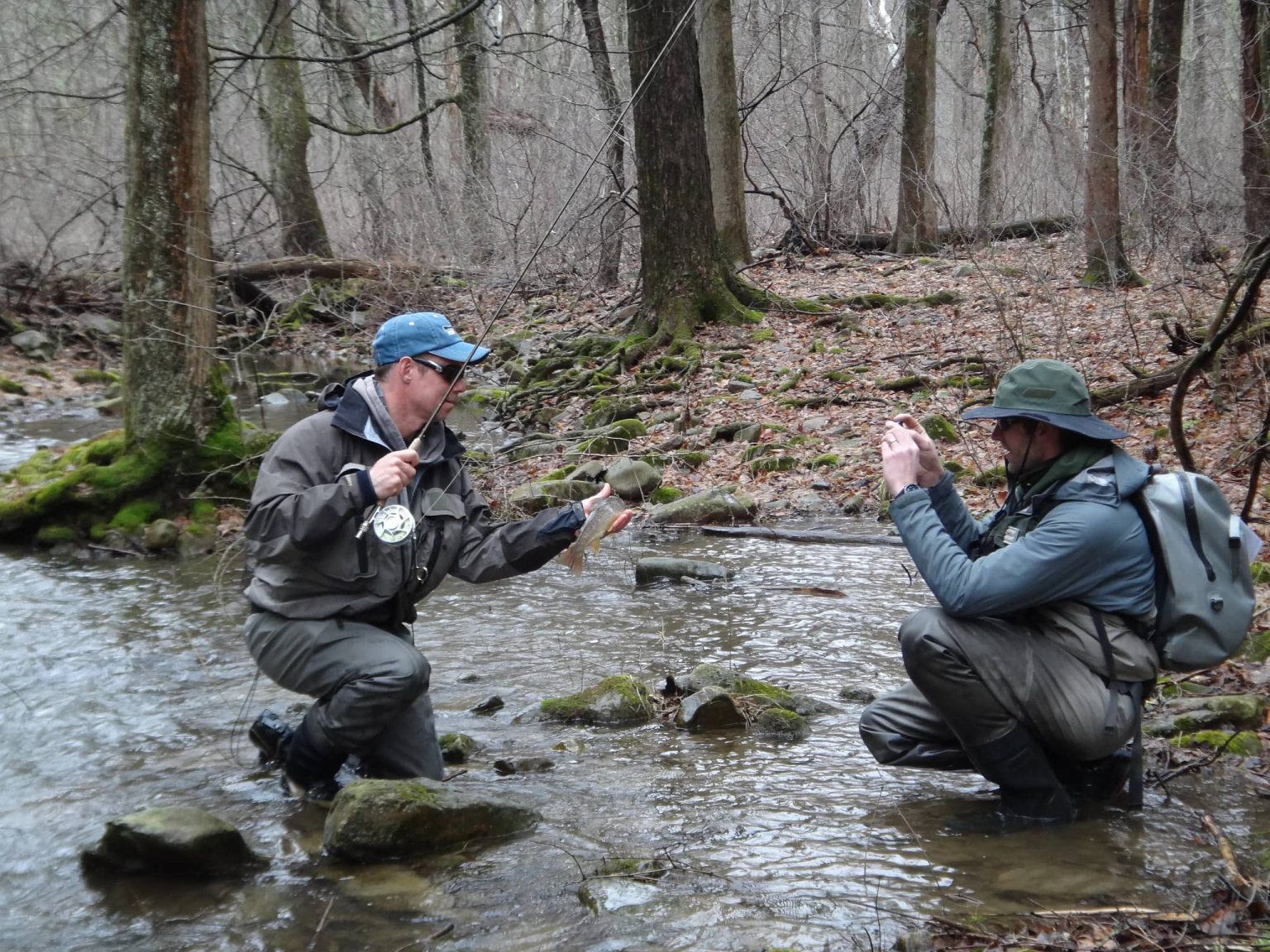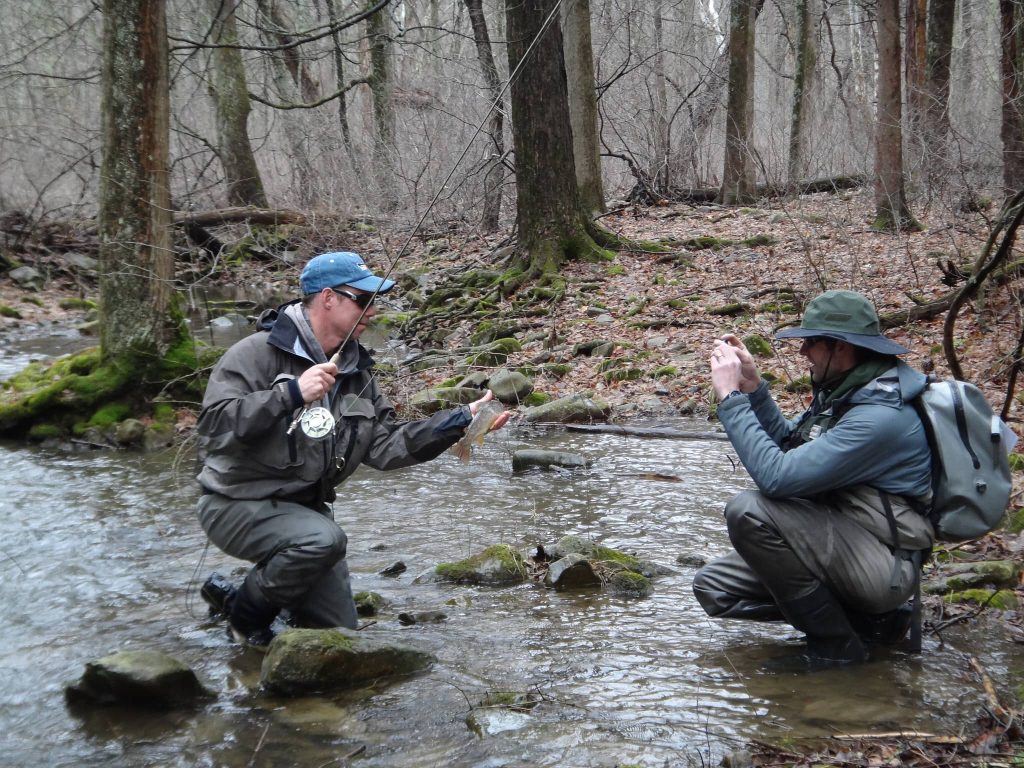 Fly Fishing Guide Trips
Our guides at A Perfect Drift Guide Company are skilled in all methods of river fly fishing and guide for many different river species so we can provide anglers with just about any trip they want. Although most of the guiding is done by myself I do work with a few select independent guides in the area.
These are fly fishing guides that I know and that have great reputations and that I can feel confident in recommending.
Dry Fly Fishing: There are many opportunities for anglers to enjoy dry fly fishing on our rivers from the end of April until the end of September. The best dry fly and most consistent dry fly fishing is in May and early June. After mid June the hatches become more sporadic and infrequent but there are times when it can be great.
Nymph Fishing Trips: our head guide Graham Bristow is the top nymphing guide in Ontario and guides 12 months of the year using modern nymphing methods like Euro nymphing and competition nymphing methods and traditional nymphing methods.
Streamer Fishing Trips: if you're looking for a fly fishing trip using streamers we have you covered. Some of our guides have over 30 years of streamer fishing experience and know which river fish best with streamers
Wet Fly Fishing Trips: We also do some tradition wet fly fishing for angler that want to just do that and we know what sections of river are best for that.
Spey Fly Fishing Trips: We offer anglers spey fishing for steelhead and salmon.
For fly fishing tips and Advice check out our Fly Fishing Page.
Here are some tips when considering which Ontario fly fishing guides to hire
Ontario has numerous fly fishing guides, but not all are equal!
I hire guides still: I look back to my very first days of fly fishing and Centerpin fishing and remember how hard it was and how confusing it all was and how few fish I caught back then. I kept thinking if I just had the right fly or the right bait I'd start catching more fish, I was very WRONG! If there were guides like me available back then and I knew what I know now I would have hired them in a second.
In fact I still hire guides and still train with equally skilled and more skilled anglers to continue improving. I search out the best anglers I can find and hire them to train and guide me just so I can see things from a different perspective and learn and new tip or two that I may not learn on my own. Therefore I know what to look for when researching a good fly fishing guide.
Good angler or good guide: I've always said, "just because someone is a great angler, doesn't mean they will be a great guide" and just because he has been fly fishing for 30 years doesn't mean that he has he skills that are required to be a good guide and instructor" A guide isn't just an angler, a really good guide is teach and coach first and if a want to be guide can't teach and coach anglers to fish they're far from the best in my opinion.
Fishing and guiding are two different things: Guiding is a whole other skill-set then fishing is and you don't need to hire a weekend warrior from one of the shops when there's a bunch of very experienced and skilled independent full time Ontario guides available. The sad thing is guys trust the shops when they are told they in-house guides but I've seen guys being guided by guides with little to know guide experience.
Friendly, Patient and Skilled: If a guide isn't friendly, patient or doesn't seam flexible enough to accommodate your needs find another guide. Tell your guide in advance of what your goals are for the day and make sure he can provide that for you. If not find another guide or lower your expectations if you're expecting to much.
Hire a Guide, Not an Angler: If the guide fishes with you then he's not guiding you, he's fishing, and believe it or not, some of the shops guides and some new guides do this. Yes, I've heard the horror stories about how the guide sets his clients up in one spot and then he wanders off up the river and fishes another spot and tell his clients to "just call me if you need me" leaving them to fend for themselves.  When inquiring with a guide ask your guide if he fishes when he guides and if he says yes, find another guide! You want your guide standing beside you the whole time, guiding you to those fish, coaching you as you go, watching your every move so he can find out what he should be teaching you and how he can improve your skills. He should not be fishing with you or leaving you and going fishing on his own. You're not paying your guide to fish, you're paying him to guide you and teach you and the last thing you want is to be on the river with him and be in an uncomfortable situation because he's catching all the fish and you aren't. It happens, but not with us, ever! Think about it, how good is a coach of a profession sports team if the coach jumps on the playing field to play instead of coaching his players.
References and Testimonials: Check for references on your guide, if he's good, people will be happy with him and will say so. Look for references, lots of references and testimonials. If you're considering hiring a guide make sure it's not just a few of the guys buddies saying how great he is. Guides with no references or testimonials probable aren't very good. If I search through old emails I could probably find over 1000 thank you emails and emails from clients telling us how much they enjoyed their trips and guys telling me how many more fish they catch after learning from me. Check our testimonials page for some of those emails.
Reviews: Do a little research and look you guide up. On the internet you can sometimes find reviews, testimonials, stories, articles or get feedback and advice from other anglers on local fishing forums and social media sites. If you do decide to go through a local shop for a guide, request only their head guide and ask them how much he guides, ask them if he has another job, ask them for testimonials, if you don't ask, you may not get the guide you want.
You could end up stuck with a guy the shop dragged in off the street just so they could fill your guide spot and get you on the water and make some extra money. Unfortunately this happens, the shops get so busy or all their other guides are booked up that day so they contact a back-up rookie guide that they've had in mind as a last resort and that's who you get stuck with. One of my clients told me a story about going out with a new guide who was a last resort kind of guy from the local shop near him. I was booked solid so he though why not try out the shops guide. Unfortunately, that guide marched up the river so fast to get to the next spot that my client ended up falling and hurting himself just trying to keep up. It was a bad experience and one he will never do again. That is when I started making recommendations for other guides that I knew were good.
Pictures Don't lie: If you go to any guides website and you see that 90 percent of the pictures are of him holding fish or it's all the same 3 or 4 guys in the pictures, aka his fishing buddies, then he isn't guiding much and he may not have the experience you want or need. I have over ten thousand pictures from guided trips. See a few of the best pictures on our photo album page.
You Get What You Pay For: When considering a guide you need to ask yourself first what do you want from your guide trip, do you want the best possible guide that will know how to work with you and how to find fish in all conditions. If yes, then you need to find out who is the best guide in your budget range. One guy might be charging $300 for a day and the other guy might be charging $400 for the day, who do you want? You have to consider that if one guide is charging a lot less there is a good chance they have a full time job doing something else and that guiding is just extra cash for them or that they are desperate for the business which means they're probably not that good or if they are new and not confident enough they could be cutting prices to attract more clients. If that's ok with you then go for it but any of these reasons could mean they're probably not on the water everyday like the more expensive and more experienced guide that guides full time and knows what's happening on the river.
Certifications and Insurance: In Ontario guides are not required to have a guide license, or to be insured, or to have any certifications or training. That means anyone can be a river guide and it's not uncommon to see guides pop up on social media and the internet claiming they are now guides. I would say that most of these new guides in Ontario are not insured and have no certifications or training at all. A good guide will not only have insurance, certifications and training, but they will promote it so that you know it.
Self Regulated Guide Industry: One thing I know for fact is Ontario doesn't need guides to be licensed to make sure clients are protected. With the amount of information on the internet now if a guy gets a bad guide it's his own fault for not doing the research or because he tried to save a few bucks by going out with a new or inexperienced guide. I've seen probably 100 guys start up a guide business in the last 17 years and 99 percent have disappeared. Good guides will keep getting busier and bad or new guides disappear quickly. With my above advice you now know what to look for when choosing the right guide for you so you can limit the risks of getting a bad guide.
My Experience: I admit that when I think back to the beginning of my guiding career that I was also very inexperienced and I made mistakes and I did stuff I probably should have done differently and do different now. I only know that now because I have guided probably a couple thousand anglers over the last 17 years and I have learned so much since my first days. Some years I would guide between 200 and 220 anglers and the amount of knowledge and experienced I have gained cant be beat or even understood by new or inexperienced guides. I do things that few other anglers do and that pays off with lots of repeat and happy clients. I think the only reason I survived and continued to grow as a guide was my patience with others and because even back then remember my first day of fly fishing and how bad I was and I knew that what I can do isn't what my clients can do so patience and understanding was important. Today I am likely the top independent fly fishing guide in Ontario and I'm still growing and still learning. Hope to see you on the water.
For rates and packages go to our River Guide Page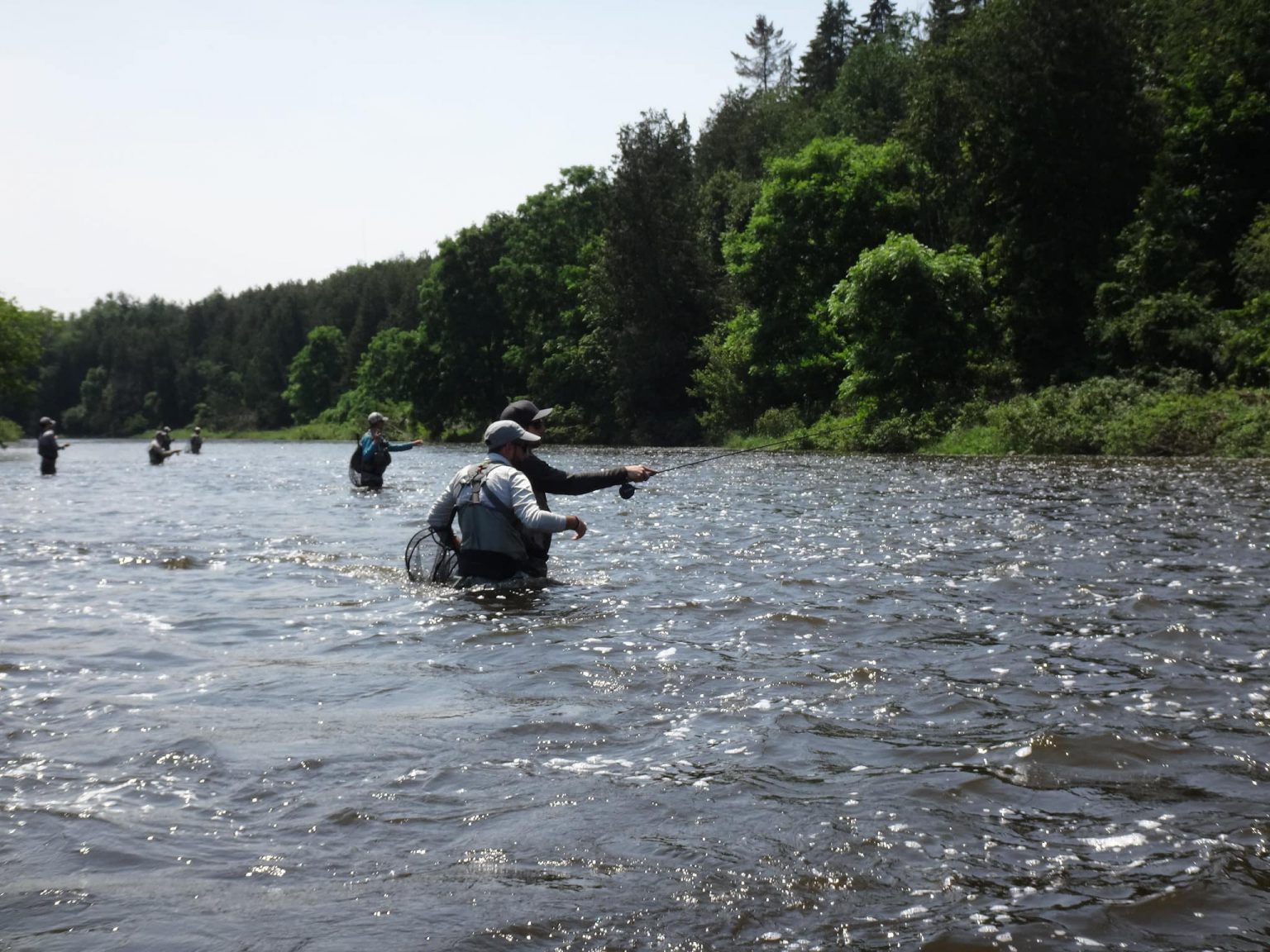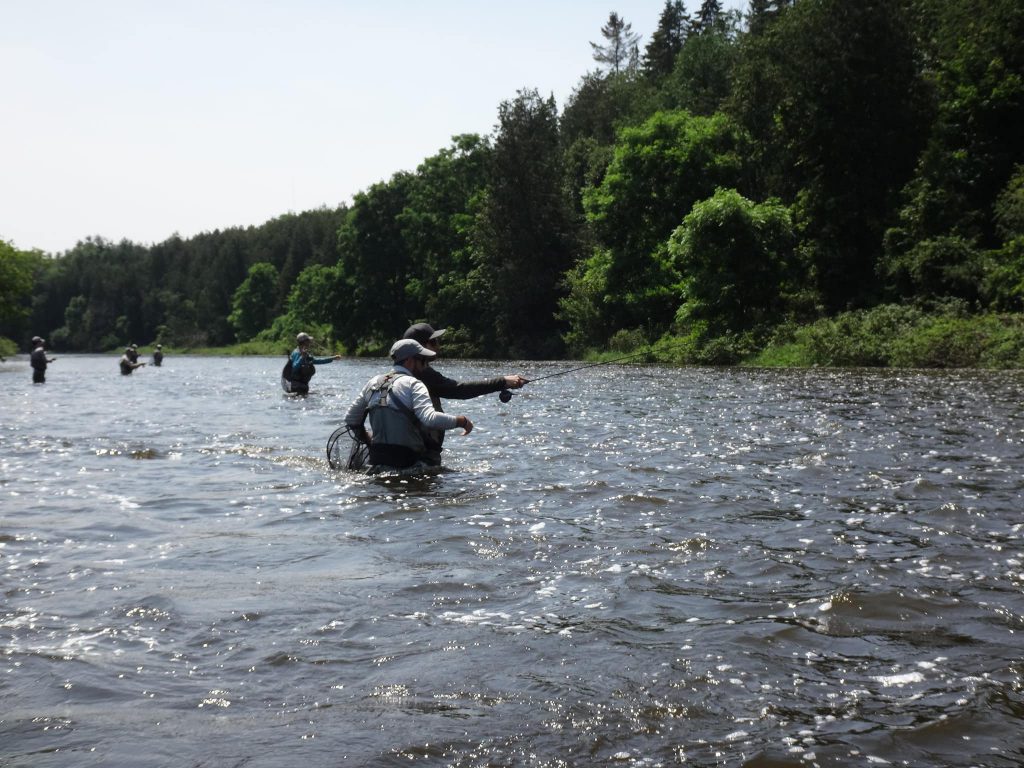 BONUS TIP OF THE DAY
Fishing With Less Friends: I often have guys that want a guide trip with them and 3 of their buddies.  They think this is a great way to spend the day with friends and the more people they bring the more fish they will catch.
I hate to break it to you, but more anglers almost always means less fish and less big fish. 1 angler and 1 guide often catch ten times more fish! Why?
Most of our rivers are smaller and don't have pools big enough to fit 3 or 4 anglers  and a guide comfortably so there's less tangles and problems to deal with.
Also, trout and steelhead can spook easily, so 3 or 4 guys in the same spot means 3 or 4 times the noise and a much greater possibility of spooking fish. On top of that your guide has to move back and forth between each of you which can spook fish to. In my experience, I almost never, ever, ever, catch big fish when fishing with 3 or 4 anglers.
If a guide tells you, "yes, no problem, I can guide 3 or 4 guys and you'll catch fish too, " he's either lying to you, doesn't know any better or he's going to take you to a spot loaded with stupid little fish that will eat even if you almost step on them.
The other thing I tell these clients is that if you come with 4 anglers that means I'm only spending 25% of the day with you.. Which means you're learning a lot less than if you come alone or with a buddy.
So, the next time you're considering hiring a guide and if your goal is to catch more fish and to learn as much as possible, save the "getting together with a group of your buddies" for the golf course or the pub.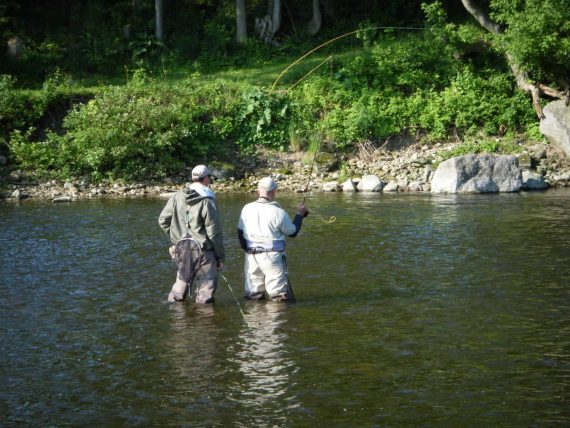 RIVER FISHING TIPS AND ADVICE
Have you ever wanted to know what the guides know? Now you can!
Anglers ask me all the time about what rods and reels and other gear that I recommend, or they ask me about my best flies, or my best methods or even which rivers are good to fish. I build a website that cover's all of that and more . . . . . You should checkout our sister site where I tell you exactly what gear you need and i give you free tips and tricks to help you catch more fish. Check out www.ontariotroutandsteelhead.com