Ontario's Premier
River Guide Service
Ontario Fly Fishing and Centerpin Guided Trips
If you want to improve your river fishing skills and start catching way more fish, then we are the right guide service for you.
We specialize in teaching anglers of all skill levels and from ages 13 and up and every guide trip is catered to the individuals skill level and is a learning experience with a great chance of catching fish.
So even if you have never even touched a fishing rod before, don't worry, we've got you covered. We can even supply all the gear you need at no extra charge. Start your journey today!
Are goal is to leave you with a wealth of information and new skills at the end of everyday.
Our trips are educational and you will learn something regardless of your skill level and regardless of how many fish you actually catch the day you are out with us.
What you learn from us you can apply to other rivers and will help you catch more fish each time you go fishing.
What makes us different from all the rest is our training, our skill and our desire to continue to be the best river guide in Ontario. We are one of the only full time river guides in Ontario that offer anglers Fly Fishing, Centerpin Fishing and Spin Fishing guided trips.
We may also have more guide experience than any other full time river guide in Ontario with all of these methods.

Modern Tactics Mean More Fish
Modern methods are often more productive then some of the traditional methods that most anglers and most other Ontario guides use.
Our modern tactics for catching more and bigger trout and steelhead are so good they are used by most of the best competition and tournament anglers around the world, and once learned you will catch more and more fish than ever before. We use modern methods for fly fishing and centerpin/float fishing and our clients are always telling us how many more fish they catch now!
Our head guide has 20 years of guide experience, is fully insured and holds multiple certifications for safety and boating. Our head guide is the top rated river guide in Ontario Read More . . .
We also have numerous experienced guides on staff to accommodate all your guiding and learning requirements.
We are located in Orangeville Ontario and are within an hours drive of over a dozen rivers and streams and only 80km from downtown Toronto.
We guide on 13 rivers and a few creeks in the area so you have a choice of small creek style fishing to large rolling steelhead rivers, all within an hour and a bit.
For more detailed information on some of the best trout and steelhead rivers in Ontario go to our Rivers Page.
What We Provide - What You Need
We can provide all the rods and reels and the waders required for your trip and no extra charge for up to 2 anglers. There may be a small rental fee for a third angler.
You will need to provide:
a valid fishing license
your own drinks and food
appropriate clothing for the weather of the day
raincoat
sunblock
bug spray
sunglasses or eye glasses or some type of protecting eye wear.
New Angler Or Still Learning
If you are new and still learning I put together an information website that covers in-depth information on the rods and reels I recommend, the best gear you need for river fishing, the fishing methods like fly fishing, centerpin fishing and spin fishing and the river species.
I also provide more information on the best rivers.
You can see all that and more at www.ontariotroutandsteelhead.com
Peak brown trout and brook trout fishing is usually the 4th Saturday in April to July 1st and then again from September 15th to September 30th. Some rainbow trout may be available in May and June.
Once the rivers warm up in July some good trout fishing can be available all summer but we respect the safety and well being of the trout at this time of year which is why we may only fish the colder spring fed rivers and we may only offer anglers early morning 4 to 5 hour trips when the fishing is best and the water is cold enough to keep them active and safe.
The best Steelhead fishing is usually from early October until Mid December and then again in March through to early May.
Some good steelhead fishing can happen earlier in September as well depending on the river and depending on the recent weather.
Winter fishing for steelhead can also be good in January and February if the rivers aren't frozen and temps are close to or above freezing. Go to our Ontario Steelhead Page for more information on these amazing fish.
Salmon is best in September and October. More on Ontario Salmon HERE . . . .
We offer boat trips to many of our larger steelhead rivers but under the right conditions we can do boat trips on some smaller trout rivers to.
Our custom boats are some of the safest and lightest boats on the market which allows us to get our clients to sections of rivers that very few other guides can.
We also offer walk and wade trips for trout and steelhead 12 months of the year depending on the river and the weather conditions. Read More . . .
Trout – 4th Saturday in April to September 30th
Steelhead – March 1st to May 15th and then October 15th to December 31st
Salmon – September 15 to November 1st
Help Us Help You - Before You Contact Us
To make things easier for both of us we suggest you tell us the following when you email us.
Let us know if you would prefer to fly fish, spin fish or centerpin fish.
Let us know what your goal for the day is -example: are you new and want to learn to fly fish or centerpin fish or are you just looking for a guided trip or are you looking to improve your skills.
Let us know your most preferred date or your 3 or 4 most preferred dates
Will you need waders and rods.
Are you coming alone or with a partner.
Walk and wade – Trout  – $450.00 . . . . .  approx. 7 hours
Walk and wade – Trout  – $375.00 . . . . . approx. 4 hours (Half Day)
Walk and wade – Steelhead – $550.00 . . . . . approx. 7 hours
Walk and wade – Salmon – $550.00 . . . . . approx. 7 hours
No half day trips are available for steelhead or salmon or boat trips.
All Boat trips – all species – $550.00 . . . . . . approx.  7 hours
Prices are for 1 or 2 anglers / not per person. That means 2 anglers split the price you see listed. A third person is possible on some walk and wade trips only. Add $100.00 for the 3rd angler.
Taxes are extra. (Ontario tax is 13%)
We do not offer cash deals, ever!
These current rates on this page supersede all rates listed anywhere on the internet from past specials, or old pricing or old emails.
Due to Covid-19 myself and my guides have had to limit our guide locations to select rivers.
Trout Guide Trips Available On – Credit River and Grand river( near Fergus.
Steelhead Walk Trips Available On – Nottawasaga, Niagara, Bighead River,
Boat Trips – Nottawasaga and Bighead Rivers
Some rivers may be available by request but may have an addition travel fee of up to $100.00.
GIFT CERTIFICATES AVAILABLE
Did you know we do gift certificates for guide trips or any dollar amount you can afford to give. So guys, don't forget to tell your spouse and your kids or even your friends and maybe you will get lucky on that next special occasion with a fishing surprise – MORE . . . .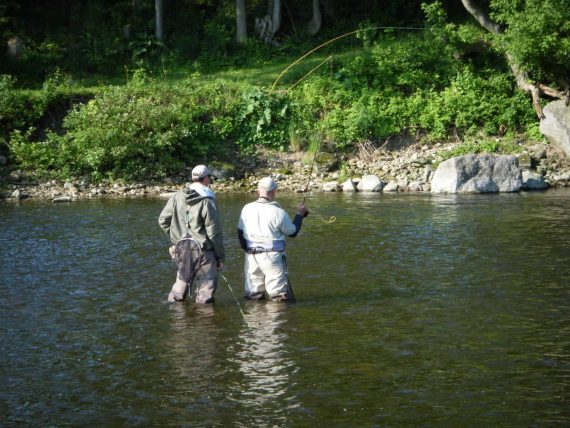 RIVER FISHING TIPS AND ADVICE
Have you ever wanted to know what the guides know? Now you can!
Anglers ask me all the time about what rods and reels and other gear that I recommend, or they ask me about my best flies, or my best methods or even which rivers are good to fish. I build a website that cover's all of that and more . . . . . You should checkout our sister site where I tell you exactly what gear you need and i give you free tips and tricks to help you catch more fish. Check out www.ontariotroutandsteelhead.com
Get a whole lot more on updated information about Fly Fishing, Centerpin Fishing and Spin Fishing For Trout and Steelhead on my new Blog Website. Current Blog Topics Include: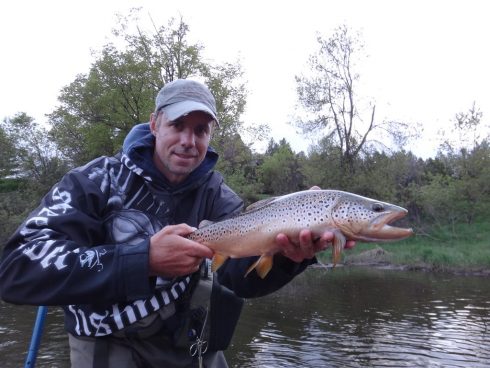 Not only are we the top top river guide service in Ontario but we also provide anglers of all skill levels with lots of great information for free. Running a website costs money so in order for us to maintain our website and continue to bring our readers new content we may use affiliate links. This means if you click on a lick to a product or service we may make a small commission if you purchase an item from that company. We thank you for your support. See our Affiliate disclaimer here.
Guide Trip Inquiries Only Please! All other emails will be ignored!
For general questions about fishing rivers in Ontario please go to my information website and look it up..