Fly Fishing Ontario Rivers
There are many opportunities to fly fishing in Ontario and many within 1 to 2 hours of Toronto. There are many trout and steelhead rivers and some ponds and lakes that can provide opportunities for fly anglers.
Fly Fishing for Trout: Fly fishing can be one on the most productive and fun methods for catching trout in southern Ontario rivers and at times it will out fish all other methods. Although some anglers consider fly fishing to be difficult or too expensive it's actually easy, very fun and affordable.
Everyone should give fly fishing a try at least once but be careful, it can be addicting.
 When some people think of fly fishing they often think of just trout, but in Ontario our rivers have many other species that can be fished with a fly rod. We guide for brook trout, brown trout, rainbow trout, salmon and steelhead as our main river species but we can also fish guide the rivers for bass, musky and pike which are also fun and rewarding to catch on a fly rod.
Bass is often a preferred river fish in the heat of the summer since they provide good fights and can be large and plentiful. Musky is also another sport fish that's a blast in the river and fly anglers have a few good options for these feisty river fish.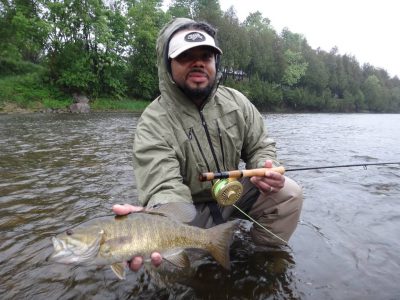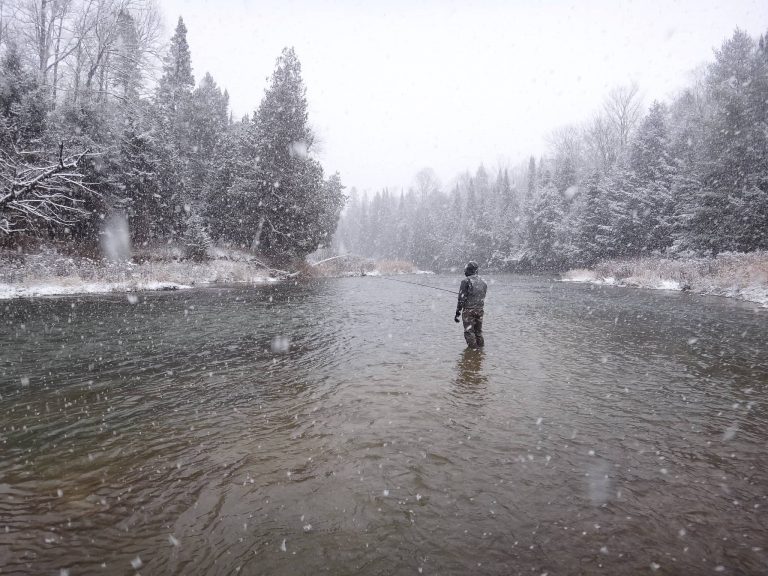 Ontario fly anglers have the ability to fly fish almost 12 months of the year. Even though most rivers would be closed for the season or would be frozen throughout January and February some die-hard anglers can usually find somewhere to fish 12 months of the yer. Even in the coldest months big rivers like the Niagara, the Saugeen and or Maitland river can often have open water at times and areas that are legally open to fishing.
Although we have a long 7 month closed season there's an extended fall and winter fishing season or even year round open seasons for trout and steelhead on some rivers. To make sure you are legallt fishing it's best to check the Ontario Fishing Regulations for all fishing regulations.
Recommended Gear for Fly Fishing: There is a lot of gear that fly anglers use and a lot of different opinions on the internet of what is the best methods or what is the best gear and best brands to use.
Below I discuss some of the recommended gear that fly anglers in our area will need for our local rivers.
If you are new to fly fishing, been doing it for a while or just getting ready to up-grade we know it can be a little overwhelming which is why I recommend going to our sister site www.ontariotroutandsteelhead.com where we tell you exactly what we use and what we recommend. Everything from the tippets to the rods, reels and waders are all covered there.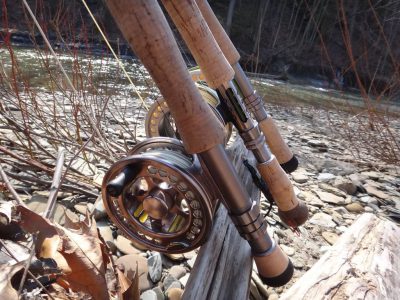 A  good quality fly rod can cost you anywhere from $150 to $1000 dollars. For the average angler I recommend rods in the $150 to $300.00 dollar ranges since they'll be good enough for just about any river fishing in Ontario. Just don't go to cheap because some of the rod and reel combinations under $100.00 can be bulky, heavy and cheaply made and that takes away from the enjoyment of the sport.
Fly rods should be light and flexible and sized appropriately for the type of fishing you want to do.
Fly rods have a rating system and for example a typical rod for trout would be a 3, 4 or 5 weight rod and a rod for steelhead might be a 6, 7 or 8 weight. For new anglers, the lower the number the lighter the rod.
You wouldn't want to use a 9 weight rod designed to catch large salmon or musky when going fishing for 6 inch brook trout so matching the rod to the fish or the type of water you want to fish the most will make your fishing experience much better. Make sure you get the right rod for the job.
I recommend a 3 to 5 weight rod for Ontario resident trout and if you want an all around good trout river rod I'd recommend to go with a 9 foot 4 weight rod.
For Steelheading in Ontario I'd recommend a 10 foot 7 weight rod which will also handle most salmon.
If you have to only get one rod for all species, One rod to do it all is a good 9 foot 6 weight rod will do. It's slightly to heavy for brook trout and a bit to light for steelhead or salmon but you can make due with this rod until you decide to get the right gear.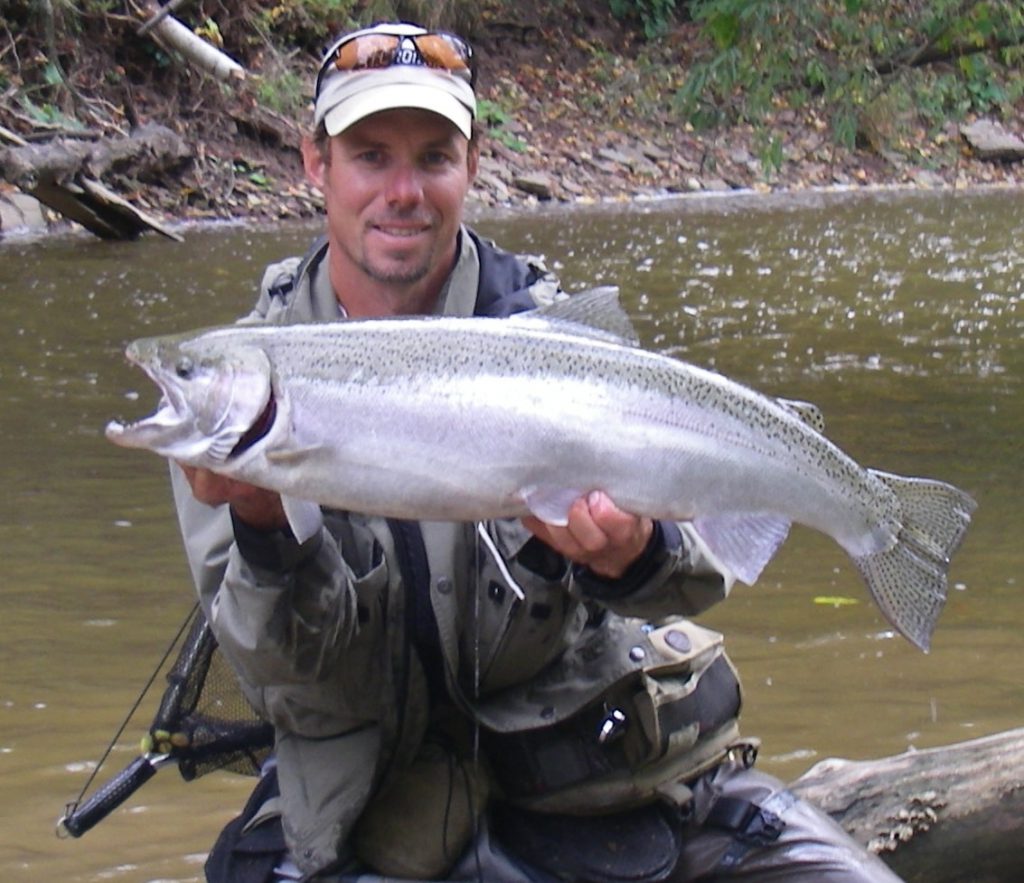 Reels: Most reels in the $100 to $300 dollar range will do the job. For the average trout fishing in Ontario you don't need a great drag system so even the $100 dollar reels with a disc drag should be sufficient. If you are a beginner do not buy a reel without a drag, also known as click and pawl or palming reels. They may be cheaper but should you start hooking into big fish you will appreciate the drag. Just try to match it up to the rod. You don't want a big heady reel on a light weight rod or vice versa.
Reels come in weights the same way the rods do so match a 4 weight reel to a 4 weight rod and you should be good and for an even better matched and balanced rod reel combo, bring your rod in to the store and put the reel on it before you buy it. Go to a dedicated fly shop for their expert advise on getting the proper set up in the first place.
For steelhead I'd recommend spending a little more money on a reel with a good enclosed or sealed disc drag system which will be an advantage since steelhead run fast and long and a good drag is required to help you land more fish.
A sealed drag is also less likely to take on water and freeze up during the colder months when some anglers fish. 
Fly Line: For most trout and steelhead fishing in Ontario a weight forward floating line will do the job. It's rare for anglers in Ontario to use a sinking line unless they are swinging flies or fishing in a pond or lake. If you do want a line for both lakes and river or to swing flies with a single hand rod you can always buy Airflo poly leaders or other sinking leaders which will do a similar job as a sinking line. Some lake anglers will prefer a sinking line to get their flies down to the fish but for river fishing that's not the most productive way.
When anglers ask me what lines I recommend I usually tell them that any good quality general purpose weight forward float line with do. One thing I do stress is to get one of high quality that is know for its good floating ability.
When streamer fishing I do find that the Ridge Lines from Airflo cast way better in warmer weather then a standard line.
Leaders and Tippet: a standard leader for most situations would be a 7 to 9 foot tapered leader in size 4X to 6X (6lb to 3lb) with a 12 to 30 inch tippet section attached to the end of the leader. A tippet is the end section or tip of a leader and is separate from the main leader itself. The tippet is important so you don't chop into your main tapered leader to much which will eventually make the line at the fly knot to thick.
For most trout I used a tippet of 5x but I can go bigger or smaller depending on the situation and method I'm using. A tippet of 3X or 8lb ( 0.20mm) is my normal go to size for steelhead but if its really clear I'll go down one size or if its wooded I may go up one size. For trout fishing I use leaders and tippets from multiple companies and for Steelhead I use the Drennan or Raven leaders.
Waders and Boots: Waders and wading boots are an important part of a river anglers equipment. Even on the hottest days I'll still wear my waders and boots to protect my legs, ankles and feet from cuts and scraps from rocks, sticks and grasses and also to protect myself from poisonous plants and bug bites like ticks or mosquitoes. Good waders will keep you dry all year long.
My favorite style of waders are the breathable stocking foot waders and a matching boot. Breathable waders can be worn year round with reasonable comfort and the added boots provide superior ankle support for those rocky and uneven rivers. For more on my favorites waders and best recommendations go HERE . . . . .
The best wading boot I have found and the ones I use are these from Korkers adjustable sole boots and I wouldn't wear anything else now. I match my Korkers boots with breathable waders. For more on wading boot that I recommend go HERE . . . .
Wading Jackets: Wading jackets are important for anglers fishing in wet and cold weather. My preferred wading jackets are breathable, waterproof, fit well and have enough pockets for my gear. Durability is also important which is why I prefer Simms Jackets and for an economy jacket check out the Frogg Togg Jackets.
Vest and Packs: Call me old school but I still like my old fishing vests over the packs however with a bad back for years and with me getting older I have found that the waist packs are far better on the back and the shoulders after a long day on the water.
 The choice is usually up to the individual but they both do the same thing and that is to hold all your odds and ends that you might need for a day of fishing on the river and keep you hands free which means no carrying tackle boxes through the bush over the rocks and up and down the hills. Some vest and packs I've used are from Simms Fly Fishing Company. For more on my favorites jackets and packs and my best recommendations go HERE . . . . .
Hemostat /Forceps: for safer and easier way to release large and small trout a good pair of hemostats will help get the hooks out of the fish with minimal damage when trying to release it.
Nippers: a good set of nippers or nail clippers come in handy for cutting lines and tag ends of knots.
Fly Line Cleaner: A good fly line cleaner will help keep the line free of dirt and washes of bug repellent and will prolong the life of your fly line. Most fly line cleaners also help keep the line floating high which helps in mending and line pick up.
Indicators: There are a few good indicators out there and everyone has their own preference. When teaching anglers how to indicator fish the I prefer to use bi-color indicators to teach anglers how to mend effectively and how to get a proper drag free drift as well as understand angles and fly placement. Indicators like the Frog Hair indicators are perfect for many nymphing situations. Another indicator used by the guides for situations that require stealth is the Loon Bio-Glow putty indicator. For more on my favorites essentials and my best recommendations go HERE .
4 Methods of Fly Fishing for Ontario Trout: Many of the same methods are used when fly fishing for brook trout, brown trout and rainbow trout. The few differences might be the weight or size of the set-up, the flies used or even how you present your fly and that's all based on the size of the river and the size of the fish.
When river fly fishing in Ontario there are 4 basic methods of fly fishing that will be covered in this section. There are so many different variations on each method, on the ways to present the fly, on how to mend, or how to nymph etc. Since we don't want to confuse or overwhelm anyone we will only cover the most common and basic methods here. There's only one method that is not mentioned on this page and that is Spey fishing and the reason is because every few anglers actually Spey fish for resident trout in Ontario and there's also very few rivers suitable for Spey fishing for trout.
If you want to learn more about Spey fishing Check out the Spey Fishing Steelhead page.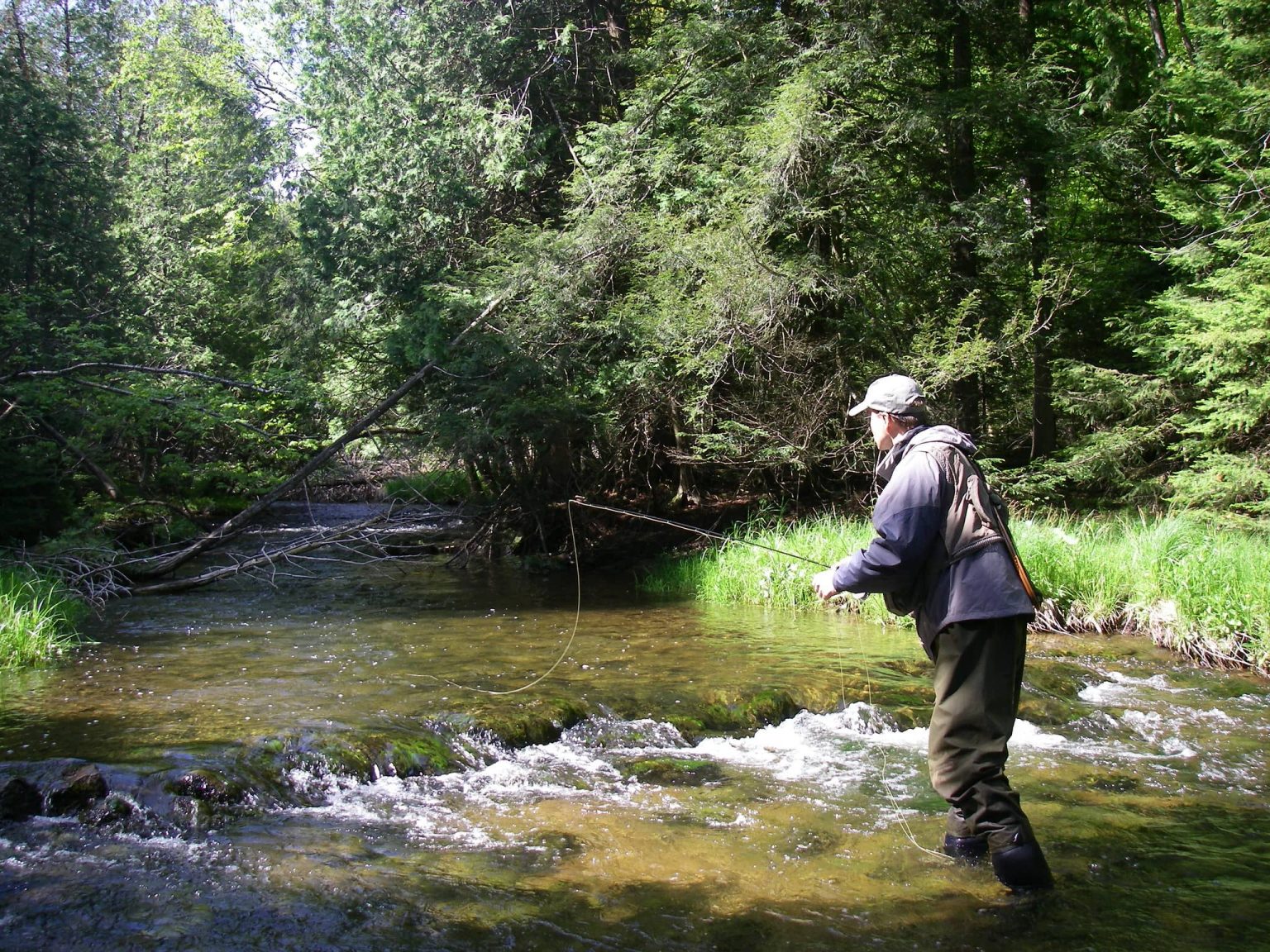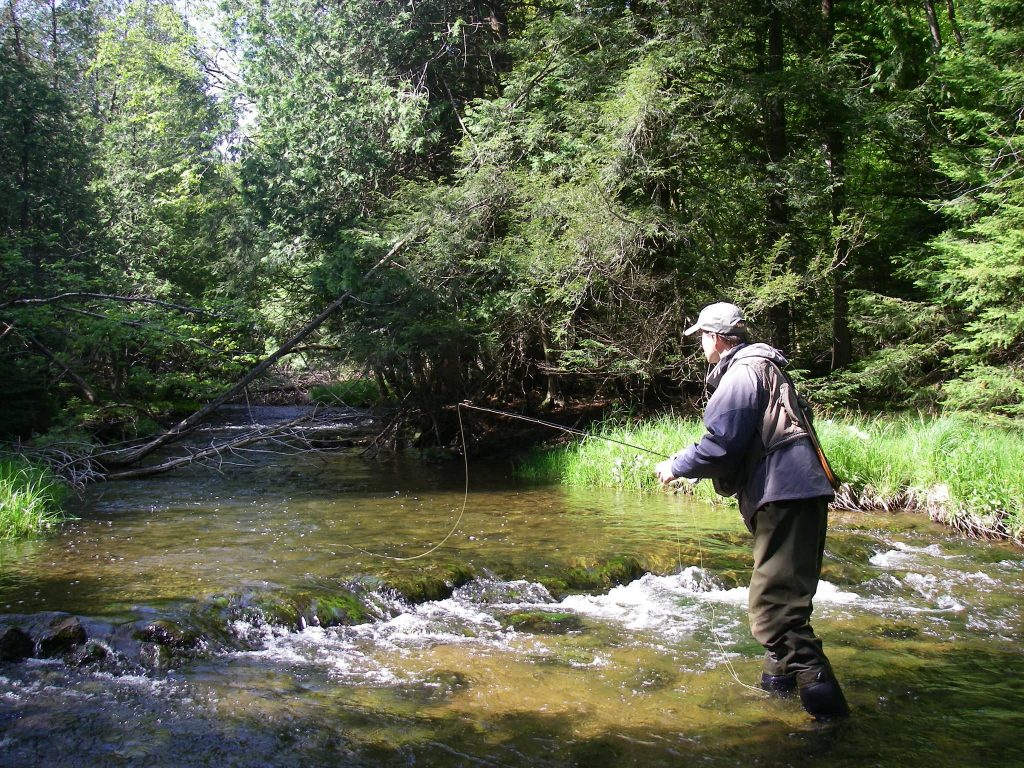 The 4 methods covered below are the most common methods and do work but for more advanced and more productive methods contact A Perfect Drift Guide Company for lessons and guided trips.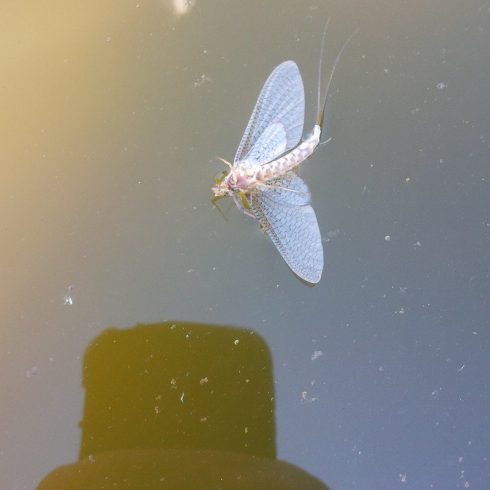 Dry Fly Fishing: Dry fly fishing is probably the most fun you can have with a fly rod and is many anglers preferred method to catch active trout. Dry fly fishing basically means you're presenting a floating fly pattern on the waters surface to a trout that may be feeding on insects that are floating on the surface or to entice a trout to come up to the surface to grab your fly.
 During the summer months when the bugs are active trout will feed on the surface but experts say that surface insects are generally only about 5% to 10% of a trout's diet so getting lucky and being on the river when the trout are feeding on the surface isn't always possible. Using a good hatch chart can help you predict the hatches better and increase your odds of being on the river during a dry fly hatch.
Basically dry fly fishing is top water fishing for trout and can be very exciting especially when there is a hatch going on and you have the right fly to match the natural insect on the water that day.
 For those that don't know what a hatch is, a hatch is a time when the river insects become active and are either emerging from the bottom and moving to the surface or the adults are dropping to the waters surface to drop there eggs.
Even big steelhead will rise up for dry flies under the right conditions which usually occur in late spring and early summer if the steelhead are still in the river.
The Wet Fly Swing: Wet fly fishing is not as common as dry fly or nymphing although under the right conditions it can be extremely effective for trout. Anglers cast a sinking wet fly on a 45 degree angle down river and maintains a tight line as the fly swings across the pool from the far side through the run or pool to directly below the angler or until it's out of the strike zone. This methods present the fly to a lot of fish but is often most productive for smaller or very aggressive fish. The take or hit or "yank" as some call it is often a fast hard pull due to the tight line from the rod tip to the fly and this yank is part of the appeal to this method. Any single hand fly rod in the 7 to 9 foot range and in the 3 to 6 weight size would be good for this technique. The fly lines used could be a floating or sinking line with a standard leader. Some anglers may even choose a sink tip or sinking leader like Airflows Poly Leader.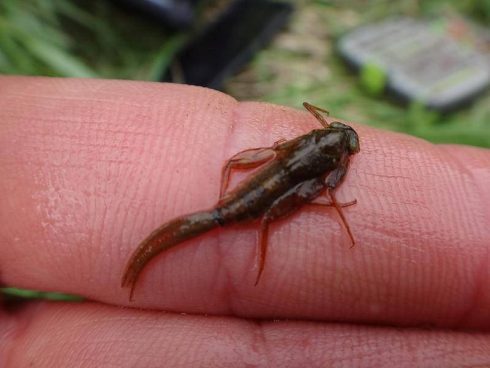 Nymphing for Trout: Nymphing is when you use flies that imitate larval or underwater stages of insects or sunken food sources like worm or fish eggs. The best thing about nymphing is nymphing can be done 12 months a year and is productive on river for trout, steelhead, bass and salmon. For anglers in the know this is the most productive method since trout feed below the surface over 90% of the time. Good nymph anglers will often out produce all other fly fishing methods but although some say nymphing is easy an expert nymph angler will out fish a beginner due to the concentration and skill involved when you nymph properly. The Advanced Nymphing Class offered by A Perfect Drift Guide Company cover the most productive methods and most productive flies for Ontario trout. Each method has it's time and place and can be deadly in the right situations however 90% of anglers on the rivers in Ontario only use 1 or 2 of these methods and this drastically reduces their catch rate even though they may not even know it. To learn how to become a more successful nymph angler and to increase your catch rate it is recommended to do as much research on nymphing as possible or take a guided trip or a nymphing course which teaches these methods.
Fly Fishing For Steelhead
Fly Fishing for steelhead: Nymphing for steelhead requires a heavier outfit due to the larger size of fish and the bigger more open rivers. For an average size steelhead river I recommend a 7 weight 10 or 11 foot rod for the best line control and fighting ability and the longer rod also provides better tippet protection by acting like a large shock absorber. On very large rivers like the Niagara, the Maitland and maybe the lower Grand rivers an 8 or 9 weight rod would be fine and more suitable for casting longer lines. A 7wt rod should also have enough backbone to handle even large salmon but many anglers would prefer an 8 or 9 weight rod for them.
 A standard weight forward line, some indicators, split shots and a variety of flies is also recommended.
Streamer Fishing: Streamer fishing can be productive and at times may produce the largest brook trout and brown trout in the river. There are multiple ways to use a streamer but the most common method is to cast a streamer across and slightly down river and retrieve the streamer fly by stripping in the line with short steady pulls until the line is out of the target zone or you fully retrieve the line. Check out this Streamer Fishing Page for more information on streamer fishing and about our Advanced Streamer Fishing classes.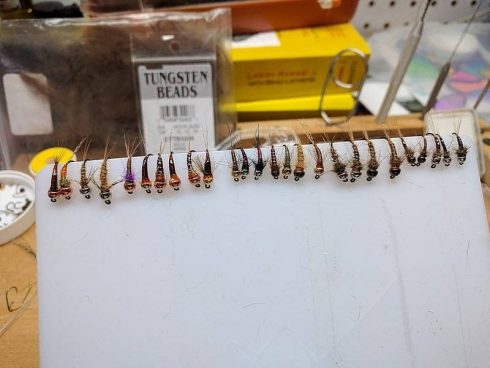 Euro Nymphing and Competition Nymphing: Many years ago I was introduced to some competition nymphing methods that greatly increased my catch rates and opened my eyes to the many different methods available to anglers.

These methods were also know to some as European Nymphing methods with the most common and publicized method known as Czech Nymphing.

I have become known for this method, Sometimes being called the "Nymph Guide" Or the "Euro Guide" and I am currently the top full time guide if you want to learn how to do this technique.

For more information on this style of nymphing or for guide trips or for lessons on Euro and Competition Nymphing go to our Modern Nymphing page.
For rates and packages go to our River Guide Page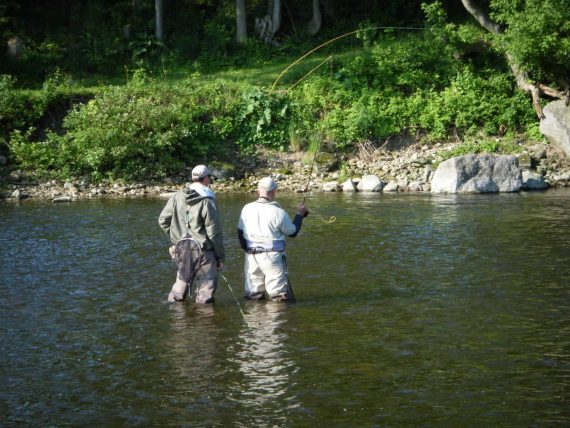 RIVER FISHING TIPS AND ADVICE
Have you ever wanted to know what the guides know? Now you can!
Anglers ask me all the time about what rods and reels and other gear that I recommend, or they ask me about my best flies, or my best methods or even which rivers are good to fish. I build a website that cover's all of that and more . . . . . You should checkout our sister site where I tell you exactly what gear you need and i give you free tips and tricks to help you catch more fish. Check out www.ontariotroutandsteelhead.com
Get a whole lot more on updated information about Fly Fishing, Centerpin Fishing and Spin Fishing For Trout and Steelhead on my new Blog Website. Current Blog Topics Include: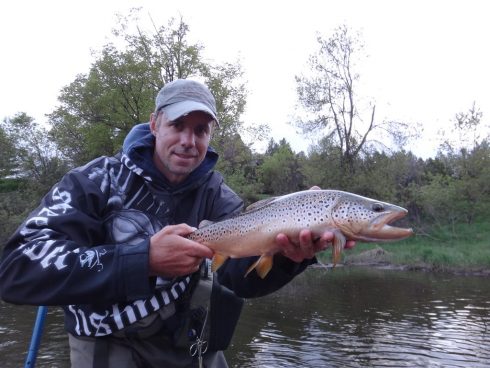 Not only are we the top top river guide service in Ontario but we also provide anglers of all skill levels with lots of great information for free. Running a website costs money so in order for us to maintain our website and continue to bring our readers new content we may use affiliate links on our website. This means if you click on a lick to a product or service we may make a small commission if you purchase an item from that company. We thank you for your support. See our Affiliate disclaimer here.