Fly Fishing and Float Fishing Lessons
Learn to Flyfish or Centerpin Fish
One of the reasons that we have been the most successful river guide service in Ontario is our ability to teach and our patience. We are happy to say that we have taught thousands of anglers how to fish  and how to become better anglers so they catch more fish.
All skill levels are welcome so regardless if it's your first day or you have 50 years of experience we customize all our individual lessons to your current skill level and needs.
I've yet to run into an angler that I couldn't teach something to or help them improve in one way or another. We are also extremely patient and can provide all the fishing gear you need. Come join us on the water!
One to two anglers at a time is by far the best way to learn. I call individual lessons a "Guide Lesson" because we are actually fishing while I teach and coach you, and that way you not only have a much better chance of catching some fish, but you'll also learn much more than you would in a class where the instructor has to spend equal amount of time with 5 or 6 other anglers. More time with me means you will learn more and catch more!
We believe that on the river instruction is the fastest way and only way to learn fly fishing or float fishing with a Centerpin reel or spinning reel. That is why all our lessons are done on the river with a rod in your hand.
Our specialty is river fishing so if you would prefer to learn to fly fish on a pond, on a soccer field, in a park or even in a gymnasium we're probably not the guide for you!
Classes or Individual Lessons: In the past I did classes of up to 6 anglers per class and spent about 8 to 10 hours on the water. These classes were very popular and sold out every year. Unfortunately, at the end of the day I often wanted to spend more time with each person because I still had so much more that I wanted to teach them, but there was just no more time left in the day and people start to get tired after 10 hours on the water. I also noticed that the more anglers in the class the less fish were caught too. After years of doing these classes I realized that if I really wanted to teach these anglers properly and if I wanted to see them catch some fish, it's best to stop doing the classes and just keep do the individual lessons and small group lessons. That is why there will be no more classes offered in 2020 and beyond.
Pricing: I know that price can be the issue and is why people liked the class option, but I honestly believe that it's much better to learn with only 1 to 3 anglers at a time. This way I can spend much more time with each individual and the get the maximum benefit.
I could make over $1000.00 dollars a day doing the classes but I'd much rather make less than half that and feel good at the end of the day knowing that each person learned the most they possibly could in a day on the water with me. The individual lessons really don't cost much more than a class would anyways, and we offer the "find a partner" program so there's a good chance we can find someone to cut the costs if you don't have a partner already. So for almost the same price you will learn so much more and will catch more fish, now that's a deal. The cost difference would be: 2 anglers on the water would cost you about $225.00 each and a class would cost about $200.00 each. That's taxes included.
So before you consider a class with someone else, seriously consider the benefits that an individual lesson can provide instead.
Fly Fishing is popular with Ontario river anglers and although it looks difficult because it's so different from your traditional spin fishing, it is actually quite easy.
It's so easy in fact that we've had customers that have never even touched a fly rod hook into fish within 10 minutes thanks to our qualified and skilled instructors, and a little help from the hungry fish.
If you think fly fishing is something you would want to try we can teach you even if you don't have your own fly fishing gear.
For The Ladies To: Don't be shy ladies. There has been more and more woman getting into the sport of fly fishing and I'm more than happy to teach you.
For more information on fly fishing in Ontario check this our – HERE
Centerpin fishing, also known as "float fishing" is likely the fastest growing style of river fishing for Steelhead and Salmon because it's extremely effective and very fun.
We are the first and only guide service in Ontario offering private one on one or small group lessons and we are recognized as the premier centerpin guide in Ontario.
Your guided trip can be tailored to improving your skills at the same time as you're fishing, I call it a guided lesson.
This type of guided lesson is great for both beginner and more advanced anglers.
For more information about Centerpin fishing in Ontario visit our Centerpin fishing page – HERE
We know that not everyone can afford the whole price of a guide trip or a lesson and they may not have someone to split the costs with, so we now have a "need a partner program" which pairs you up with individuals with the same requirements as you.
So if you're a new angler or you're just looking for a guide trip email us and ask us to find you a partner with similar needs.
Fly Fishing for Trout – 4th Saturday in April to September 3oth
7 hour lesson  . . . . $400.00/day
4 hour lesson . . . . $275.00 ( 4 hour lesson are July to September only)
Steelhead Lessons run from October 1st to the 4th Saturday in April.
7 hour lesson . . . . $500.00
Centerpin Lessons are best from October 1st to late april but there are some suitable rivers that I can teach centerpin fishing on from May to September.
7 hour lesson . . . . $500.00
* * * Rates are per day, not per angler. Meaning that 2 anglers split the rates listed above.
TAXES: Taxes are extra. Ontario's tax rate is 13%. We never do cash deals, sorry.
3 ANGLERS: We never recommend 3 anglers on a guide trip for numerous reasons, such as safety, a lack of fish with more anglers, more technical issues, and also because you won't likely learn as much as you would with 1 or two anglers. However, on occasion we make exceptions so if you need a guide trip for 3 anglers contact us and we can let you know if it's possible. – Add $100.00 for the 3rd angler.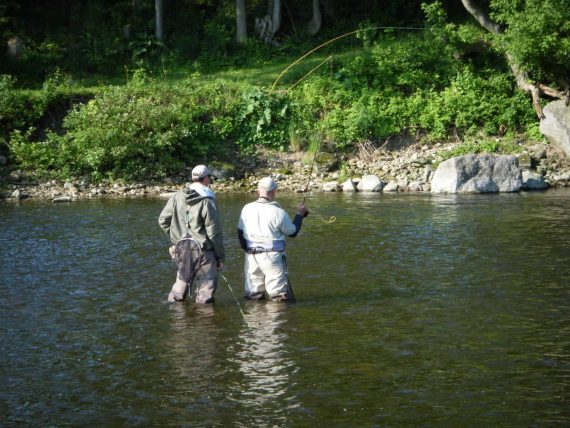 RIVER FISHING TIPS AND ADVICE
Have you ever wanted to know what the guides know? Now you can!
Anglers ask me all the time about what rods and reels and other gear that I recommend, or they ask me about my best flies, or my best methods or even which rivers are good to fish. I build a website that cover's all of that and more . . . . . You should checkout our sister site where I tell you exactly what gear you need and i give you free tips and tricks to help you catch more fish. Check out www.ontariotroutandsteelhead.com