Fly Fishing and Float Fishing Lessons
Learn to Flyfish or Centerpin Fish
One of the reasons that we have been the most successful river guide service in Ontario is our ability to teach and our patience. We are happy to say that we have taught thousands of anglers how to fish  and how to become better anglers so they catch more fish.
All skill levels are welcome so regardless if it's your first day or you have 50 years of experience we customize all our individual lessons to your current skill level and needs.
I've yet to run into an angler that I couldn't teach something to or help them improve in one way or another. We are also extremely patient and can provide all the fishing gear you need. Come join us on the water!
One to two anglers at a time is by far the best way to learn. I call individual lessons a "Guide Lesson" because we are actually fishing while I teach and coach you, and that way you not only have a much better chance of catching some fish, but you'll also learn much more than you would in a class where the instructor has to spend equal amount of time with 5 or 6 other anglers. More time with me means you will learn more and catch more!
We believe that on the river instruction is the fastest way and only way to learn fly fishing or float fishing with a Centerpin reel or spinning reel. That is why all our lessons are done on the river with a rod in your hand.
Our specialty is river fishing so if you would prefer to learn to fly fish on a pond, on a soccer field, in a park or even in a gymnasium we're probably not the guide for you!
Classes or Individual Lessons: In the past I did classes of up to 6 anglers per class and spent about 8 to 10 hours on the water. These classes were very popular and sold out every year.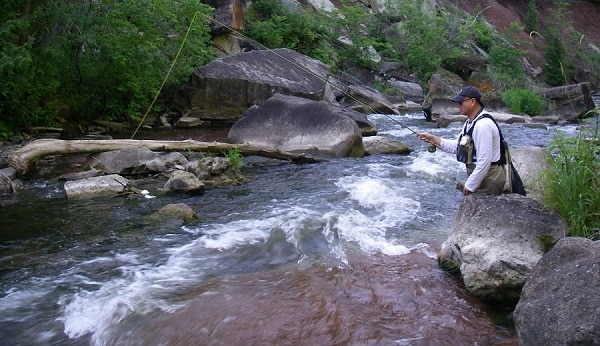 This year we are offering our very popular Nymphing Class again.
You will learn how to nymph trout in typical Ontario trout rivers using modern tight line nymphing. These are my tips and tricks for more trout and bigger trout.
You will find out how me and my clients are hooking multiple 20-inch brown trout in a day. This class comes with a nymphing summary which includes some of my best fly patterns.
Most anglers that learn this from us are amazed at how much more fish they can catch.
" I had such a great experience when you taught me to Euro nymph and it elevated my fishing game so much that it has left me a bit biased"
Space is limited so don't miss your chance to learn from the best nymphing guide in Ontario.
It's a short class that is packed with information and you can stay and practice what you've just learned all day long.
Your Instructor – Graham
Best for intermediate to advance fly anglers- at least 1 year of experience.
Max 6 anglers
Your own gear is required
2 to 6 weight 9 foot rods are best
Tippet section is provided
a couple of Nymphs provided
A nymphing summary provided afterwards
Date, Time and Destination:
Sunday May 2nd at 9am to noon – Credit River
Sunday May 16th  at 9am to noon- Credit River
Price: $150.00 + tax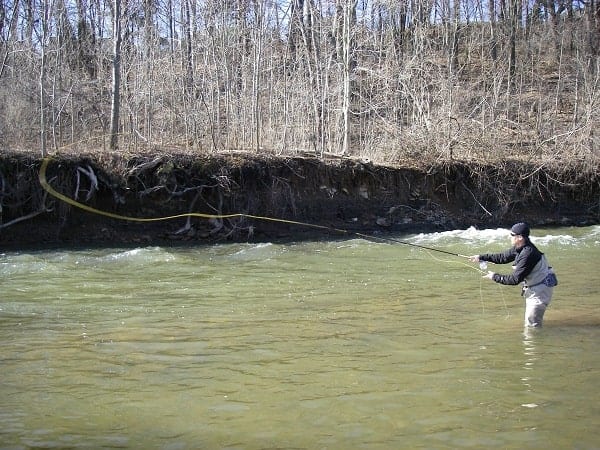 Back by popular demand is our advanced streamer fishing class.
Learn to streamer fish like a pro with this advanced streamer fishing class.
If you think streamer fishing is simply castings out your streamer and then just stripping it back in, then you are a normal fly angler and that means you probably suck at it like most normal fly anglers do.
This class goes so far beyond how most anglers streamer fish that you probably wont recognize anything other than the streamers we use.
This is not that normal lazy unproductive tradition streamer fishing you see done all the time. This is advanced streamer fishing that works better.
The casts are different, the retrieves are different and the whole mentality is different. Different and way better.
This class will teach you how to cover water 4 times faster with 4 times less casts, and that means way more fish. The best part is all those casts are  easier than tradition streamer casts. They are efficient, accurate and better.
Imagine you streamer fishing and you cover 1 km of river in 4 hours on the water, but I cover 4 km in the same amount of time. Guess who is going to catch more fish. Now imagine I did it with less effort and more efficiency . . . . That's what you will learn in this class.
I will teach you how to cover the water more effectively for more fish and how to omit the dead water.
You will learn about proper angles, where to put your streamer and how to trigger more strikes which will all maximize your success.
Learn about fly selection and fly rotation.
Space is limited so do not miss out.
It's a short class that is packed with information and you can stay and practice what you've just learned all day long.
Your Instructor – Graham
Best for intermediate to advance fly anglers- at least 3 year of experience and with good casting skills.
Max 6 anglers
Your own gear is required
5 to 7 weight 8.5 to 9 foot rods are best.
Tippet section is provided.
Bring your own streamer. 1 will be provided.
Date, Time and Destination:
Friday May 7th at 9am to noon- Credit River
Price: $150.00 + tax
Other classes and dates may be added.
Another great option for lesson is an individual guide lesson.
Yes, it's just like a guide trip but with more emphasis on learning. Individual lessons are a great choice if you need more of your instructors time. You get 1 on 1 instruction and your guides focus is entirely on you.
So before you consider a class with someone else, seriously consider the benefits that an individual lesson can provide instead.
Fly Fishing is popular with Ontario river anglers and although it looks difficult because it's so different from your traditional spin fishing, it is actually quite easy.
It's so easy in fact that we've had customers that have never even touched a fly rod hook into fish within 10 minutes thanks to our qualified and skilled instructors, and a little help from the hungry fish.
If you think fly fishing is something you would want to try we can teach you even if you don't have your own fly fishing gear.
For The Ladies To: Don't be shy ladies. There has been more and more woman getting into the sport of fly fishing and I'm more than happy to teach you.
For more information on fly fishing in Ontario check this our – HERE
Centerpin fishing, also known as "float fishing" is likely the fastest growing style of river fishing for Steelhead and Salmon because it's extremely effective and very fun.
We are the first and only guide service in Ontario offering private one on one or small group lessons and we are recognized as the premier centerpin guide in Ontario.
Your guided trip can be tailored to improving your skills at the same time as you're fishing, I call it a guided lesson.
This type of guided lesson is great for both beginner and more advanced anglers.
For more information about Centerpin fishing in Ontario visit our Centerpin fishing page – HERE
We know that not everyone can afford the whole price of a guide trip or a lesson and they may not have someone to split the costs with, so we now have a "need a partner program" which pairs you up with individuals with the same requirements as you.
So if you're a new angler or you're just looking for a guide trip email us and ask us to find you a partner with similar needs.
Rates and Options Packages
We have many options and we can also cater to your needs. Find out what we offer on our Rates And Packages page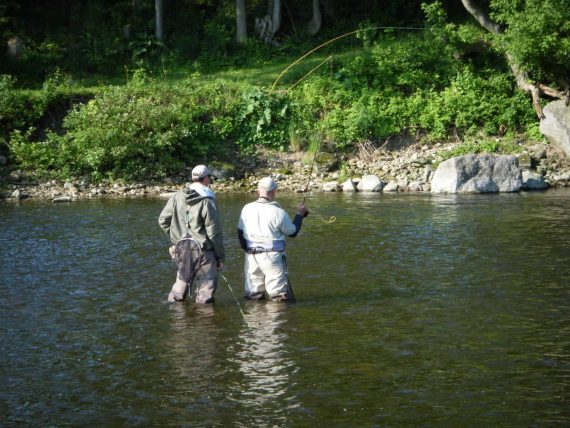 RIVER FISHING TIPS AND ADVICE
Have you ever wanted to know what the guides know? Now you can!
Anglers ask me all the time about what rods and reels and other gear that I recommend, or they ask me about my best flies, or my best methods or even which rivers are good to fish. I build a website that cover's all of that and more . . . . . You should checkout our sister site where I tell you exactly what gear you need and i give you free tips and tricks to help you catch more fish. Check out www.ontariotroutandsteelhead.com