Ontario's Best
River Guide
Your top guide for Ontario river trips
Ontario's Top River Guide
There are only a half a dozen reputable and experienced full time river guides in southern Ontario and Graham Bristow is likely the busiest of them all!
Graham Bristow is the head guide and owner of A Perfect Drift Guide Company. Graham started fly fishing for trout on the upper Credit river at the age of 13 and was introduced to Centerpin fishing around 16 years old.
Now, over 35 years later, Graham runs one of the top professional guide services in Ontario which he built with hard work, determination and through many referrals and many happy repeat customers.
Graham knows that always being number one takes a lot of work and he's not afraid to work hard for his clients and work hard to stay the best.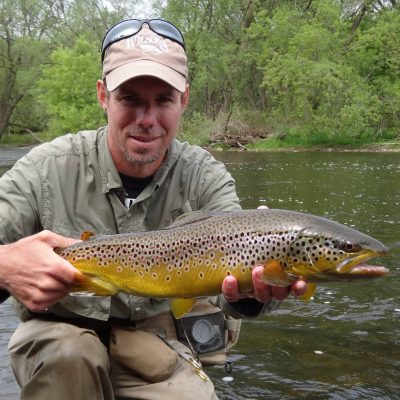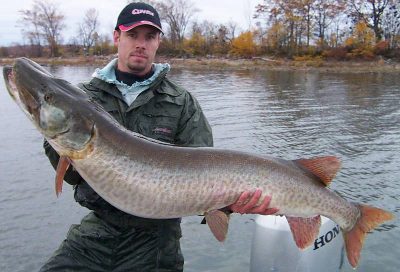 Graham started guiding in 2000 as a musky guide on Georgian Bay's Moon river area. Soon after he decided become a full time guide doing both musky and river guide trips and at the same time he opened up the "Anglers Pro Shop" tackle store in Orangeville Ontario.
The guiding became so busy that he decided it was time to sell the store and focus on just guiding so that he could continue to provide the great guide service he is known for.
In 2010, Graham surpassed all other independent river guides in the amount of bookings, days on the water and anglers guided in a season making Graham the top River Guide in Ontario, and is something that holds true today. 
Today Graham only guides the local rivers and specializes in Trout, Steelhead and Salmon.
Many of Graham's clients claim Graham is the best full time fly fishing and float fishing river guide in Ontario now.
Friendly, Patient, Skilled
Not every great angler makes a great guide!! "If you like teaching someone how to fish and then enjoy watching that person use those new skills to catch a bunch of fish as much or more then you fishing and catching them yourself, then you will make a great guide. But, if you cant stand there watching without an overwhelming urge to get in there and fish yourself then you're an angler, not a guide!!" That was the great advice that I received about 15 years ago from one of the best river guides in Ontario and he was 100 percent correct.
Guiding takes a special kind of person, one who has a great knowledge of the sport and is very skilled yet still has the patience and the ability to teach that knowledge to others.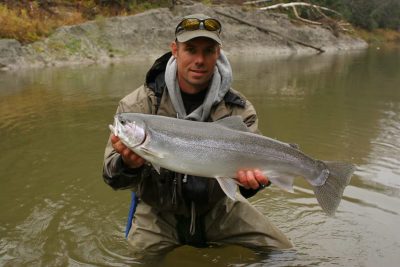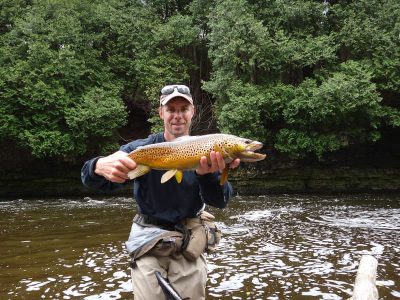 I Don't Fish! Well at least not when I'm with clients. When clients ask me why I don't fish with them I tell them there's two reasons that I wont fish while I'm guiding.
The first is that I'll likely catch all the fish, and you're paying for a guide, not a fishing partner.
And second, I tell them that I am like a fishing coach, and in the big leagues you never see the coach playing out on the field, or on the court or on the ice with the players.
A good coaches job is to watch, coach and help improve his players, and that is exactly what I do with my clients.
The coach in me stands back while I observe and then add the necessary advice and make the needed corrections to help my clients improve and become better anglers, while the guide in me puts you in front of fish.
This style of guiding is why I have likely been the busiest independent river guide in all of Ontario for the last 10 years.
I hire guides and instructors myself and I surround myself with some of the best anglers I know of because just like you, I am still learning and improving every year so that I can continue to offer my clients more then what other guides in Ontario can.
I am also a full time so unlike other guides, I don't have a 9 to 5 daily job and only guide once in a while, I guide full time and I'm often on the water 5 to 7 days a week so I always know what is going on, and what rivers are fishing best and that is why I can offer you far more experience and expertise. Plus . . . .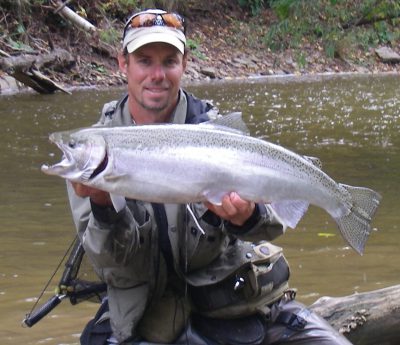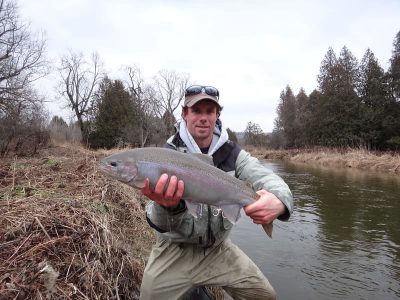 I am fully insured and have lots of marine training and safety certifications.
20 years of guide experience and 14 years as a full time river guide.
Graham has over 30 years of Centerpin / Float fishing and Spin fishing experience and is the first full time and most experienced Centerpin guide in Ontario.
Graham is well trained in and is the first and only full time guide teaching Euro-Nymphing and competition style of fly fishing.
Graham has been sought out and has taught other local guides in the area because of his reputation and advanced skills. That's the kind of guy you want teaching you!
Graham already has a great reputation and is known as a patient, easy going, skilled instructor and guide.
Graham has also appeared on numerous fishing TV shows, and has been seen in many magazines and books over the last 20 years.
Graham has also been a guest speaker at fishing clubs and fishing events around Ontario.
Graham has been on numerous pro staff and guide programs.
MORE . . . . .
Along with his 35 plus years of experience on the rivers, Graham has fished and trained with great anglers like:
Host and owner Colin McKeown from "The New Fly Fisher" show
Host Bill Spicer from "The New Fly Fisher" Show
George Daniel, The former head coach of the team USA youth and adult National fly fishing teams and a 2 time world medal winner himself, a guide, a renowned speaker and presenter and the author of the great books Dynamic Nymphing and Strip-set.
David Arcay, the 2012 World Champion competition fly angler and all around expert at Spanish and Euro nymphing.
Host Mark Melnyk from the TV show "Guided"
Nick Pujic from the Canadian Fly Fisher Magazine and Fly Nation TV, Author and producer of some of the best fly fishing TV shows out there.
Aaron Shirley from "Getting Hooked" and the "Canadian Sport Fishing" show
Italo Labignan from the "Canadian Sport Fishing" show
Graham has fished and trained with many more great anglers and guides as well and shares this knowledge and his over 35 years of river fishing experience with his clients, his other guides and his friends.
Join Graham for a day on the water and see for yourself why Graham is one of the top guides and instructors in the industry.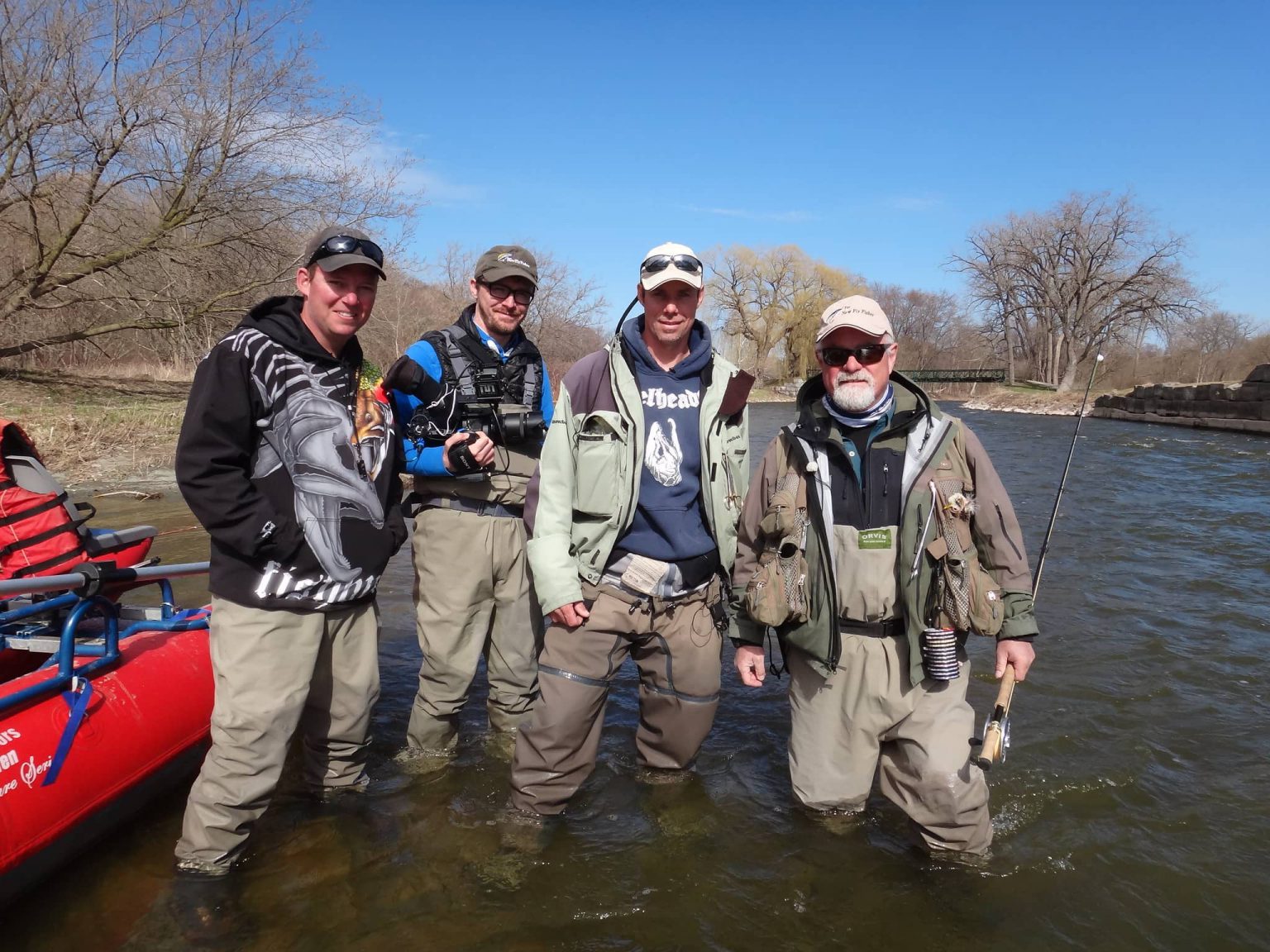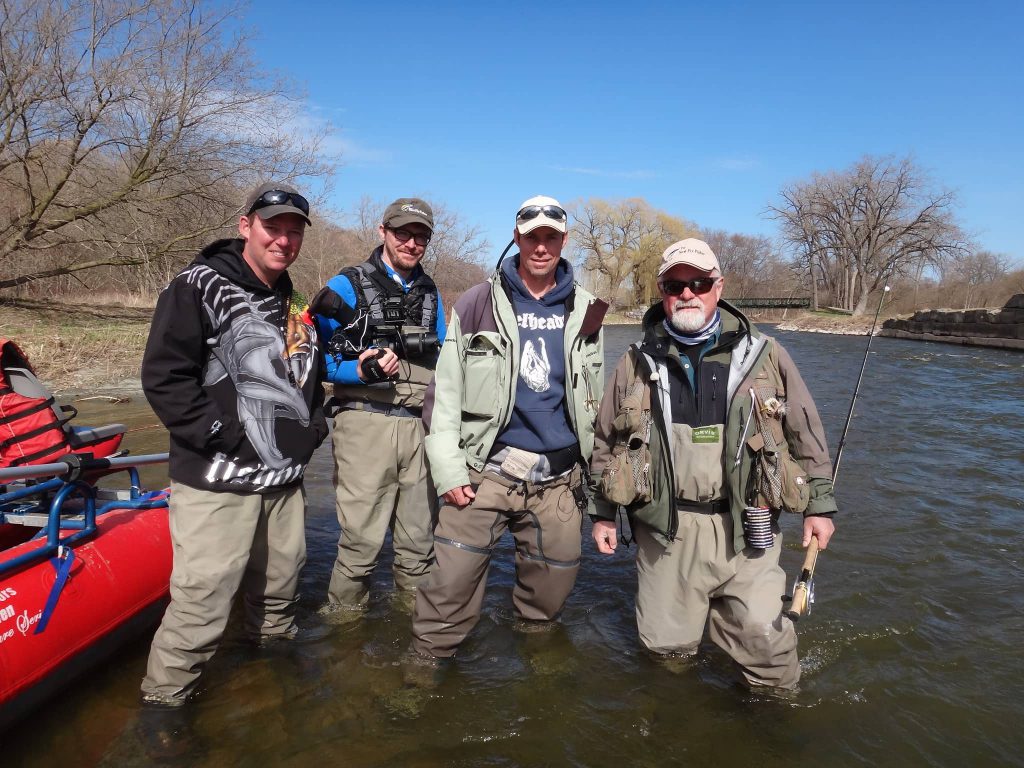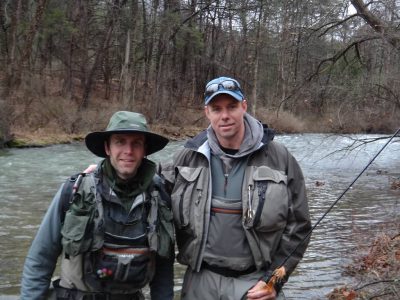 Former Team USA fly fishing coach and multi-medal winner George Daniel training Graham how to master his competition Euro Nymphing and his streamer fishing methods.
If you're ever in Pennsylvania visit George at Livin On The Fly guide service.
Many great days on the water learning Euro and competition style tactics with George (Left) and Graham (Right)
Graham with world champion fly angler David Arcay from Spain.
Graham was training with David using the long line Spanish Nymphing methods that have made the Spanish hard to beat champions in the world competition fly fishing.
Check out David's fly fishing company – HERE
Click on the picture for a bigger view.
After a long but fun day of training David (Left) and Graham (Right)
WATCH US IN ACTION ON THESE TV EPISODES
Graham guiding Bill Spicer, the host of "The New Fly Fisher" TV show to a nice steelhead while filming the show.
Watch the show – HERE
Click on the picture to see a the show.
Colin is the host and owner of the hit fly fishing show "The New Fly Fisher" . Watch as Graham guides Colin to a beautiful 20 inch brown trout while teaching Colin some new techniques. See the show and Graham in action – HERE
Click on the picture to see the show.
Watch as Graham and Bill Spicer take a boat trip down the Nottawasaga River.
Bill shows you the methods Graham uses as they fly fish for reluctant fall Steelhead.
Graham guiding Host of "The New Fly Fisher" Show and the TV show "Guided" Mark Melnyk while filming for both shows back to back. Graham is joined with friend Matt Rimmer from FishBum Outfitters.
Watch the show – HERE