Fishing The Beatty
Saugeen River
A tributary to the Saugeen River.
Fishing The Beatty Saugeen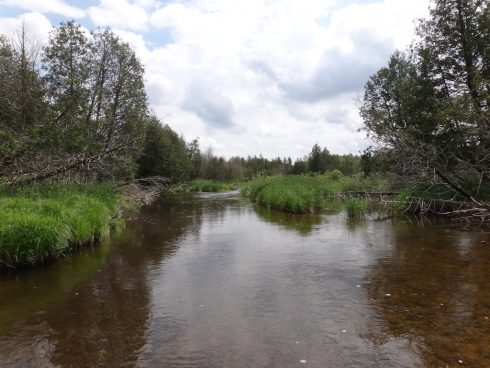 This is a really nice smaller tributary of the Saugeen River that has steelhead, brown trout, rainbow trout and brookies all mixed in.
It is roughly 4o feet long and averages around 15 feet in its middle sections. The river enters the South Saugeen river near the town of Hanover before entering the main Saugeen river shortly after.
It has good hatches but can be tough to wade and fish with all the wood and log jams.
Some of it is also slow flat frog water and some of it has some nice riffle water which is perfect for fly fishing.
It's also mostly private property but I have a few access spots that we guide our customers. You may be able to access some nice water through a private campsites.
Also this river has special regulations and does not normally open to fishing until June 1st so check the OMNR fishing regulations first before you go and fish here