A Georgian Bay Steelhead River.
Fishing the Bighead River
The Bighead river flows into Georgian Bay in the Town of Meaford. The average size of the river in the lower section is about 45 feet wide. This river gets big runs of steelhead and is mostly fished near the town and through the Bighead River Conservation area. This section  of the river is rocky and very fast water with good access. There is an extended fall season so much of the river is open until December 31st. Check the current fishing regulations in case that has recently changed.
jfchgfklhj
Fishing the Bighead river  in the lower section can be wide with huge boulders scattered everywhere. This section reminds me of some of the BC rivers I fished. The steelhead in this section move fast through the shallow water and anglers get them in the larger pools.
During the summer months, it's possible to walk across the Bighead river on the rocks and not get your feet wet because it gets very little summer flow and gets very shallow.
This section of the river should not be run by a canoe or boat since it can be fast and dangerous with scattered boulders everywhere.
The lower river does have decent populations of smallmouth bass and maybe baby steelhead for anglers. Because the river can be very low it sometimes take a big rain to bring the steelhead in. This river can rise and get muddy very fast but it can also drop and clear just as quickly.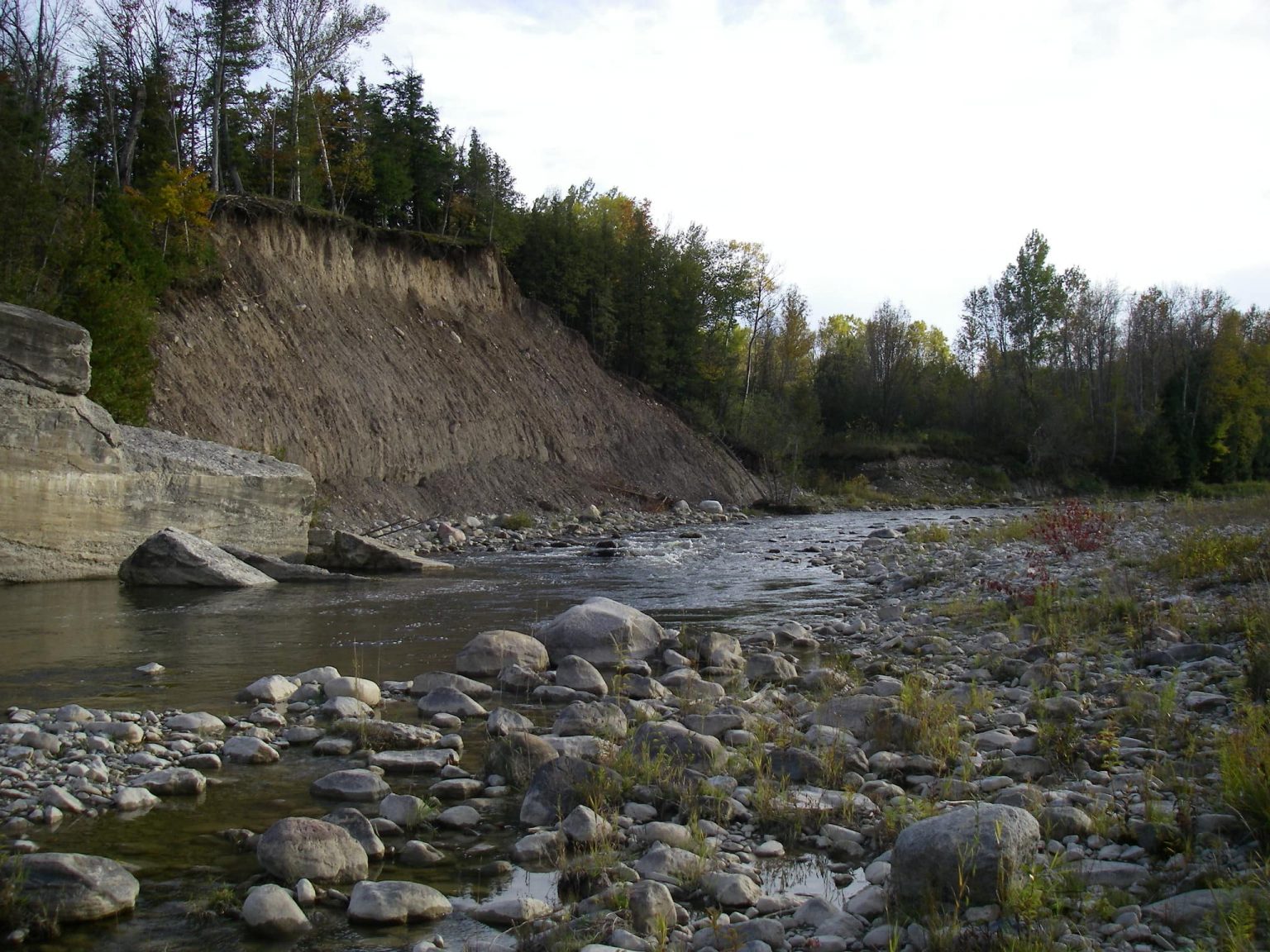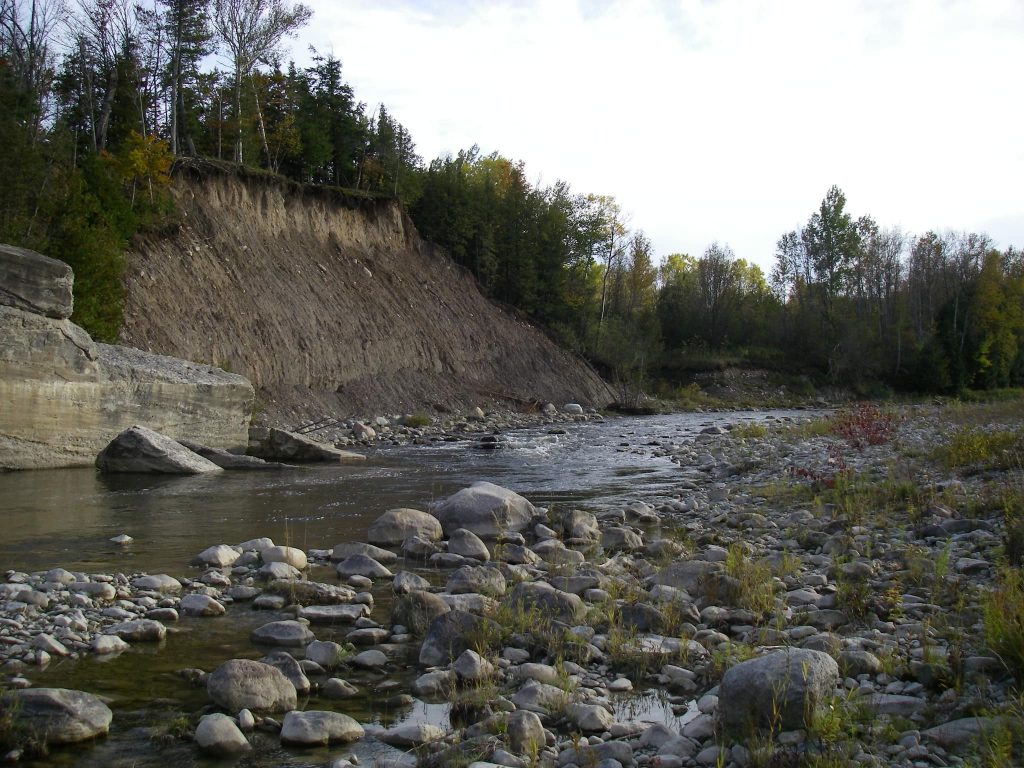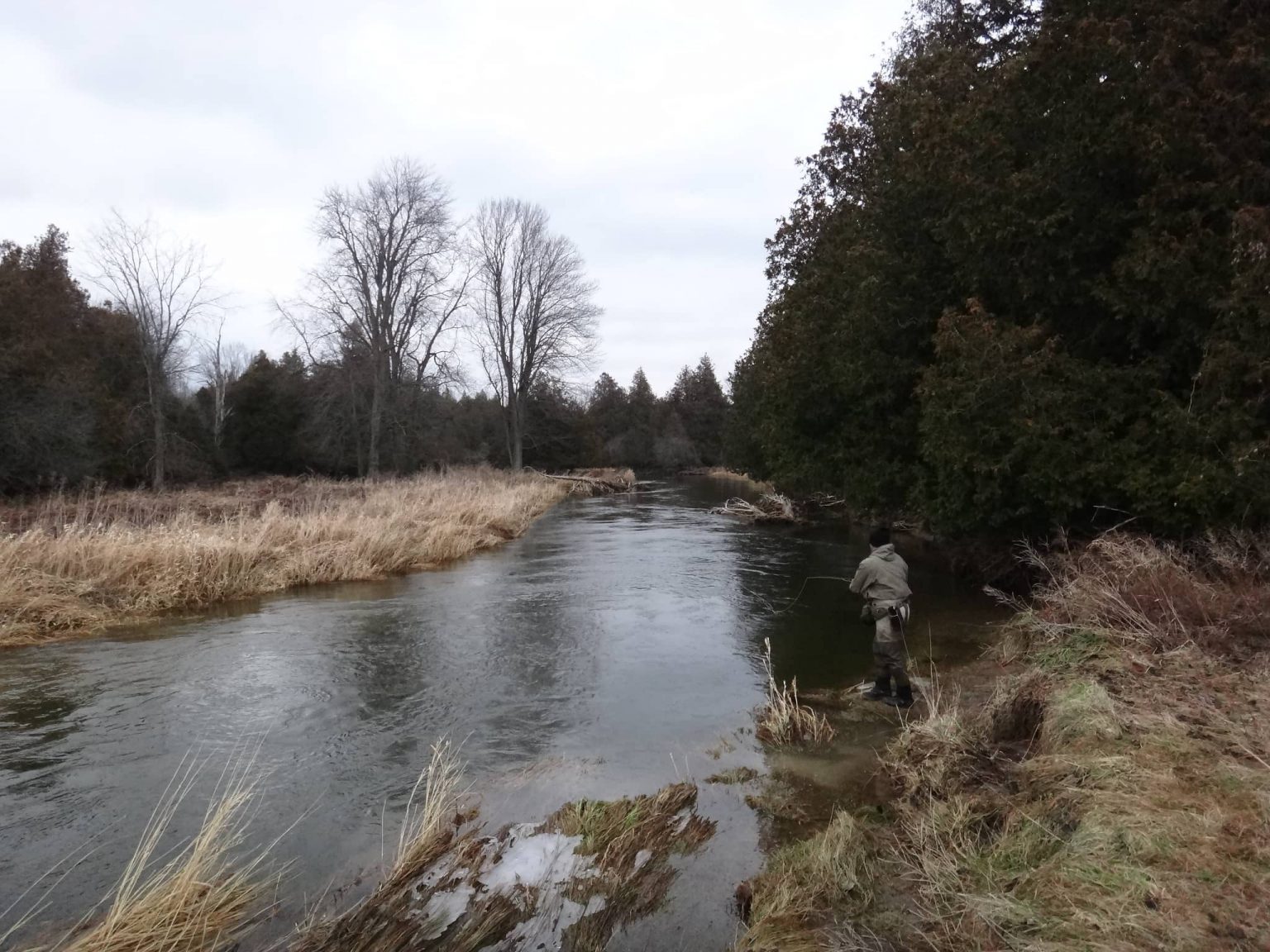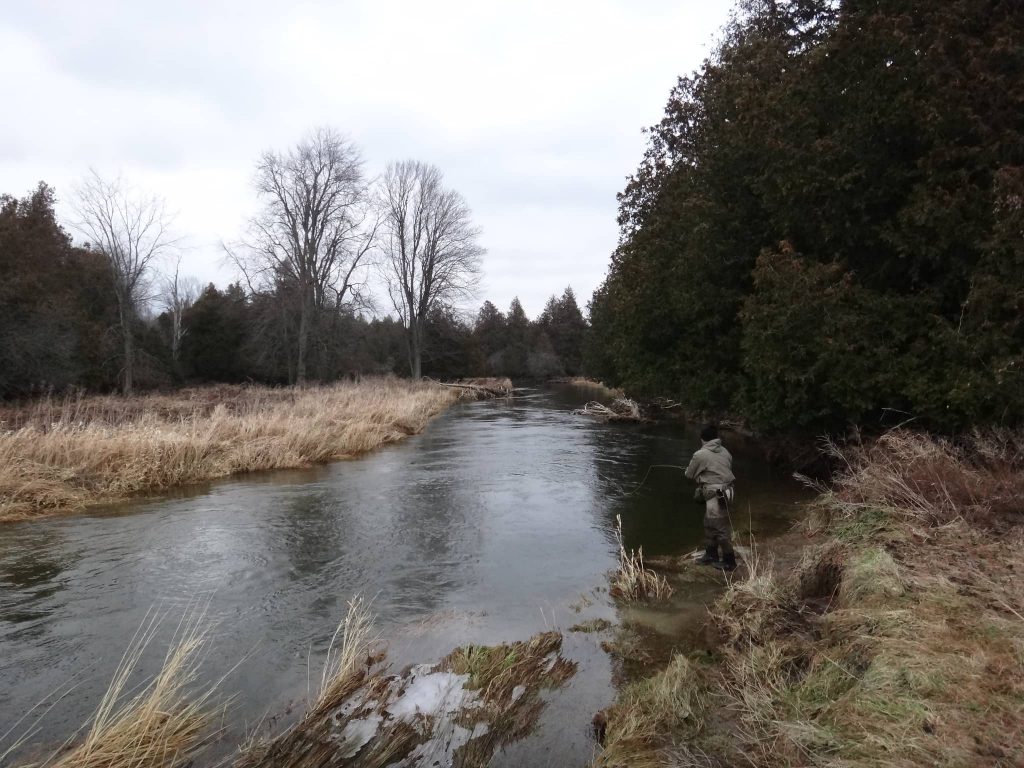 Fishing the Bighead River can mean you may get into salmon. The river gets a good run of Chinook salmon in September and October.
Once you get up past the the conservation area you start to get into mostly private lands where the river can't be accessed easily.
Much of the upper river is flat and slow and the rocky bottom gives way for a more sandy muddy bottom and lots of wood in the river. This makes fishing for steelhead difficult.
Although rare there are resident Brown trout and I'm told sometimes lake run Brown trout. Ive also seen lake trout in the lower sections of the river.
There are no dams blocking passage to migratory fish so they can access very good spawning waters way up the river. There are also good populations of Brook trout in the upper sections.
Fishing Steelhead On The Bighead River
The Bighead River is probably my favorite steelhead river to fly fish because there's just so many great pockets and pools to put a fly and the fish seam to smash a well presented fly.
Some sections are also big enough to swing a fly with a Spey rod, That's providing there aren't to many anglers there which is often a problem on the weekends or during peak times.
The lower river is also big enough for centerpin fishing and it seams 8 out of 10 guys are using a centerpin rod in this area, and often with great success. I offer guide trips with centerpin rods and teach centerpin fishing.
At times there are thousands of steelhead shooting up the river and anglers could be hooking into 20 or more fish during the peak runs. Unfortunately the runs are often sporadic and short so 1 day could be fantastic and 2 days later there will be very few fish around.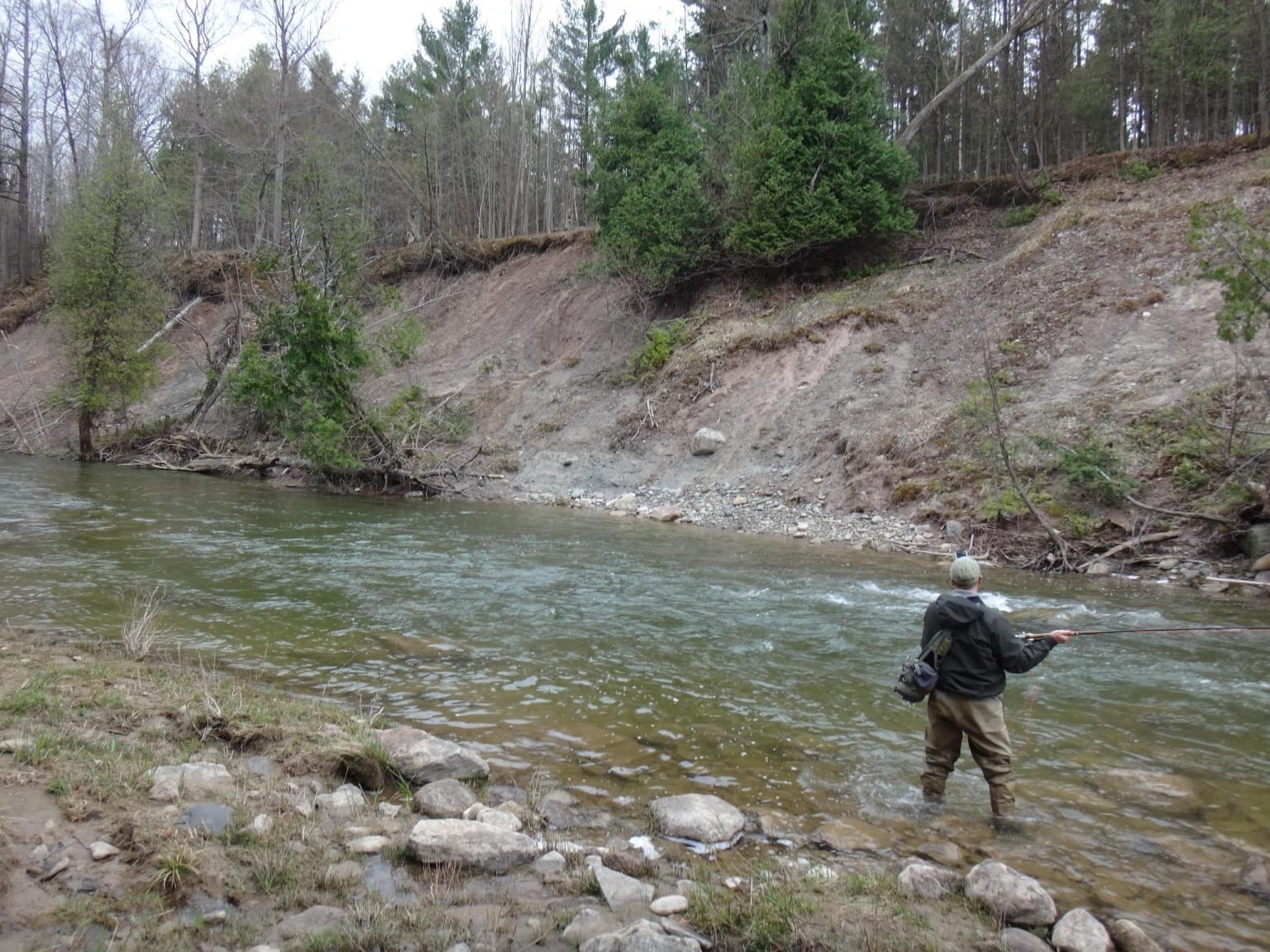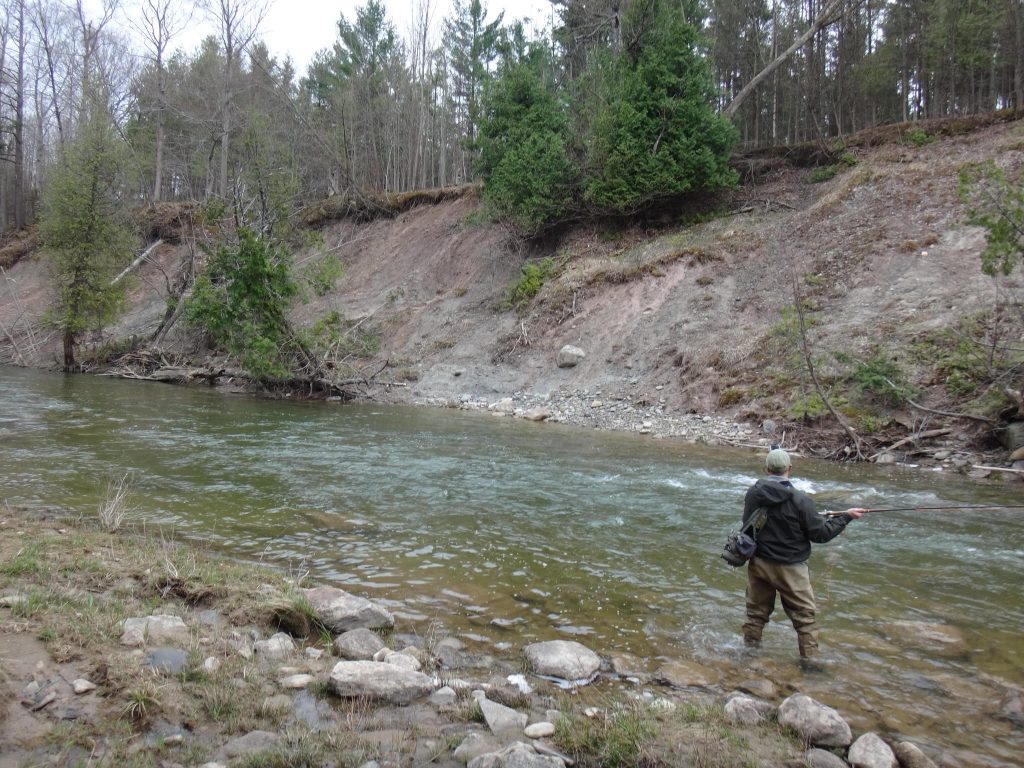 Fishing the Bighead river for steelhead can be good from October to December and then again in late April and May. For more information and tips on steelhead fishing go HERE . . . . .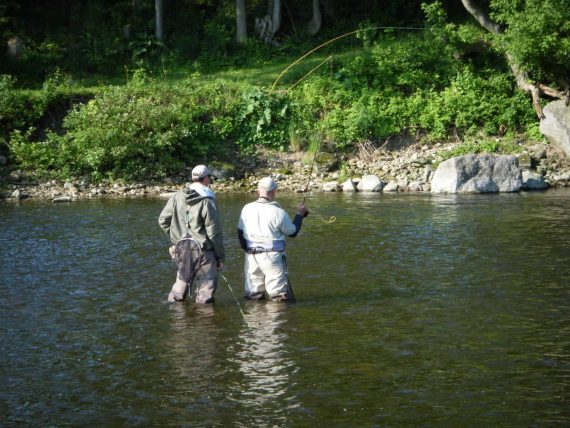 RIVER FISHING TIPS AND ADVICE FOR BEGINNERS
New to Fly Fishing and Centerpin fishing? That's Ok, you're not alone.

Brand new anglers ask me all the time about what rods and reels and other gear that I recommend, or they ask me about my best flies, best methods or even which rivers are good to fish. I simply got to the point where I couldn't keep up with the questions anymore, there just wasn't enough time in the day, so I build a website that cover's all of that. You should checkout our sister site where we tell you exactly what gear you need and tips and tricks to help you get started. Check out www.ontariotroutandsteelhead.com
Get a whole lot more on updated information about Fly Fishing, Centerpin Fishing and Spin Fishing For Trout and Steelhead on my new Blog Website. Current Blog Topics Include: