Fishing The
Nottawasaga River
One of the best steelhead rivers on Georgian Bay.
Fishing The Nottawasaga River
The Notty, as the locals call it is the biggest wild Steelhead river flowing into Georgian Bay and is said to have once had the largest runs of wild steelhead in all of Ontario. In the lower section it averages over 50 feet wide.
Even with it's good runs of steelhead it's likely one of the toughest rivers to catch steelhead on because of its flat and slow nature. This river also runs slightly cloudy green most of the time which makes seeing the bottom and snags difficult. With it's flat featureless look it's very tough to read the water and combined with lots of sunken wood and log jams in the fifty plus kilometers of the lower river, many anglers are not very successful and do not like to fish it.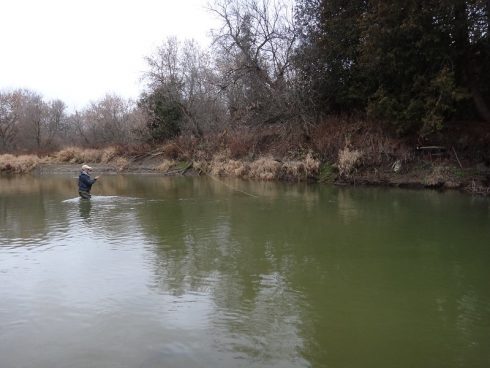 It also dirties up easy because of the sandy substrate and can take a long time to clear enough to fish. This river also has many tributaries some of which are listed above and when the steelhead come into the river they quickly split up and spread out as they enter these smaller rivers.

If the river conditions are good the Notty offers steelhead fishing from September to the end of May with peak times being mid October to late November and again in March and April.
The steelhead in this river are wild and I don't think it's ever been stocked with steelhead. Many anglers including myself have noticed these wild fish fight far better then in other rivers making the Nottawasaga our most requested river to guide steelhead on.
In the middle and lower sections of the Nottawasaga the slower deeper pools make this area very challenging to fish for many anglers but with over 25 years experience on this river we can show you how to find fish consistently and how to fish it effectively.
The slower deeper water of this river is really good water for anglers who like to Centerpin float fish and for anglers that like to use lures. There are also a few faster water sections that are great for fly anglers.
The majority of the river down stream from the town of Alliston is private property but some access can be had in the mouth area near Wasaga Beach and at a few municipal park areas near Angus.
We use our boats to take our customers through nearly un-fished sections of river during prime runs of Steelhead but we do have sections we can do walk trips on as well.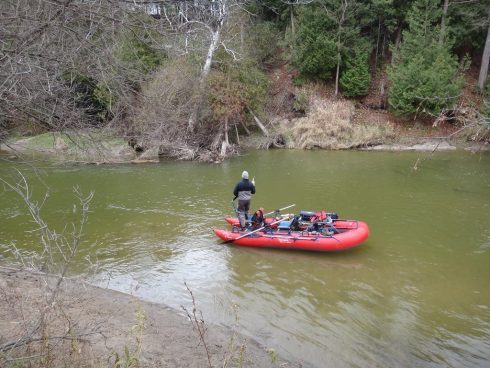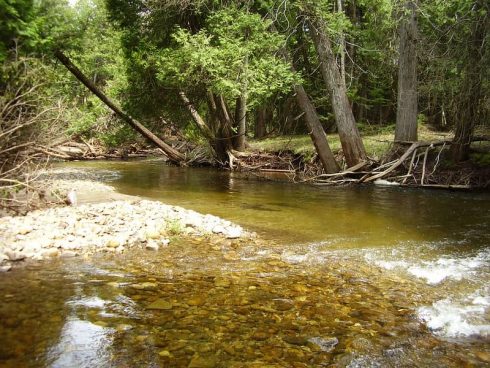 There is now a special no kill section between Angus and Alliston so all anglers must release their steelhead (see MNR regulations).
Salmon start running the Nottawasaga in August and peak in September.
;We offer boat trips and walk and wade trips for salmon and steelhead through most of the river.
There is also some big bass, pike and musky in the lower sections and we guide for them from late June to late September with peak times being July and August.
The upper sections of the river look a lot different with clear, clean, cold water but most sections are often heavily wooded and very tough fishing.
The upper sections have brown trout and book trout, but unfortunately due to jerks that litter and are rude to land owners this upper section is now almost 100 percent private property with strict "No Trespassing" enforcement.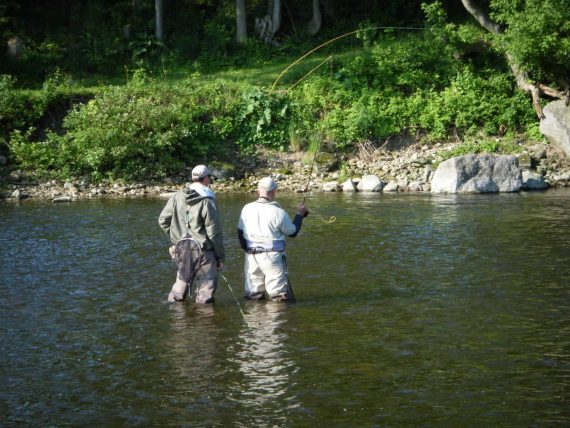 RIVER FISHING TIPS AND ADVICE
Have you ever wanted to know what the guides know? Now you can!
Anglers ask me all the time about what rods and reels and other gear that I recommend, or they ask me about my best flies, or my best methods or even which rivers are good to fish. I build a website that cover's all of that and more . . . . . You should checkout our sister site where I tell you exactly what gear you need and i give you free tips and tricks to help you catch more fish. Check out www.ontariotroutandsteelhead.com
Get a whole lot more on updated information about Fly Fishing, Centerpin Fishing and Spin Fishing For Trout and Steelhead on my new Blog Website. Current Blog Topics Include: