A tributary to the Nottawasaga.
The Pine River is the largest tributary of the Nottawasaga river.  It is very much like other tributaries of the Nottawasaga like the Boyne river and has plenty of different types of water from smaller rapid sections to slower riffles and pools.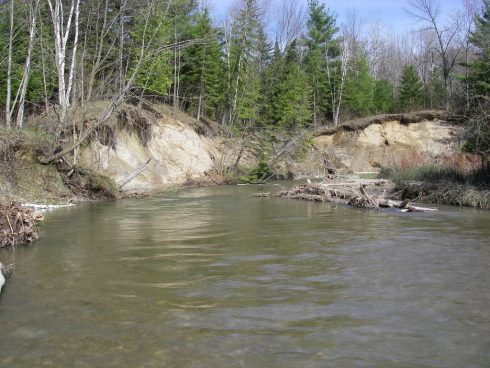 The Pine river is likely the best tributary of the Nottawasaga for reproducing steelhead and salmon because of it's clean cold water and good summer flows.
The lower Pine river empties into the Nottawasaga in the town of Angus. The lower pine river flows through more sandy and clay terrain and can be more wooded and colored like in the picture seen here. It's the lower river that gets fished the most and has the best access.
Much of the upper Pine river is posted private property and is very difficult to find public access. It's this extensive amount of private property that protects the brown trout, book trout and the steelhead from anglers and this keeps the fish populations healthy.
The further up the river you go, the smaller and cleared the river gets. The head water are very clear and cold and hold good numbers of brook trout.
The Pine rivers salmon runs attract many anglers and the salmon are sometimes know to show up in this river in July and August after big rains. Most fishing for the salmon is down towards the town of Angus.
Because the river is mostly private property and due to the large amount of log jams and the difficulty landing big fish, there are some big brown trout and some big brook trout in the river. 
Unfortunately, the few small sections of the river where anglers can access legally are often fished out for bigger fish thanks to people keeping the big brown trout and bigger brook trout, and now the OMNR has stocked brook trout in some sections to improve the fishing.
Because of the lack of big resident brown trout in these sections this river does not get a lot of fishing pressure.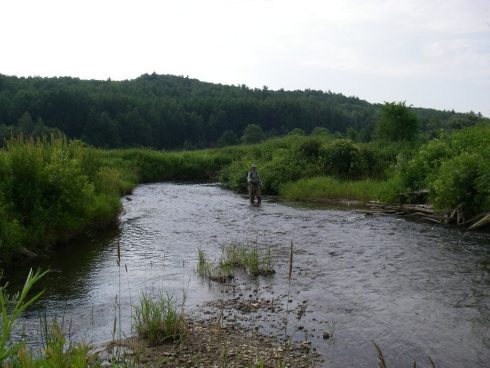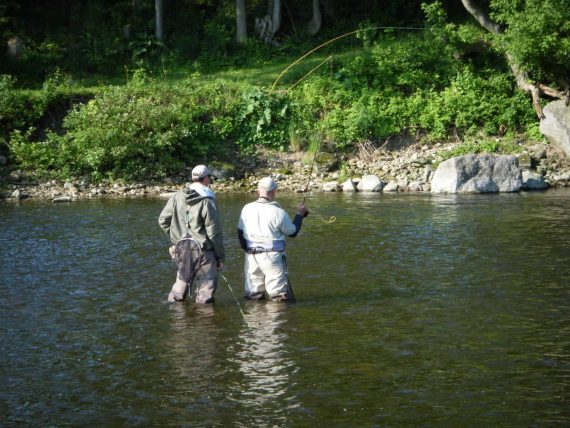 RIVER FISHING TIPS AND ADVICE
Have you ever wanted to know what the guides know? Now you can!
Anglers ask me all the time about what rods and reels and other gear that I recommend, or they ask me about my best flies, or my best methods or even which rivers are good to fish. I build a website that cover's all of that and more . . . . . You should checkout our sister site where I tell you exactly what gear you need and i give you free tips and tricks to help you catch more fish. Check out www.ontariotroutandsteelhead.com