Ontario Fly
Fishing Lessons
Lessons For All Skill Levels
ONTARIO FLY FISHING LESSONS
Learn to Fly Fish in Ontario
All Skill Levels Welcome
Learning to fly fish isn't that hard and we make it even easier for all anglers of all skill levels.
If you've never even touched a fly rod before that's ok with us, we can provide the rods and reels and waders and give you a good introductory lesson at fly fishing.
If you're a little or even a lot more skilled already we can help you improve, teach you a few new tips and tricks and help you start catching more fish than before.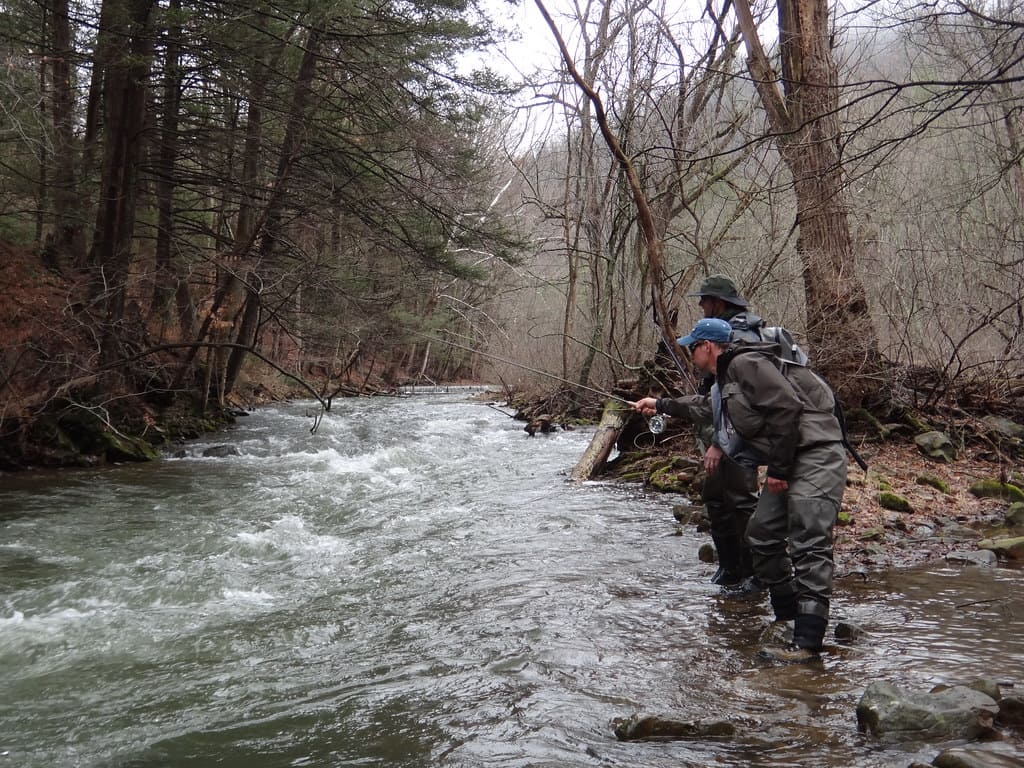 All our fly fishing classes and guided lessons are done on the river so we wont bore you with in-store or off the water practice. You learn on the water, and you practice what you learn on the water. That way you'll learn faster and have more fun!
Lessons for trout run from May 1st to October 1st
Lessons for steelhead run from October 1st to May 1st.
My name is Graham Bristow and I'm the head guide and Owner of A Perfect Drift.
I've been fly fishing for over 35 years and guided and teaching anglers since 2000. I have also been training with world champion competition anglers and the head coach of the USA fly fishing team along with many other highly skilled anglers and guides to continue to improve and to be able to offer both beginner and advanced anglers something.
I'm know as a very knowledgeable, skilled, and patient guide and instructor and recognized as one of the best in Ontario.
I'm happy to teach anglers from age 13 to over 100.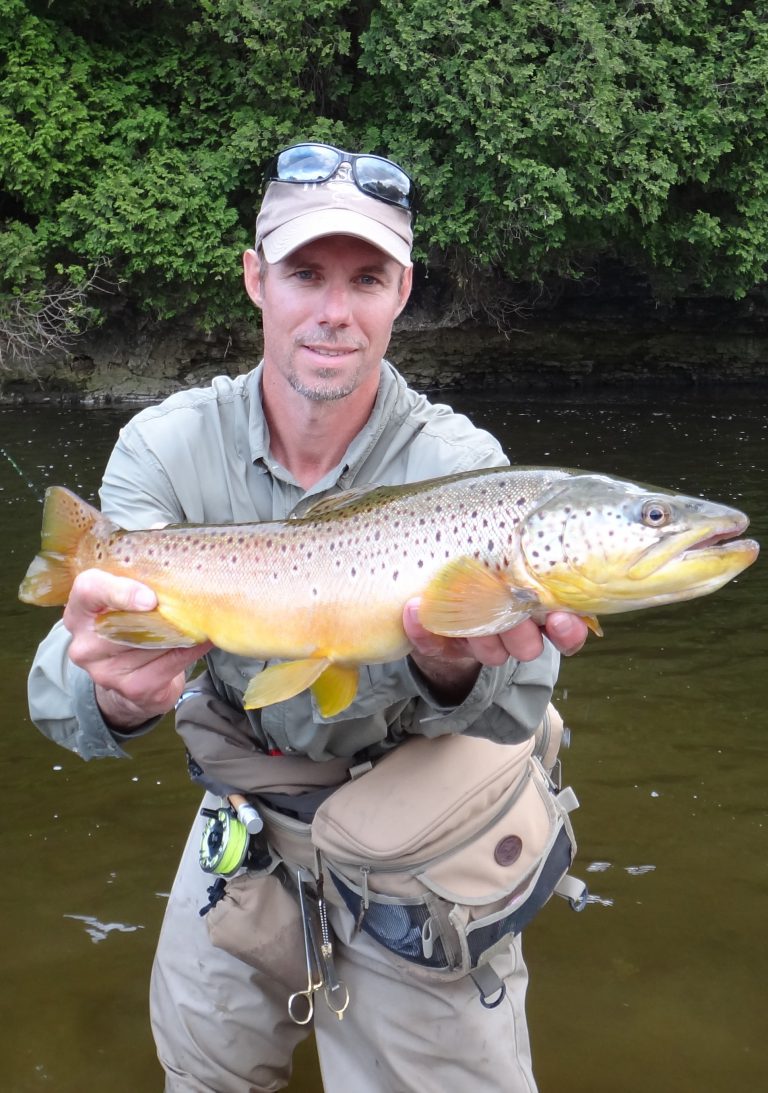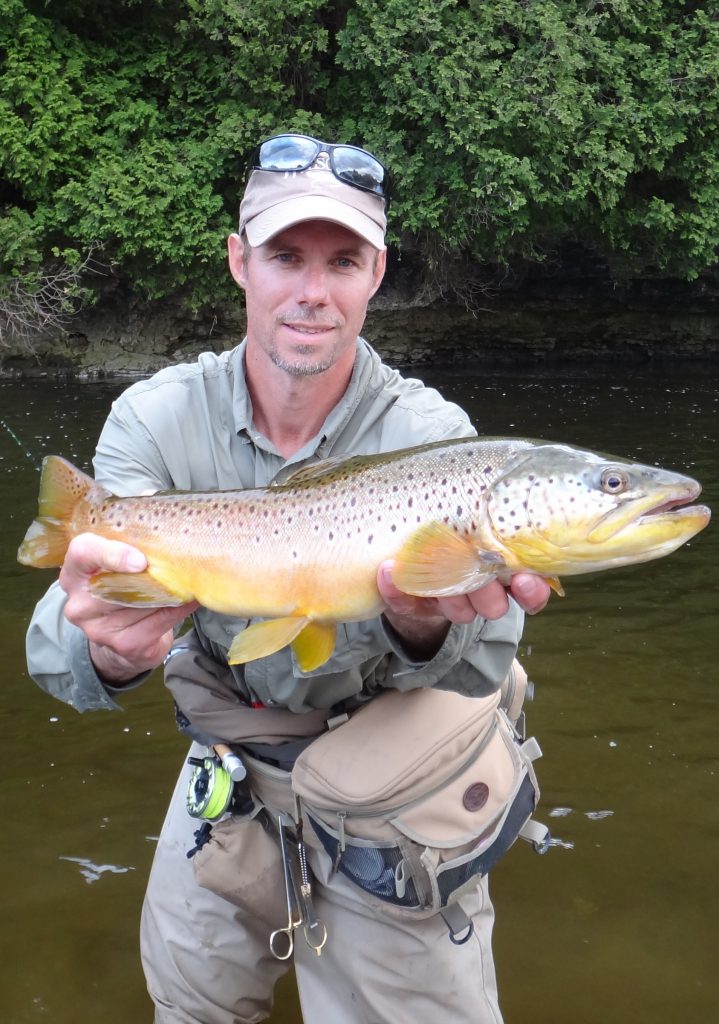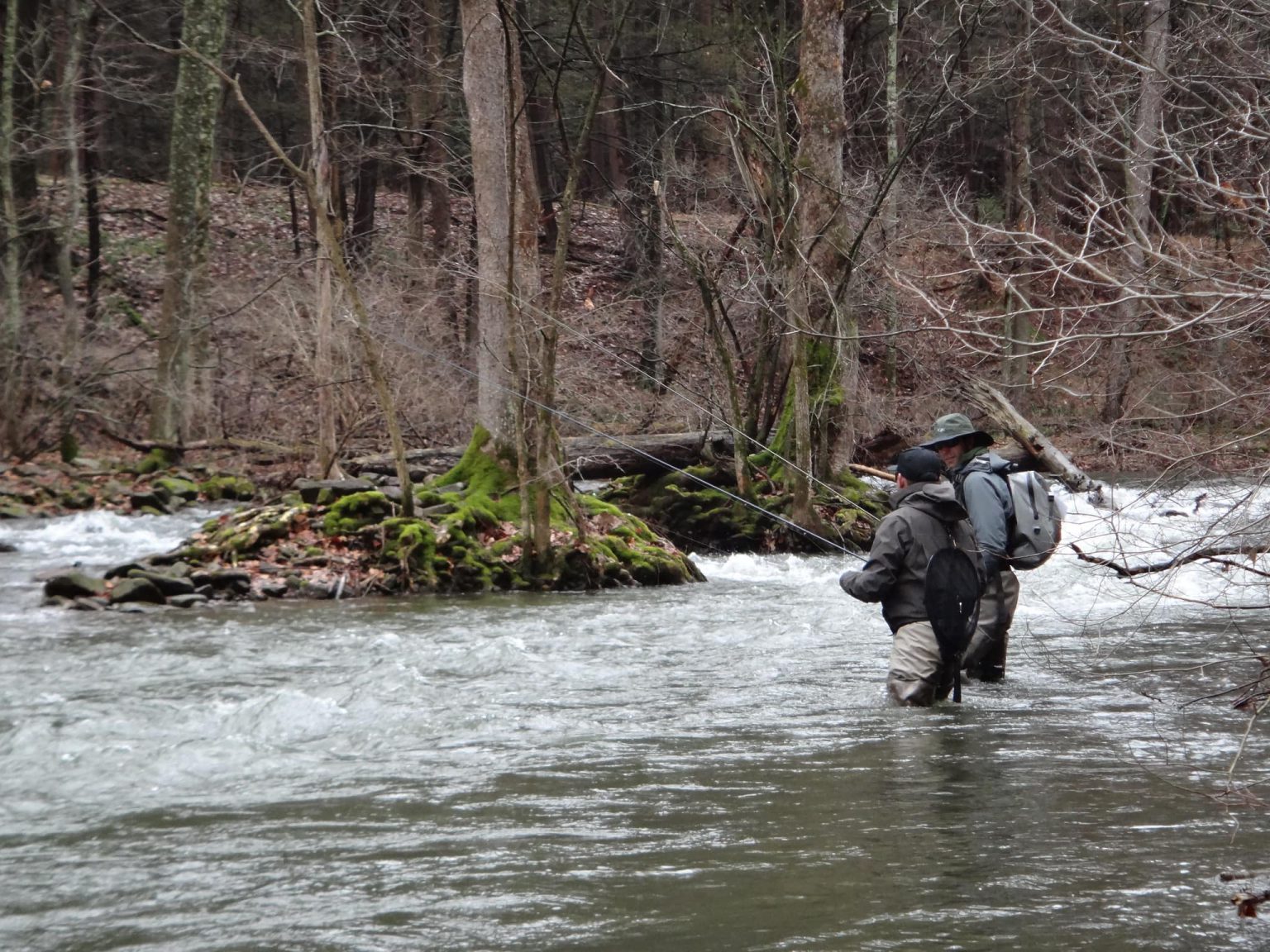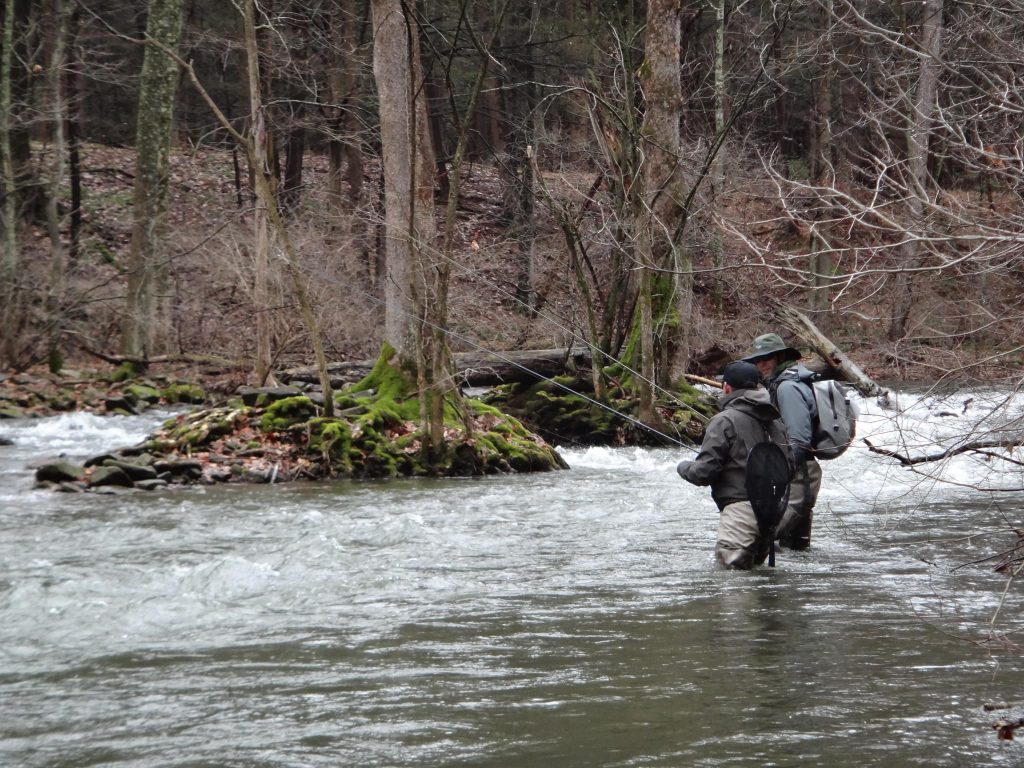 On the river instruction.
Fish while learning.
Maybe catch some fish.
Learn the many common methods used in fly fishing.
We can cater to your skill level, so the more skilled you are the more advanced stuff we can teach you.
We can provide all the fishing gear at no extra charge.
We are very relaxed so you won't feel pressured or stresses and we make sure we have fun.
We're open to special requests to if it's one methods that you would prefer to focus on we can do that.
We provide a summary of everything covered during your time out which includes knots, techniques, gear, set up and maybe even some pictures from our camera.
We are the first in Ontario to immediately put you in the water and coach you and teach you as you fish. We find anglers have more fun this way, they catch more fish this way, and they learn so much more this way. We believe practice and actually doing it helps you get better faster then just discussing it.
We believe catching fish is important because it not only adds to your confidence that you are doing it right but it allows me to teach you how to properly fight the fish to the net and how to safely handle and release the fish.
I've said it a thousand times before, "the river is the wrong place to be practicing your knots". On the river with an instructor is where you want to practice technique and learn the skills needed to be a good fly angler. This is because you can't practice technique at home or in the park, but you can practice your knots there and set up you lines and stuff. So instead of wasting your time on the basics of knots, leaders, lines, the gear and how they all work together (which most people forget anyways at the end of the day), instead we provide you with take home information on all that stuff which allows you to learn those simple basic things off the water on your own time.
The added take home material we provide afterwards is what we used to cover in our old 1 day course: Value at over $390.00. It's there for you as a reminder when you need it.
But don't worry, you're not missing anything, we can still cover it all!! We can teach you about the insects and how to easily match the hatch even if you don't know what they are.
We can show you what flies to use and when to use them
We can show you the casting methods and tips for keeping you casting better
We can cover Nymphing, Dry fly, and Streamer fishing methods
We can go over reading the water and finding more fish
You will learn the proper approach and presentation methods that most anglers should know but don't, and that means you will catch more fish.
Plus many more tips and tricks passed on to you from your experienced instructor
Classes or Individual Lessons: In the past I did classes of up to 6 anglers per class and spent about 8 to 10 hours on the water. These classes were very popular and sold out every year.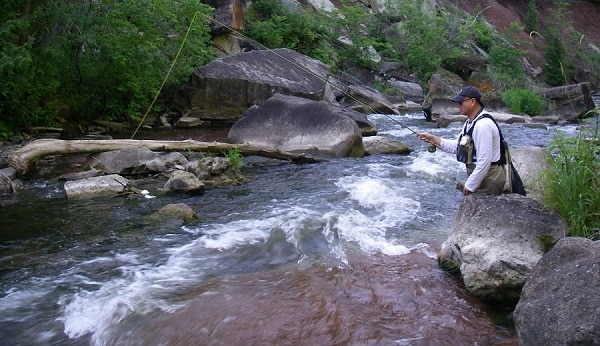 This year we are offering our very popular Nymphing Class again.
You will learn how to nymph trout in typical Ontario trout rivers using modern tight line nymphing. These are my tips and tricks for more trout and bigger trout.
You will find out how me and my clients are hooking multiple 20-inch brown trout in a day. This class comes with a nymphing summary which includes some of my best fly patterns.
Most anglers that learn this from us are amazed at how much more fish they can catch.
" I had such a great experience when you taught me to Euro nymph and it elevated my fishing game so much that it has left me a bit biased"
Space is limited so don't miss your chance to learn from the best nymphing guide in Ontario.
It's a short class that is packed with information and you can stay and practice what you've just learned all day long.
Your Instructor – Graham
Best for intermediate to advance fly anglers- at least 1 year of experience.
Max 6 anglers
Your own gear is required
2 to 6 weight 9 foot rods are best
Tippet section is provided
a couple of Nymphs provided
A nymphing summary provided afterwards
Date, Time and Destination:
Sunday May 2nd at 9am to noon – Credit River
Sunday May 16th  at 9am to noon- Credit River
Price: $150.00 + tax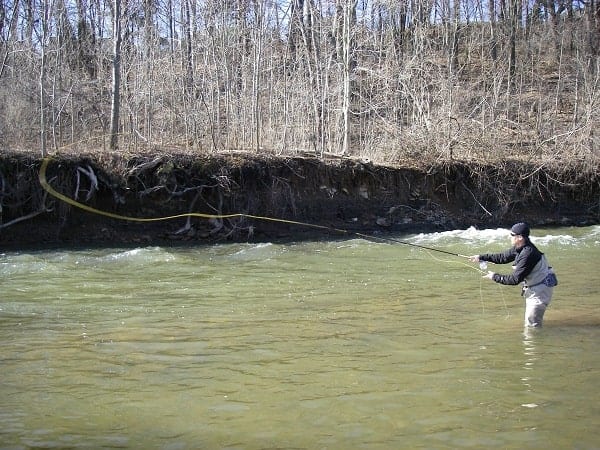 Back by popular demand is our advanced streamer fishing class.
Learn to streamer fish like a pro with this advanced streamer fishing class.
If you think streamer fishing is simply castings out your streamer and then just stripping it back in, then you are a normal fly angler and that means you probably suck at it like most normal fly anglers do.
This class goes so far beyond how most anglers streamer fish that you probably wont recognize anything other than the streamers we use.
This is not that normal lazy unproductive tradition streamer fishing you see done all the time. This is advanced streamer fishing that works better.
The casts are different, the retrieves are different and the whole mentality is different. Different and way better.
This class will teach you how to cover water 4 times faster with 4 times less casts, and that means way more fish. The best part is all those casts are  easier than tradition streamer casts. They are efficient, accurate and better.
Imagine you streamer fishing and you cover 1 km of river in 4 hours on the water, but I cover 4 km in the same amount of time. Guess who is going to catch more fish. Now imagine I did it with less effort and more efficiency . . . . That's what you will learn in this class.
I will teach you how to cover the water more effectively for more fish and how to omit the dead water.
You will learn about proper angles, where to put your streamer and how to trigger more strikes which will all maximize your success.
Learn about fly selection and fly rotation.
Space is limited so do not miss out.
It's a short class that is packed with information and you can stay and practice what you've just learned all day long.
Your Instructor – Graham
Best for intermediate to advance fly anglers- at least 3 year of experience and with good casting skills.
Max 6 anglers
Your own gear is required
5 to 7 weight 8.5 to 9 foot rods are best.
Tippet section is provided.
Bring your own streamer. 1 will be provided.
Date, Time and Destination:
Friday May 7th at 9am to noon- Credit River
Price: $150.00 + tax
Other classes and dates may be added.
Another great option for lesson is an individual guide lesson.
Yes, it's just like a guide trip but with more emphasis on learning. Individual lessons are a great choice if you need more of your instructors time. You get 1 on 1 instruction and your guides focus is entirely on you.
So before you consider a class with someone else, seriously consider the benefits that an individual lesson can provide instead.
I no longer offer basic classes because I feel that anglers do not get enough time with the instructor to really get them proficient with fly fishing.
Also, for about the same price an individual would pay in a class, you can learn for more on a guided lesson with only 1 or 2 anglers and you will likely catch more fish to.
1 or 2 anglers is best. If you don't have a partner to split the cost of a guided lesson let us know and we will put you on the "Find A Partner" program list.
I also call individual lessons a "guided lesson". It's a combination of a lesson and a guide trip and is great for all skill levels.
This type of lesson is great for a single angler or small group of up to 2 anglers and has a dual goal of both learning how to fly fish or improving on your existing skills while you try and a catch some fish.
We can still cover everything we would in a class or we can just stick with working on any specific things that interest you the most. That way if you already know about the insects, the lines, the rods etc. we wont need to discuss that, but if you don't know about that stuff we can still go over all of it.
The whole lesson is also done on the river with a rod in your hand.
The river we do these types of lessons can vary and may depend on each anglers preference so you may be able to request a specific river that you want to fish on, or it may depend on what is fishing best at the time.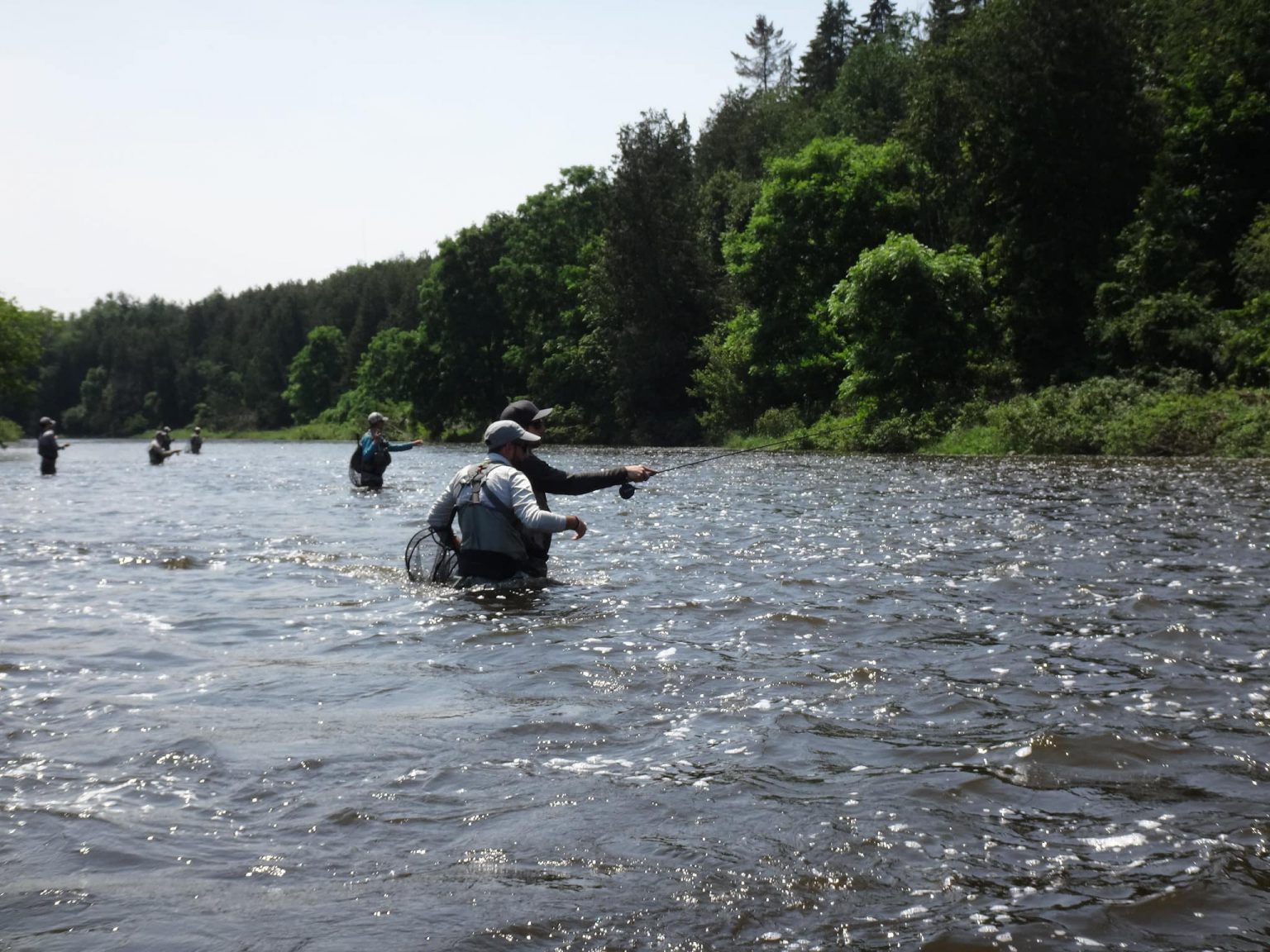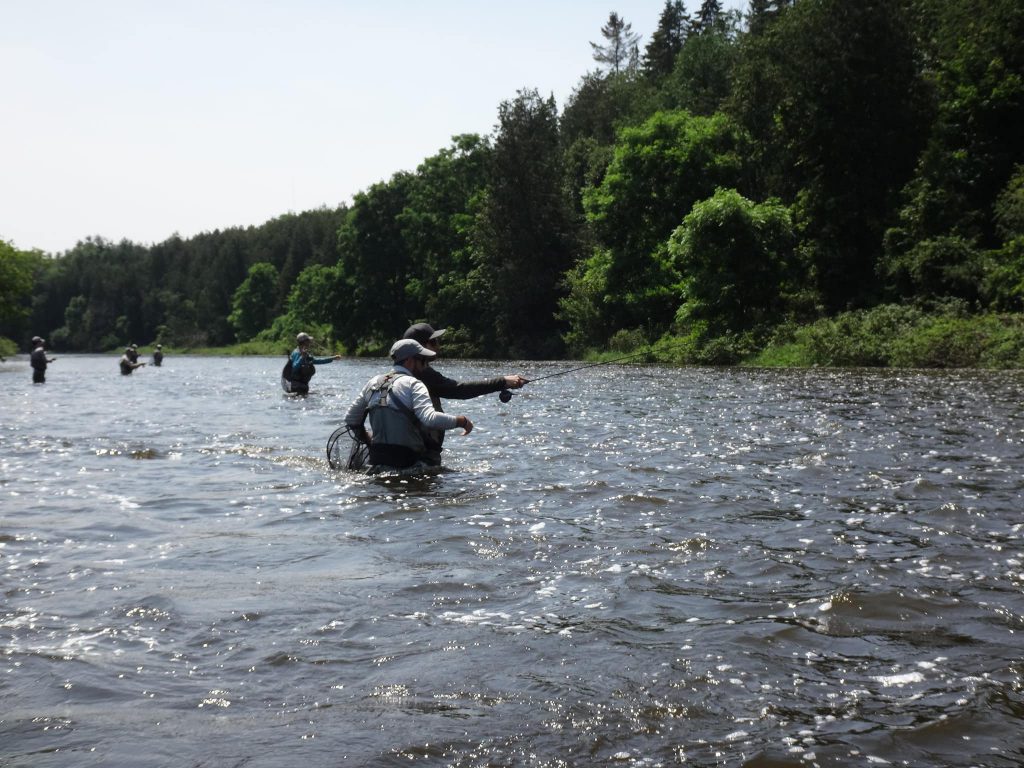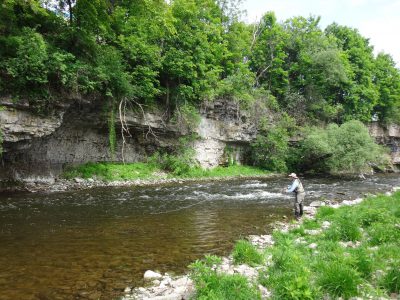 It's very normal for me to guide clients that are already pretty good fly anglers but still want to get even better.
This is one of the reason's I actively seek out and train with and learn as much as possible from other advanced anglers myself. Because of my on-going training, I have the ability to pass on that information on to anyone looking to become the best fly or float angler possible.
I've had anglers tell me they have fly fished for over 2o years that were amazed at how much they still had to learn after they spent a day on the water with me. When we're self taught we make mistakes and we keep making those same mistakes, or sometimes we get in a rut that prevents us from improving. But when you get out with someone new and see new methods and a new perspective on how to do the things you are already doing, improvement continues.
If you want to catch more fish, it's time to get a great fishing coach!
Advanced Streamer Classes
Streamer fishing has been growing in popularity and for good reason. Anglers know that streamer fishing can often produce the biggest fish in the river and it can be very exciting watching trout and steelhead smash a well presented streamer fly.
I still watch streamer anglers every year doing things that are so unproductive and therefore they're missing their opportunities for more big fish. This course will change how you look at streamer fishing and is guaranteed to put more big fish in your net once you learn all these simple but effective tips and tricks.
For more information on streamer fishing in Ontario go to our Ontario Streamer Fishing page HERE
Big Fish eat Big Flies, learn how to catch more big fish streamer fishing.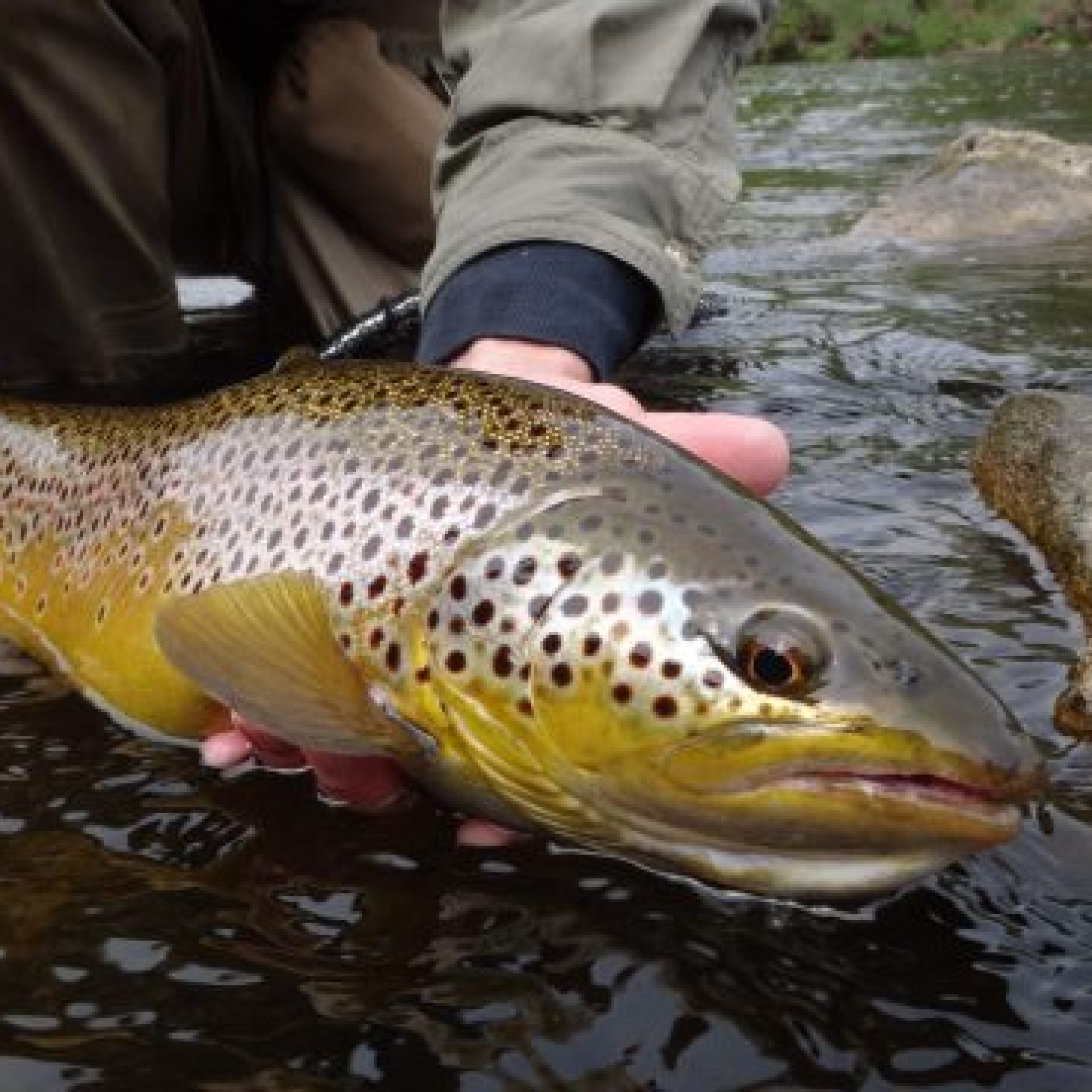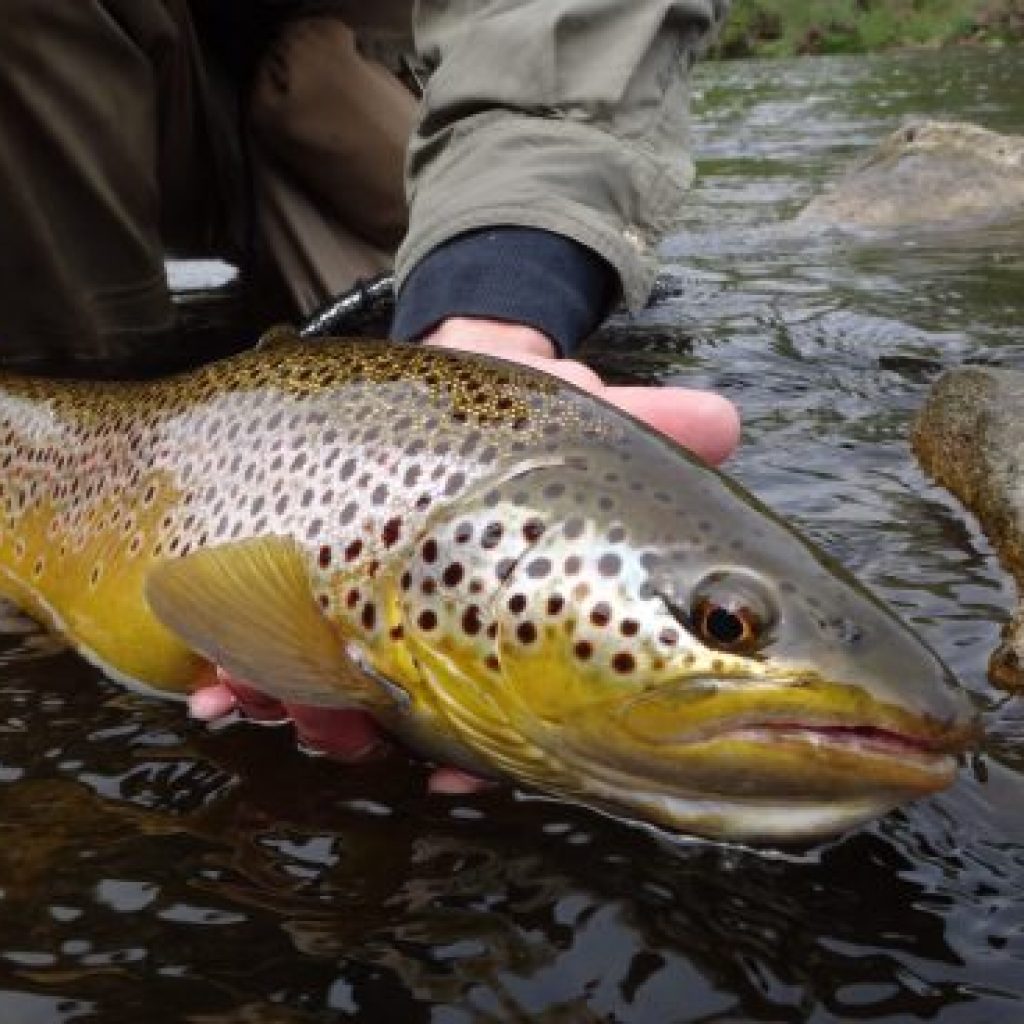 Advanced Streamer Fishing
What's Covered:
We will be teaching anglers about the streamer flies used to catch large trout.
Fly color and fly size rotations for more hook-ups
Weighted versus non-weighted streamer flies.
Sinking lines versus non sinking lines.
Advanced retrieves that trigger more strikes and when to use each retrieve.
How to cast in any type of river conditions with accuracy and the most distance.
Angles for better retrieves and better casts which will improve your catch rate and your ability to cast in even the toughest river conditions.
Fast water and pocket water streamer fishing techniques that show you how to hang your flies in the strike zone longer to give the big fish more chance to hit your fly.
Cover the water 3 times faster, 3 times more efectively and with less effort and catch more fish.
Depth control, speed control and erratic retrieves for more fish.
What to do after a big fish swipes at your fly and misses.
Reading the water and finding fish using streamers.
Understanding big fish movement patterns to help you know where to focus you're efforts.
Super stealth techniques for cautious fish how to approach a spot more effectively.
Best rods and reels and lines for streamer fishing.
Do you need specialtized equipment or not, my opinions.
* * * You should have at least a year or two of experience because this class is not for absolute beginners to fly fishing.
Like all our lessons this is a hands on lesson and is on the river the entire time. You may even catch some trout.
I will not be teaching basic casts so if you can't cast well you may struggle with this class. You will still learn a lot and can practice afterwards but I will not have the time to teach you basic casting, and casting big streamers takes some skill.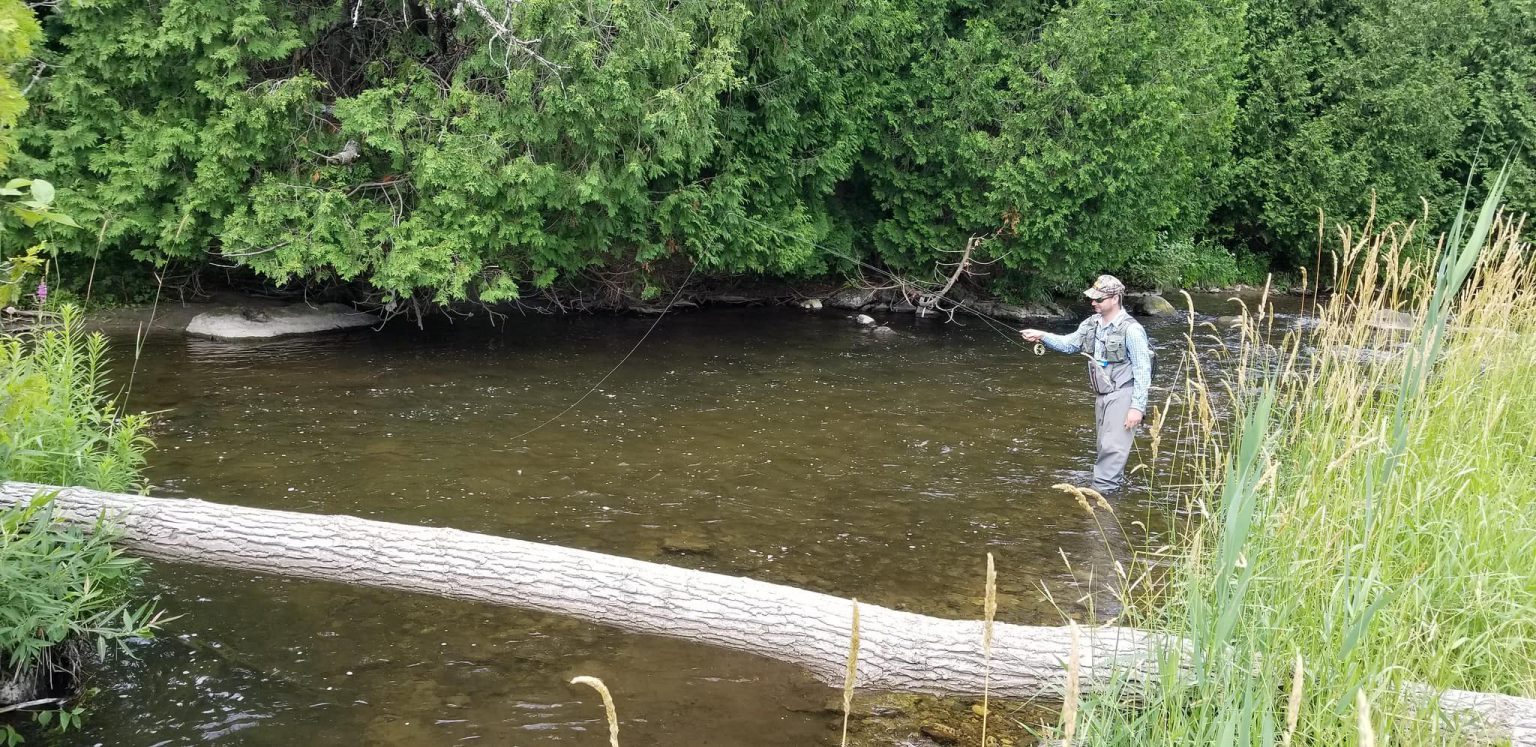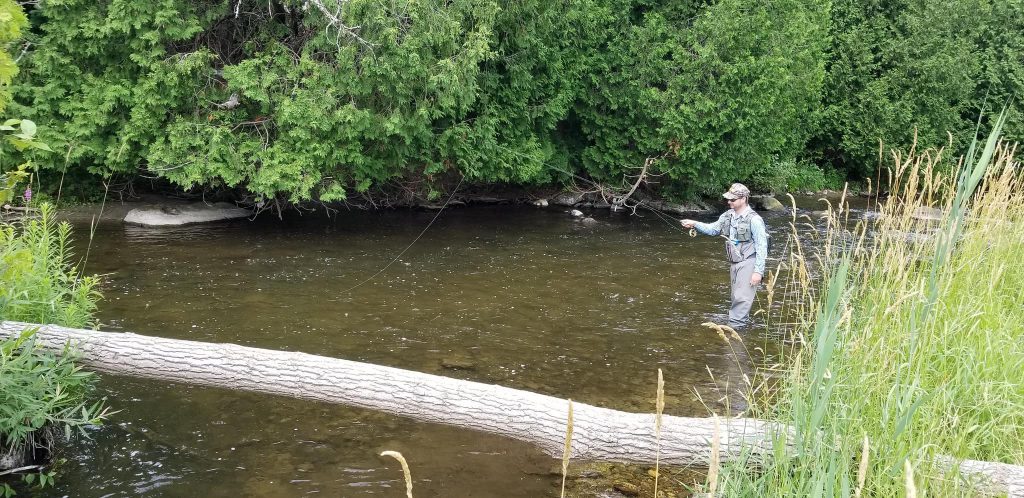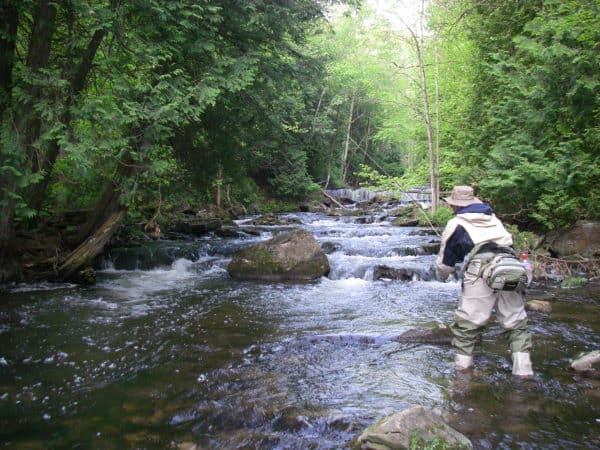 Advanced Nymphing Classes
This is our most thorough and advanced nymphing class in Ontario is by far our most popular class that we offer because we teach anglers how to break out of the traditional rut that most Ontario anglers are in and how to use more modern methods that catch way more fish.
We've heard anglers tell us they're catching 5 to 10 times more trout and steelhead on average and they're catching bigger fish much more consistently. See below for 2019 dates.
For more information on nymphing in Ontario visit our Ontario Nymphing page – HERE
THE FIRST AND ONLY NYMPHING CLASS OF IT'S KIND IN ONTARIO
Your Instructor will be head guide Graham Bristow who is currently the top nymphing guide in Ontario. Graham has fished with and trained with many industry leading fly anglers including word champion competition angler David Arcay and the USA fly fishing teams head coach and youth teams head coach George Daniel who was also a two time medal winning angler and author of Dynamic Nymphing.
Your instructor Graham also has experience and training in the methods and skills used by many other world class and local competition anglers and guides and he brings these skills to you in this class.
If you're ready to catch more trout then don't miss this class because this is like learning how to nymph all over again, but better!!
What's Covered:
Modern nymphing techniques used by the top pros and tournament anglers all over the world.
Advanced traditional style nymphing tactics for improved catch rates.
Advanced long line stealth competition style nymphing for more trout.
Advanced short line euro style nymphing lessons.
Speed Control and understanding current variation to get more natural drifts and bigger fish
Depth control and how to find and stay in the strike zone which greatly improves how many fish you'll catch.
Advanced methods to keep your flies off the bottom for less snagging and a lot more fish.
Reading the water and finding fish and knowing what the best methods and fly is for all water types.
Thoroughly covering the water using the grid method for more success.
Super stealth techniques for more big cautious fish.
How to approach a spot, better angles for covering the water and for catching more big fish.
High and low specialty casts for difficult and tight conditions so you can put your fly anywhere anytime and get to fish many other guys cant.
Unique two indicator rigging for improved understanding of fly placement and drag control.
Suspension nymphing versus traditional indicator nymphing
The right and wrong indicators and why.
One, two and three fly rigs for different rivers and where to place the flies for maximum success.
Fly patterns in detail: Impressionistic flies, traditional flies, Euro flies, natural patterns versus attractor patterns, and weighted versus non weighted flies.
How to still fish Euro style when you're only allowed one fly and how to fish single super small flies from size 16 to 24.
When to use and where to place weights and what the best weights to use are. included 3 different rigging methods.
Big to small tactics trophy trout tactics that work.
 Long "No Mend" drifts most anglers don't know of.
Easily detecting subtle hits for more fish landed.
How to set the hook like a pro and spend more time fighting fish and less time pulling flies out of trees, tall grasses or removing nasty tangles.
Removing snags like a pro to save time, money and potentially hundreds of flies.
Learn the common mistakes the average angler makes that prevents them from consistently catching big trout.
Rod, reel and line selections for better nymphing.
Annual and daily movement patterns of big trout and where to find more big fish then the average angler.
* * * You should have at least a year or two of experience because this class is not for absolute beginners to nymphing.
Like all our lessons this is a hands on lesson and is on the river the entire time. You may even catch some trout.
This class goes way beyond the basic standard crappy nymphing techniques used by the vast majority of Ontario anglers and other river guides.
BONUS:
BONUS: You'll learn a half dozen of my most productive nymph patterns that are exclusive to my clients along with the tying videos of how to tie them and where to buy them in Ontario.
BONUS: You'll receive a specialized nymphing leader that I use to catch most of my large trout and video instructions on how to make your own long and short leaders.
BONUS: A video summary of the methods discussed in the class.
BONUS: learn one of the most unique dry dropper methods that allows anglers to use flies as small as size #26 regardless of the size, the weight or the number of nymphs you want to use.
BONUS: Take a look and even take a picture of what's inside my guide nymphing boxes.
Trophy Trout Class
As a veteran guide and as an experienced angler I do things differently then the average angler to target and consistently catch the largest and the most big fish in each spot.
When the fish are active and other anglers are lucky to catch just one big trophy trout I'm usually hooking 4 or more in a few hours.
These specialized tactics along with information gained from 20 years of guiding and 35 years of fly fishing Ontario rivers is what I teach anglers in this lesson.
These tactics for trophy trout are proven and are the reason many of my clients have caught their person best trout with me and why they repeat year after year.
This lesson is streamer fishing combined with advanced nymphing tactics combined with a better understanding of big trout feeding habits and approach.
Individual guided lessons focusing on these trophy trout tactics to and can be arranged by contacting me for my available dates.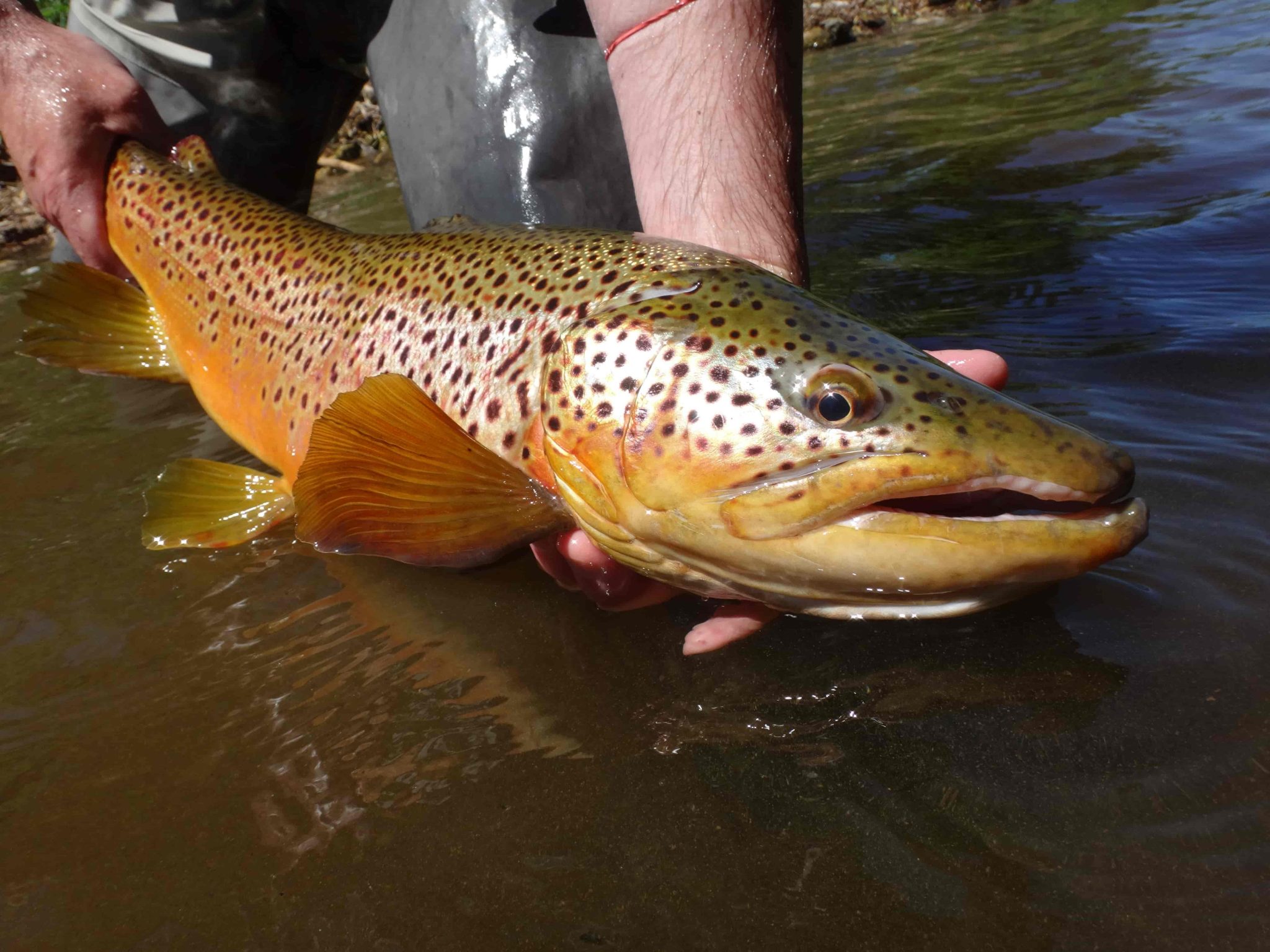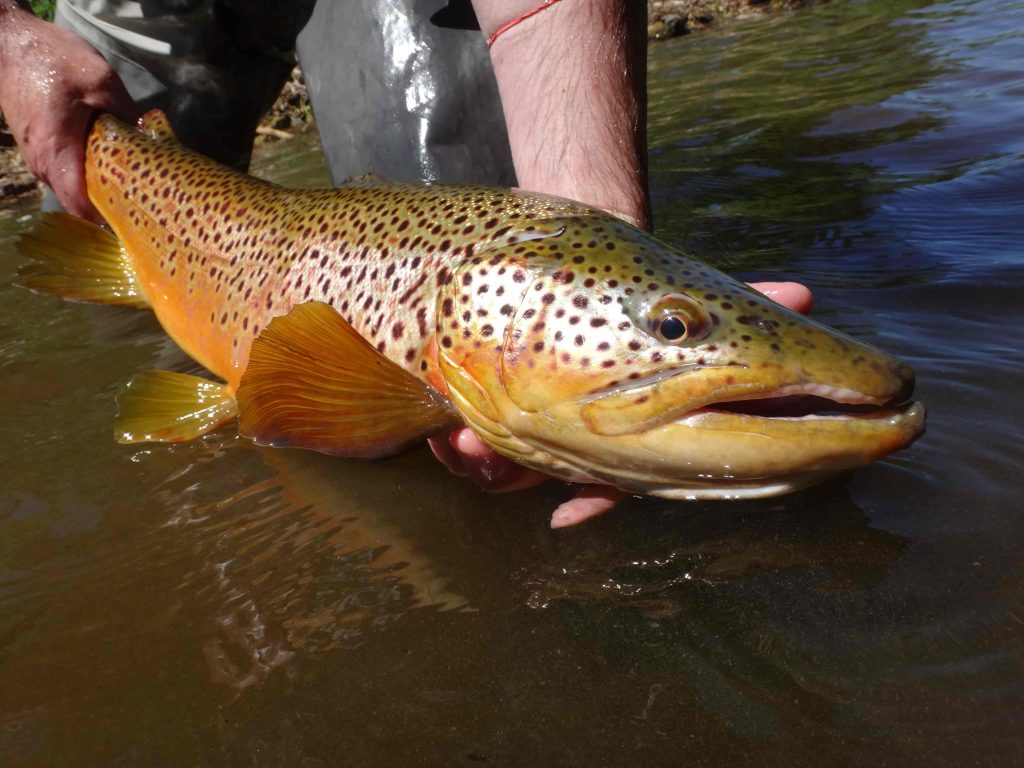 One of 3 Trophy trout caught in an hour.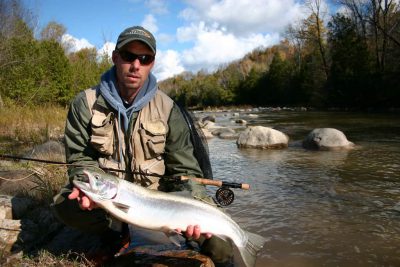 Fly Fishing For Steelhead Classes
Steelhead are a favorite amoung river anglers and fly anglers in Ontario. They are often big averaging 4 to 7 pounds, are often plentiful and will take a well presented fly.
We have the ability to fish for steelhead in the rivers almost 10 months of the year and even 12 months of the year if you know where to look during the summer months.
If you want to quickly increase your fly fishing skills and start catching more steelhead we offer our Steelhead Classes once or twice a year.
For more informations on steelhead fishing in Ontario check out our FlyFishing for Steelhead page HERE
Your instructor is Graham Bristow who has 33 years of experience fly fishing for steelhead.
We Cover:
Best flies for steelhead nymphing and streamer fishing.
Effective mending and no mending methods.
Gaining depth, maintaining depth, and controlling drift speed for more hook ups.
Covering water effectively.
Lines, leaders, and proper set-ups.
Good holding water and where to find fish in differentconditions.
Guide tips. Common mistakes and how to fix them.
Basic Euro Style nymphing methods.
Basic Streamer fishing for steelhead.
Timing and understanding the runs for more fish.
Using the river water level and flow charts and my personal notes to help you read and decifer the information better.
Controlling and fighting big fish better and landing them faster.
To see all our guide rates and all the different guide trip packages that we off just click the blue button below.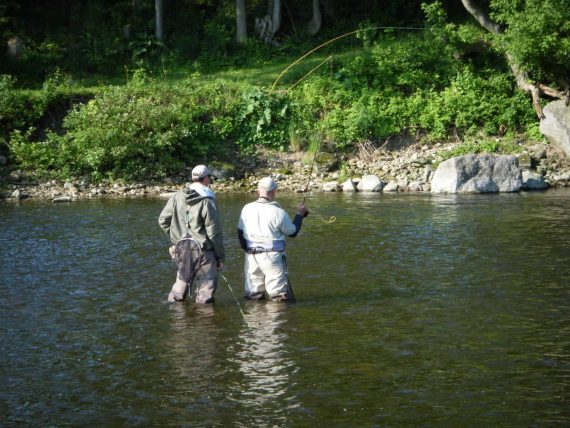 RIVER FISHING TIPS AND ADVICE
Have you ever wanted to know what the guides know? Now you can!
Anglers ask me all the time about what rods and reels and other gear that I recommend, or they ask me about my best flies, or my best methods or even which rivers are good to fish. I build a website that cover's all of that and more . . . . . You should checkout our sister site where I tell you exactly what gear you need and i give you free tips and tricks to help you catch more fish. Check out www.ontariotroutandsteelhead.com
Get a whole lot more on updated information about Fly Fishing, Centerpin Fishing and Spin Fishing For Trout and Steelhead on my new Blog Website. Current Blog Topics Include:
Contact Us For Your Guided Lesson