Matching the hatch near us
Ontario Hatch Charts
This list of flies is for reference to help anglers get a better idea of when hatches are likely to occur and to help them stock their boxes so they have what they need when they it the river.
Disclaimer : This a general reference guide for anglers and we've only listed the primary flies, not all of them. Keep in mind the hatches are dependent on the weather and the water conditions so they may be delayed or advanced. The flies sizes and the hatch times listed are just a guideline, bigger or smaller flies happen depending on the river you're on. Some river may not have the flies listed below.
Disclaimer two: Each fly is linked to somewhere on the internet for more details and information for you, these are not affiliated websites but I've tried to use relevant links to flies as close to ours as possible but sizing, times and colors may very depending on where the website is based. The same fly listed from a Montana website may look very different then one here in Ontario and will likely have different hatch times and sizing so keep that in mind.
If you dont tie your own flies you can buy them from Drift Outfitters in Toronto or if you want custom flies tied check out Yeti Fish Flies which are tied by a local fly tier.
Hatches and times
Black Stone fly – Size 16 – Sporatic hatches all winter long especially on warmer sunny days – Jan to April
Blue Winged Olive – Size 18 – 22 – April and early May
Hendrickson – Size 14 – May 5th to May 20th
Grey Fox (march brown) Size 12 – May 15 to June 5th
Tan Caddis – Size 16 to 18 – Late May through September – Sporadic – Peak is early to mid-June on some rivers

Iso Pod – Size 16 – May 1 to 25th, July – These never hatch into a flying version
Sulphur – Size 16 – Late May to Late June
Pale Evening Dun – Size 18 – Late May to Late June
Brown Drake – Size 8 – 10 – Late May -Early June

Green Drake – Size 8 – Last week of may to 1st week in June – Short hatch
Hexagenia – Size 8 – Late July to September
Black Caddis – Size 18 – July – August

Crane Fly 16-18- Size – June
Brown Stonefly – Size 8 – 10 – June
Light Cahill – Size 14 – Mid June to Mid July
Isonychia – Size 10 -12 – mid June through September – Sporadic
Trico – Size 20 -22 – Late July through mid-September
Matching the hatch, which means using a fly that looks similar to the many bugs on or in the water at that time, matters more when the fish are feeding on the surface. Often you can use many different nymphs that do not match the hatch below the surface and still catch fish. If the fish are being picky below the surface start trying multiple nymph flies in different size and color.
When it comes to dry fly fishing I find the trout can be much more picky. A quick tip I give to my clients is to simply find a dry fly that looks similar in size, shape and color and fish it well and don't worry so much about it being an exact match.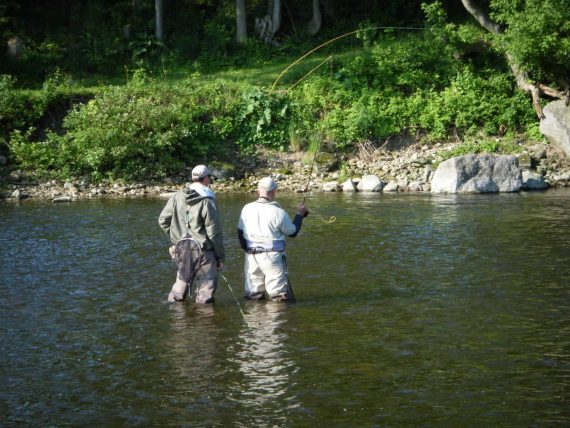 RIVER FISHING TIPS AND ADVICE
Have you ever wanted to know what the guides know? Now you can!
Anglers ask me all the time about what rods and reels and other gear that I recommend, or they ask me about my best flies, or my best methods or even which rivers are good to fish. I build a website that cover's all of that and more . . . . . You should checkout our sister site where I tell you exactly what gear you need and i give you free tips and tricks to help you catch more fish. Check out www.ontariotroutandsteelhead.com