Ontario River
Bass Fishing
When the trout aren't biting
Ontario Bass River Guide
 Ontario River Bass or river smallmouth bass can be big and plentiful!
Many anglers start fishing bass in late August when the trout rivers start to get tough due to warm water. Some pools can hold dozens of nice sized bass that are willing to take a well presented fly, a lure or bait.
A Perfect Drift Guide Company provides guided trips by foot or by boat for bass, pike and musky.
In some cases all species can be caught on the same trip.
Bass fishing with a fly rod, spinning rod or Centerpin rod can be a blast with dozens of fish caught per day possible.
When the bass are active you can catch them on the surface with top water flies and lures.
If you've ever wanted to float down a river on a comfortable river boat casting the banks, pools and logs for some big bass consider booking a trip between the 3rd Saturday in June and September 30th.
We Provide: Bass trips in August and September only and only guide fro bass on the Upper Grand River.
Only Walk and wade trip are available on the Grand river near Fergus Ontario
We Can:
Fly fishing for bass or do Spin fishing for bass
Our Bass Rivers: Although we only guide for bass on the upper Grand river now, there are many rivers that have bass in them. 
The Saugeen river, the Nottawasaga river, and the Grand river all have areas with good smallmouth bass fishing. The lower credit river and most rivers flowing into lake Ontario will have bass in the lower sections near the mouths of the rivers.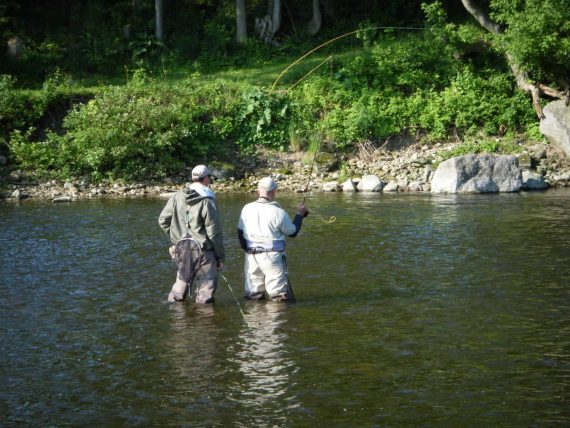 RIVER FISHING TIPS AND ADVICE
Have you ever wanted to know what the guides know? Now you can!
Anglers ask me all the time about what rods and reels and other gear that I recommend, or they ask me about my best flies, or my best methods or even which rivers are good to fish. I build a website that cover's all of that and more . . . . . You should checkout our sister site where I tell you exactly what gear you need and i give you free tips and tricks to help you catch more fish. Check out www.ontariotroutandsteelhead.com