Choosing The Best
River Guide In Ontario
Your Trout and Steelhead Specialists.
NOT ALL RIVER GUIDES ARE EQUAL
Here are some tips when considering which river guide to hire
Ontario has numerous fly fishing guides, but not all are equal!
I hire guides still: I look back to my very first days of fly fishing and Centerpin fishing and remember how hard it was and how confusing it all was and how few fish I caught back then. I kept thinking if I just had the right fly or the right bait I'd start catching more fish, I was very WRONG! If there were guides like me available back then and I knew what I know now I would have hired them in a second.
In fact I still hire guides and I still try and train with equally skilled and more skilled anglers to continue improving. I search out the best anglers I can find and hire them to train and guide me just so I can see things from a different perspective and learn and new tip or two that I may not learn on my own. Therefore I know what to look for when researching a good fly fishing guide.

Good angler or good guide: I've always said, "just because someone is a great angler, doesn't mean they will be a great guide" and just because he has been fly fishing for 30 years doesn't mean that he has the skills to teach and guide. A guide isn't just an angler, a really good guide is a teacher and a coach first, and if a guide can't teach or coach anglers and get them into fish they're far from the best in my opinion.
Fishing and guiding are two different things: Guiding is a whole other skill-set then fishing is and you don't need to hire a weekend warrior from one of the shops when there's a bunch of very experienced and skilled independent full time Ontario guides available. The sad thing is guys trust the shops when they are told they have in-house guides but I've seen guys being guided by guides with little to know guide experience and heard the horror stories.
Friendly, Patient and Skilled: If a guide isn't friendly, patient or doesn't seam flexible enough to accommodate your needs find another guide. Tell your guide in advance of what your goals are for the day and make sure he can provide that for you. If not find another guide or lower your expectations if you're expecting to much.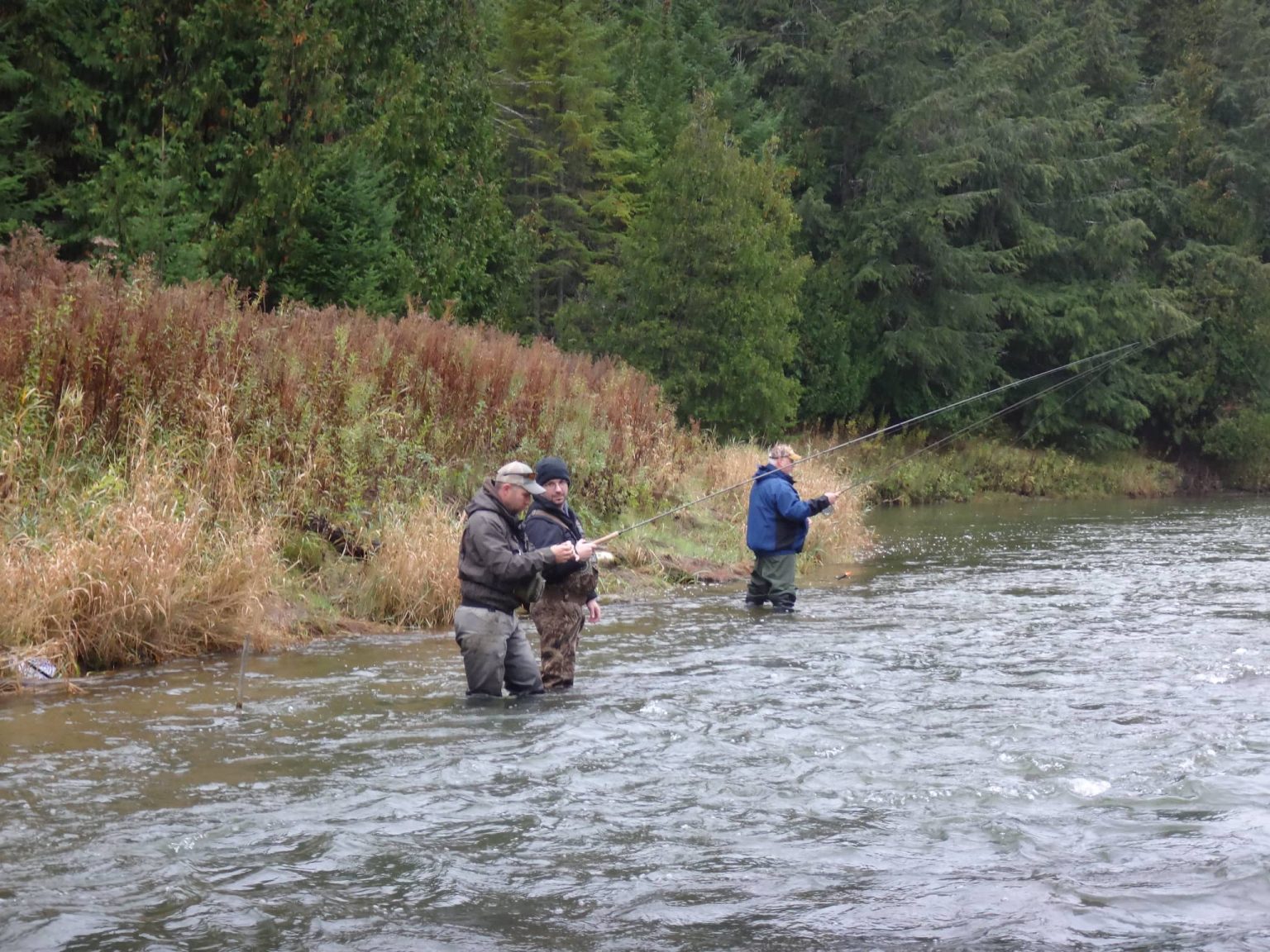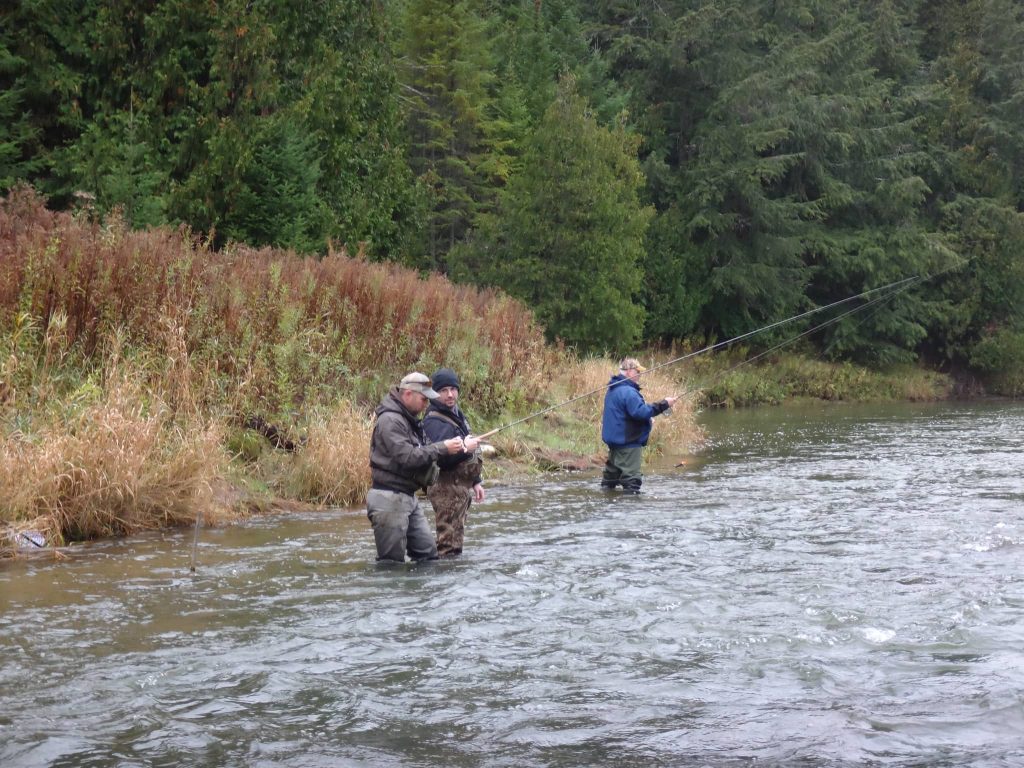 Hire a Guide, Not an Angler: If the guide fishes with you then he's not guiding you, he's fishing, and believe it or not, some of the shops guides and some new guides do this. Yes, I've heard the complaints about how the guide sets his clients up in one spot and then he wanders off up the river or another spot to go fish and tells his clients to "just call me if you need me" leaving them to fend for themselves.  When inquiring with a guide ask your guide if he fishes while he guides and if he says yes, find another guide fast! You want your guide standing beside you the whole time, guiding you to those fish, coaching you as you go, watching your every move so he can find out what he should be teaching you and how he can improve your skills. He should not be fishing with you or leaving you and going fishing on his own. You're not paying your guide to fish, you're paying him to guide you and teach you and the last thing you want is to be on the river with him and be in an uncomfortable situation because he's catching all the fish and you aren't. It happens, but not with us, ever! Unfortunetly the shops often hire guides that have 9 to 5 full time jobs. These guys work all week so when the weekend comes they're just itching to fish and sometimes they can't resist trying to get away with fishing while they should be guiding. And really, do you want a guy who guides 7 days a week that knows exactly what's been happening on the river or a guy that guides now and then?
References and Testimonials: Check for references on your guide, if he's good, people will be happy with him and will say so. Look for references, lots of references and testimonials. If you're considering hiring a guide make sure it's not just a few of the guys buddies saying how great he is. Guides with no references or testimonials probable aren't very good. If I search through old emails I could probably find over 1000 thank you emails and emails from clients telling me how much they enjoyed their trips and guys telling me how many more fish they catch after learning from me. Check our testimonials page for some of those emails.
Reviews: Do a little research and look your guide up. On the internet you can sometimes find reviews, testimonials, stories, articles or get feedback and advice from other anglers on local fishing forums and social media sites.
Fishing Shops: I've already mentioned some of the pitfalls of in-house shop guide but if you do decide to go through a local shop for a guide, request only their head guide and ask them how often he guides, ask them if he has another job, ask them if he is full time and ask them for testimonials, if you don't ask, you may not get the guide you want. Just because a shop is reputable, doesn't mean their guides are good.
I know anglers that got stuck with a guy the shop dragged in off the street just so they could fill their guide spot and get them on the water and make some extra money. Unfortunately this happens more than people realize, the shops get so busy or all their other guides are booked up that day so they contact a back-up rookie guide that they've had in mind as a last resort and that's who you get stuck with.
One of my clients told me a story about going out with a new guide who was a last resort kind of guy from the local shop near him. I was booked solid so he though why not try out this shops guide. Unfortunately, that guide marched up the river so fast to get to the next spot that my client ended up falling and hurting himself just trying to keep up. The guide was an excelent angler, I know him, but he just didn't even have the basic knowledge to slow down for his customer and didn't realize that not everyone is a skilled at walking on uneven ground as he was. Overall it was a bad experience and one my client will never do again which is why I started offering recommendations for other experienced guides that I knew were good and reputable.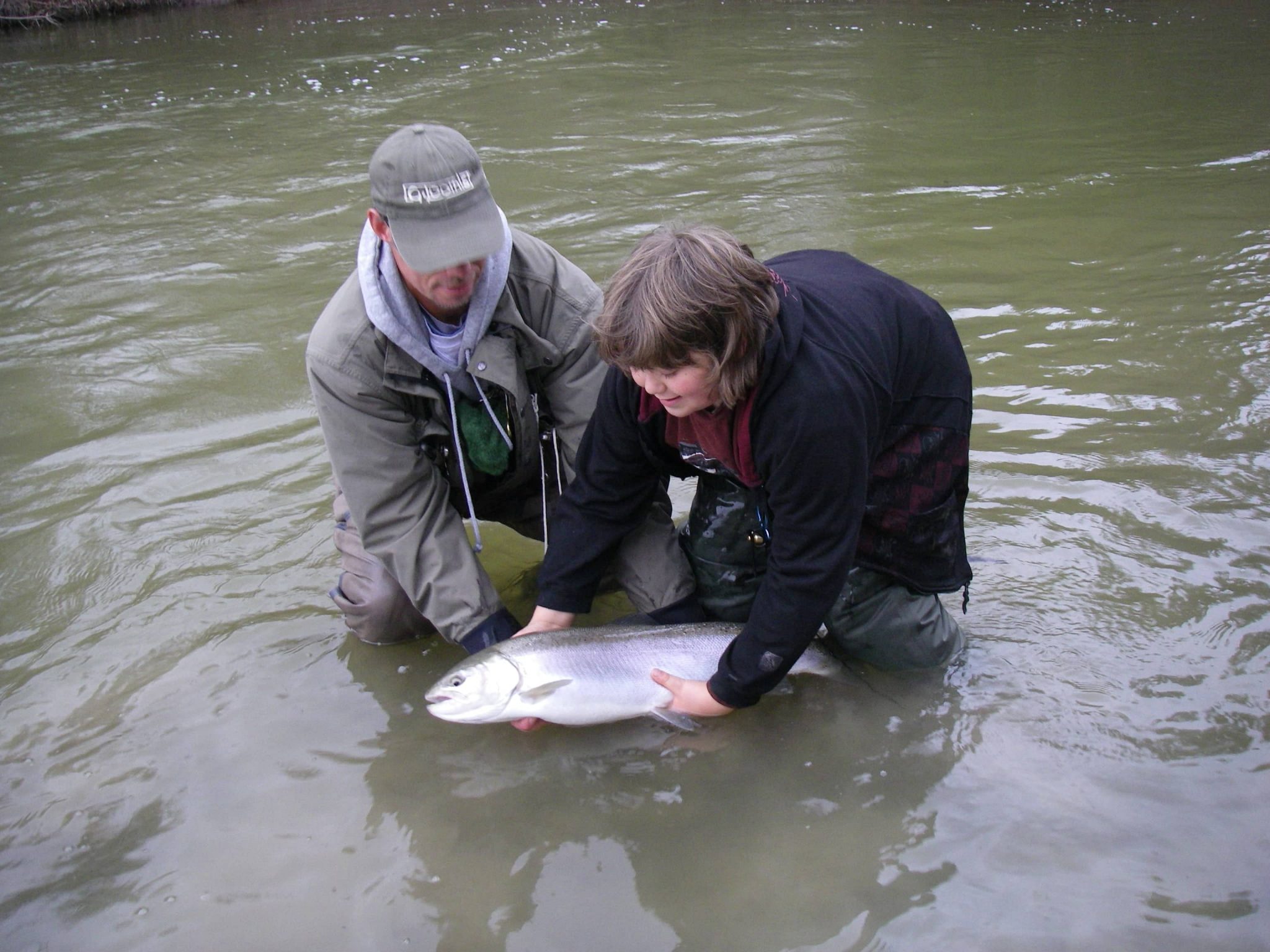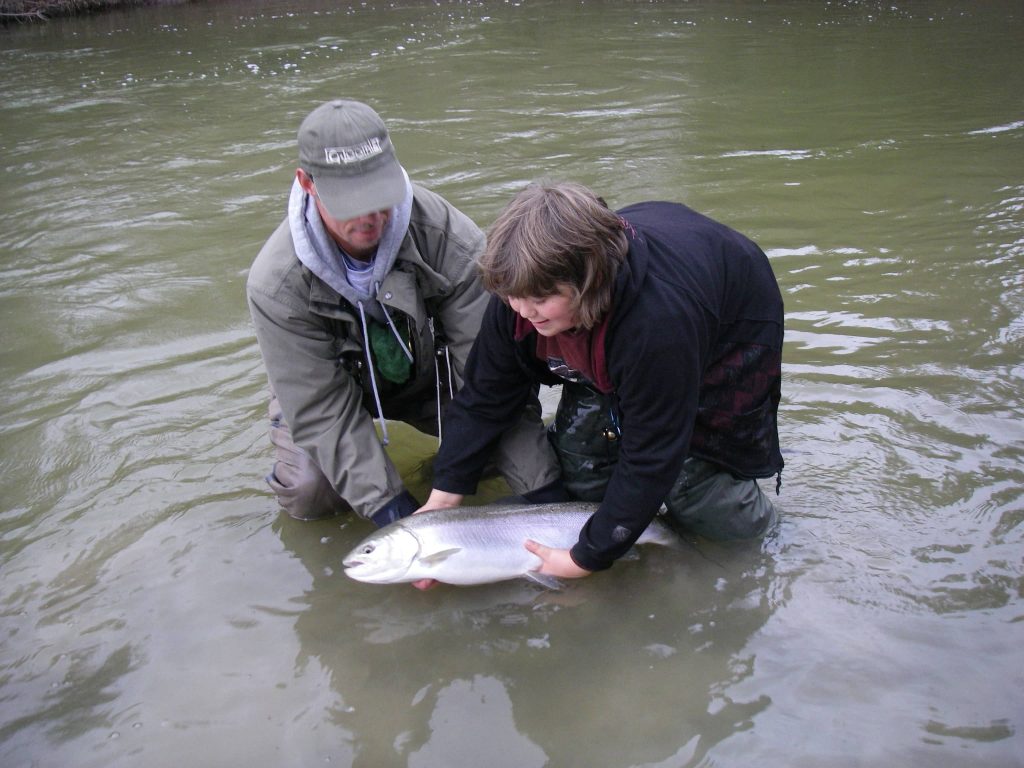 Pictures Don't lie: If you go to any guides website and you see that 90 percent of the pictures are of him holding fish or it's all the same 3 or 4 guys in the pictures, aka his fishing buddies, then he is a fisherman and not a guide and isn't guiding much so he may not have the experience you want or need. I have over fifteen thousand pictures from guided trips. See a few of the best pictures on our photo album page.
You Get What You Pay For: When considering a guide you need to ask yourself first what do you want from your guide trip, do you want the best possible guide that will know how to work with you and how to find fish in all conditions. If yes, then you need to find out who is the best guide in your budget range. One guy might be charging $300 for a day and the other guy might be charging $400 for the day, who do you want? You have to consider that if one guide is charging a lot less there is a good chance they have a full time job doing something else and that guiding is just extra cash for them or that they are desperate for the business which means they're probably not that good or if they are new and not confident or experienced enough so they could be cutting prices to attract more clients. If that's ok with you then go for it, but any of these reasons could mean they're probably not on the water everyday like the more expensive and more experienced guides that guide full time and know what's happening on the river everyday.
Certifications and Insurance: In Ontario guides are not required to have a guide license, or to be insured, or to have any certifications or training. That means anyone can be a river guide and it's not uncommon to see guides pop up on social media and the internet claiming they are now guides. I would say that most of these new guides in Ontario are not insured and have no certifications or training at all and they may not even be a good angler. A good guide will not only have insurance, certifications and training, but years of experience to guide you right.
Self Regulated Guide Industry: One thing I know for fact is Ontario doesn't need guides to be licensed to make sure clients are protected. With the amount of information on the internet now if a guy gets a bad guide it's his own fault for not doing the research or because he tried to save a few bucks by going out with a new or inexperienced guide. I've seen probably 100 guys start up a guide business in the last 20 years and 99 percent have disappeared. Good guides will keep getting busier because they have a reputation from provided a good service and the bad or new guides disappear quickly because they suck and nobody will recommend them.
With my above advice you now know what to look for and what to consider when choosing the right guide for you. This way you can limit the risks of getting a bad guide.
Professional Guides: When I'm not available to guide clients there are a few other guides that I recommend to clients and potential clients.
These are guides that I know to have both exceptional skills in fishing and in guiding and also have great reputations backing them. These are the few Ontario guides that I can feel confident enough to pass clients onto. They are professionals!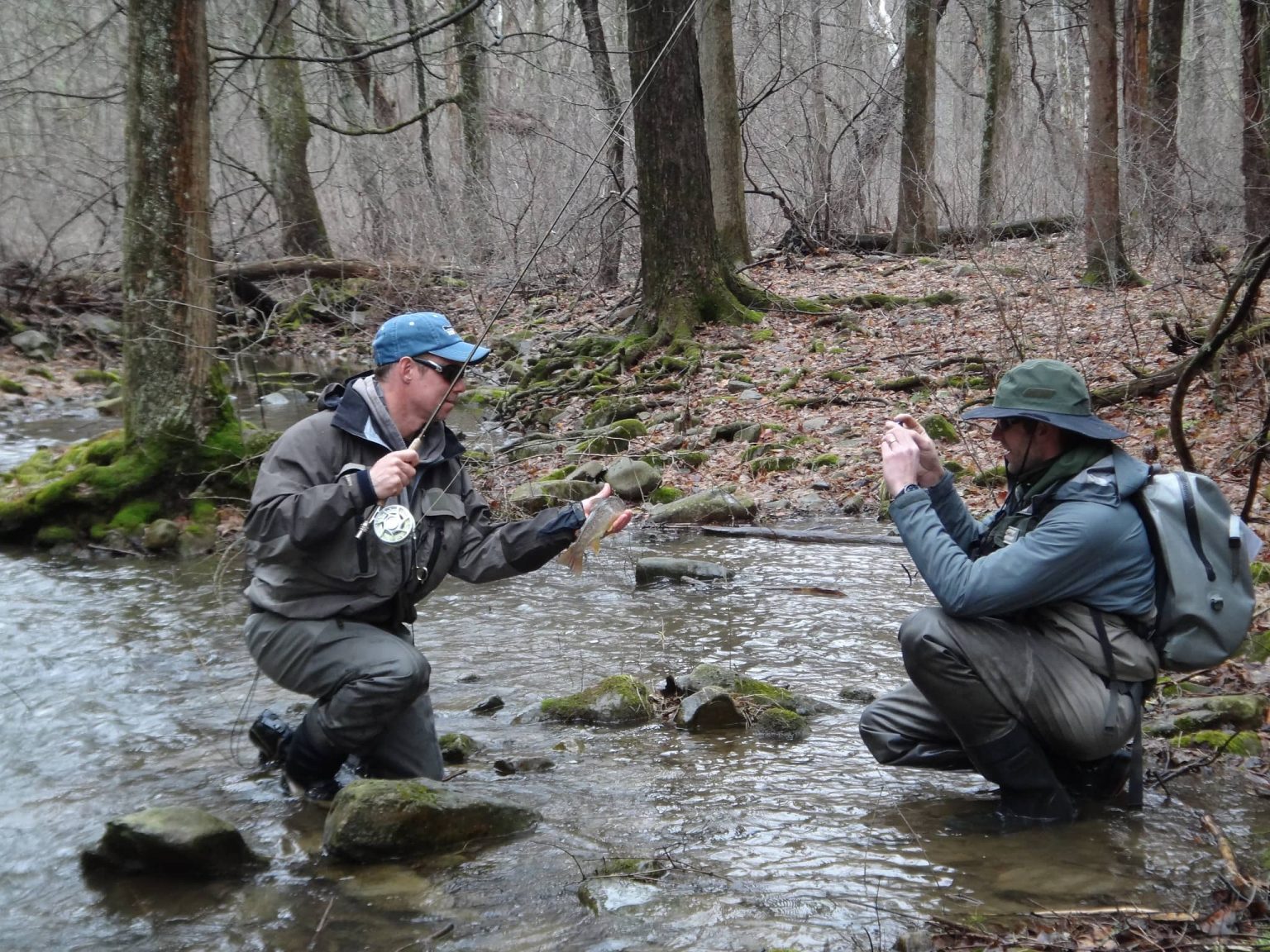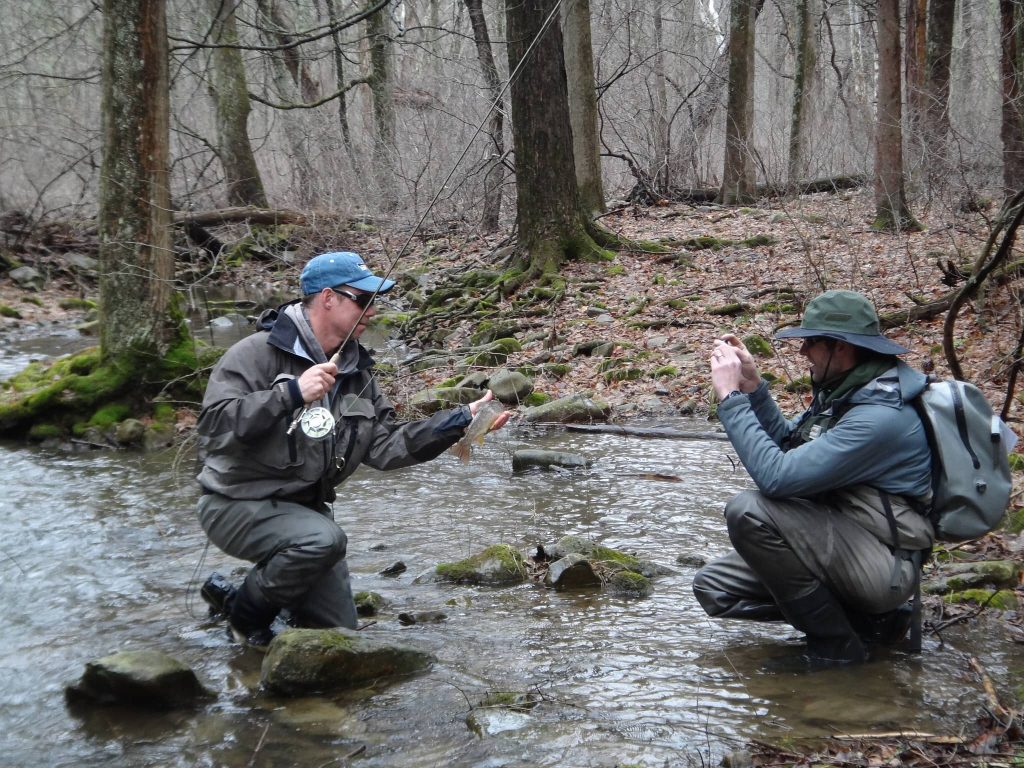 My Experience: I admit that when I think back to the beginning of my guiding career that I was also very inexperienced and I made mistakes and I did stuff I probably should have done differently. I only know that now because I have guided probably a few thousand anglers over the last 20 years and I have learned so much since my first days. Some years I would guide between 200 and 220 anglers and the amount of knowledge and experienced I have gained can't be beat or even understood by new or inexperienced guides. I do things now that few other guides do and that pays off with lots of repeat and happy clients. I think the only reason I survived and continued to grow as a guide was my patience with others and because even back then I remember my first day of fly fishing and how bad I was and I understand that what I can do isn't what my clients can do, so patience and understanding is important.
Today I am likely the top independent river fishing guide in Ontario and I'm still growing and still learning. Hope to see you on the water.
For rates and packages go to our River Guide Page
BONUS TIP OF THE DAY
Should Your Guide Be Fly Casting Certified?: 15 years ago I considered getting certified as a fly casting intructor because some of the other guides where certified and I wanted to be able to compete with them.
While I was spending hours a day training for my fly casting certification I thought to myself would I be better off spending this many hours mastering fly fishing techniques instead of fly casting and would my clients be better off and the answer was yes, so I switched gears and started learning, training and mastering the art of nymphing, dry fly fishing and streamer fishing, and it paid off huge. I'm now considered one of the most skilled river guides in Ontario and these skills help more anglers catch fish than me teaching fly casting.
I determined that your time on the water with a guide is limited so you might as well use it to learn to fish and just practice your casting on your own time. As long as you know the basics of casting and your guide has spent a little time teaching you, this can work better.
Over the years I've experimented with teaching people how to cast first compared to drogging them into the river and teaching them how to fish first and cast after. I now have my clients almost always fish first and teach them casting later once they have caught a few fish and are comfortable with the rod in their hand. I've found most people learn fly casting faster with this fish first and cast later approach and they don't end up bored with a sore arm and sore shoulder from casting for 2 hours. I'm the first and might still be the only guide in Ontario to reverse it like this but it works for me.
So, is it important for your guide to be certified as a casting instructor? Yes and No. Yes, only if your doing a dedicated casting class or if your primary objective is to improve your casting, but if you're there to learn how to catch fish then no, it's not important.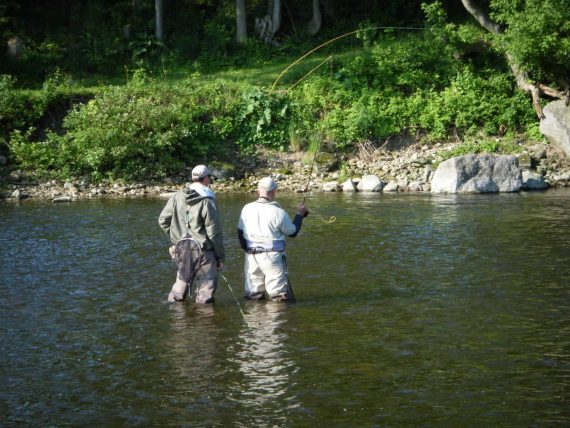 RIVER FISHING TIPS AND ADVICE
Have you ever wanted to know what the guides know? Now you can!
Anglers ask me all the time about what rods and reels and other gear that I recommend, or they ask me about my best flies, or my best methods or even which rivers are good to fish. I build a website that cover's all of that and more . . . . . You should checkout our sister site where I tell you exactly what gear you need and i give you free tips and tricks to help you catch more fish. Check out www.ontariotroutandsteelhead.com