Chinook salmon enter the rivers to spawn. In Ontario the salmon runs usually start in late August and continue through to Late October.
Some of the best runs occur after the first big rains in September and then again after each significant rain.
Chinook Salmon is the most common of the four salmon species in Ontario rivers and are the most sought after salmon because of there large size and large numbers.
In Ontario we also get Coho Salmon in decent numbers and a few Atlantic Salmon and Pink Salmon.
New studies suggest some salmon will eat during their spawning run and I have experienced very aggressive fish chasing flies and lures across a pool to eat.
Well presented baits have accounted for days of over 50 fish hooked. Many anglers float fish or fly fish for them.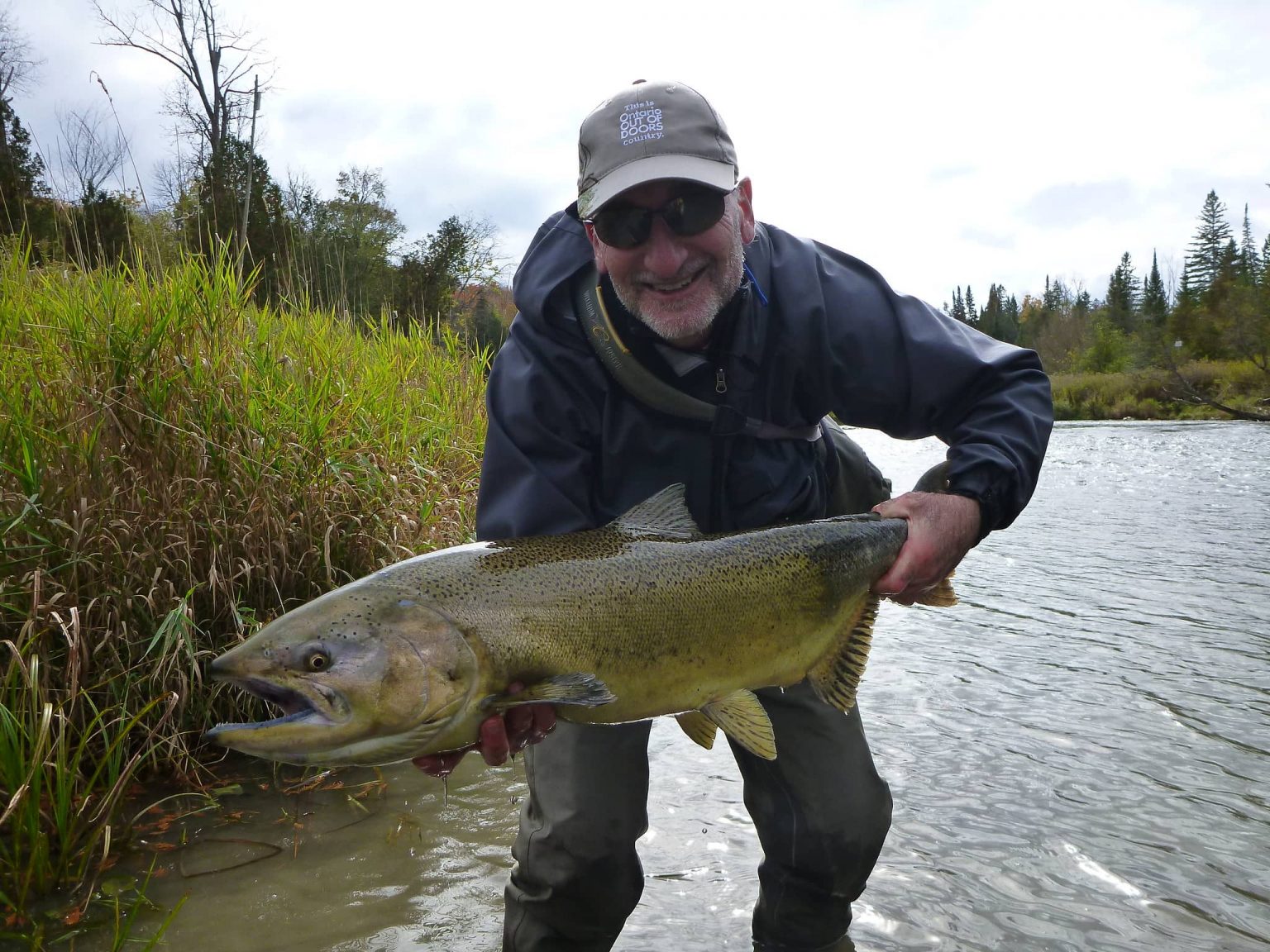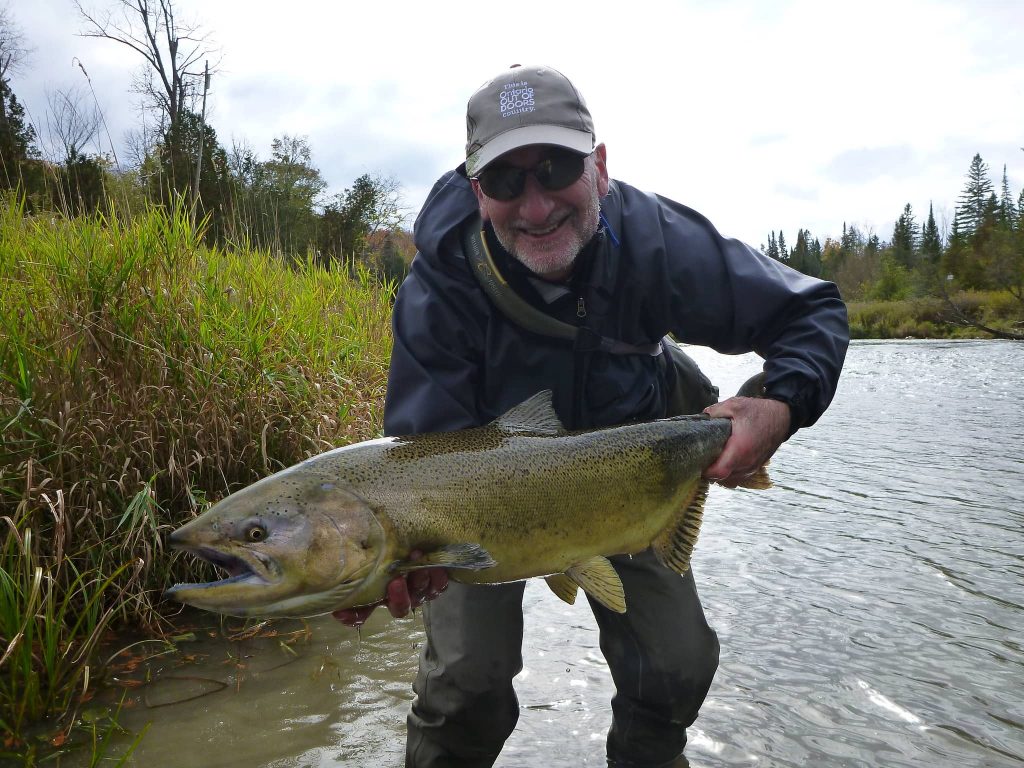 Chinook salmon is also know as King Salmon or just Kings and some anglers may even call them chinnies. They're an introduced species in all the great lakes and thy run up the rivers as early as July but fishing for them in the rivers is usually best from mid September to early October.
On some rivers the Chinooks can get up to 40 pounds but average between 20 and 25lbs. They can be aggressive at time and fight hard and sometimes feel like you've hooked a boat when you get them on.
Some days it's not uncommon for a few thousand salmon to enter the rivers giving anglers some spectacular fishing.
We guide for these salmon starting in early October due to better water temperatures and more numbers of  salmon in the rivers we guide on.
Fresh early salmon that are straight in from the lake are silver, acrobatic and one of the hardest pulling fish in Ontario. After they stay in the river for a week or two they take on darker spawning colors, hooked jaws and can grow some large dog like teeth.
Although it's been said for many years that once they enter the rivers they stop eating, new research on great lakes salmon has proven what I've been saying for years, and that is that some do eat during the spawn. Even though they may not eat out of hunger it could be just out of instinct or aggression. What ever the reason they eat, I've seen 30lb salmon swim half way across the pool to smash a fly or a roe bag and I have had them hit a spinners, spoon and minnow lures with hard aggressive and deliberate strikes. I've even had them rise to the surface and inhale my float or indicator.
These hard fighting, acrobatic and large numbers of salmon keep guys coming back for more each season.
To beat the crowds try fishing mid week or take a river boat guided trip through less pressured water.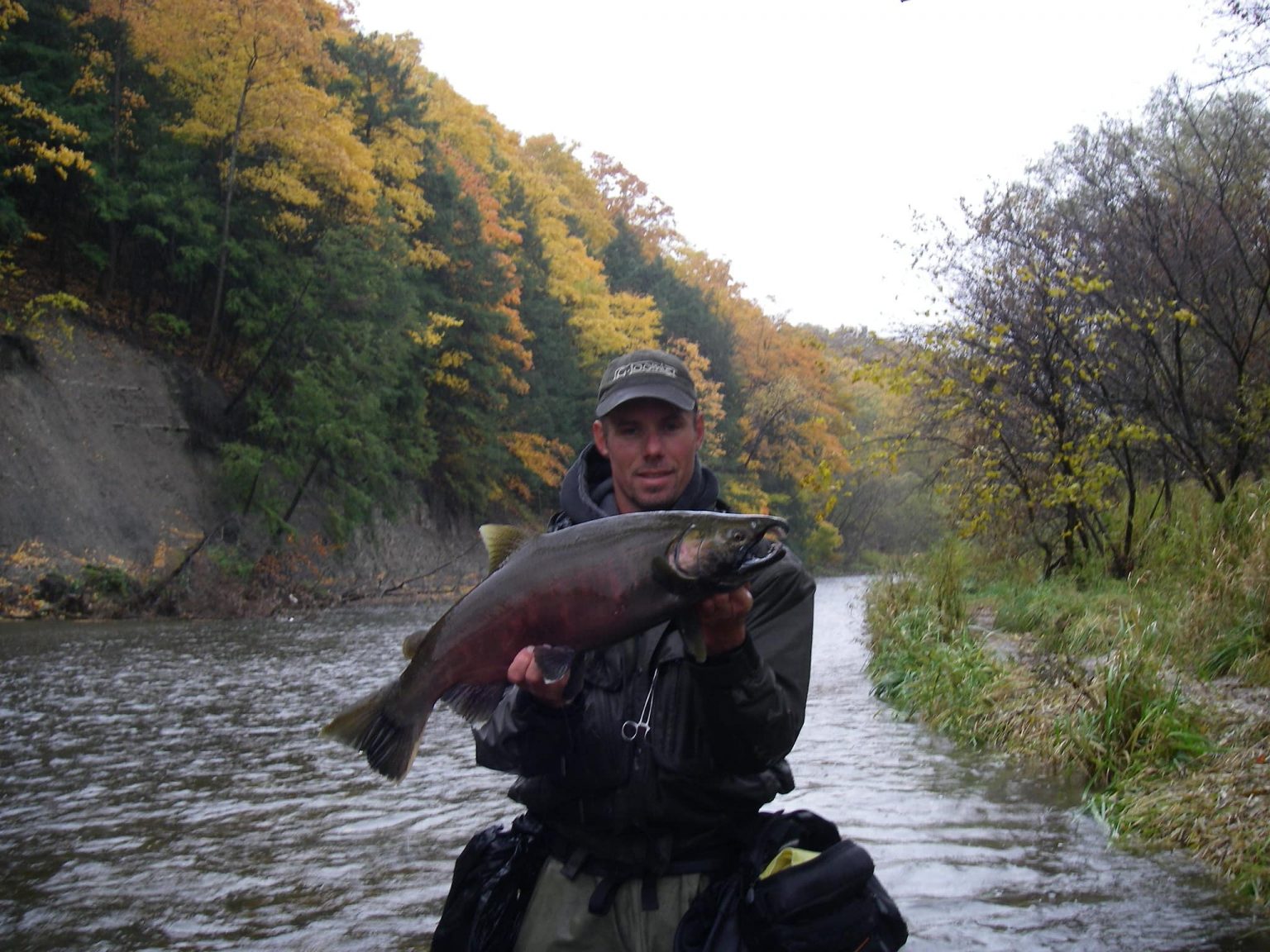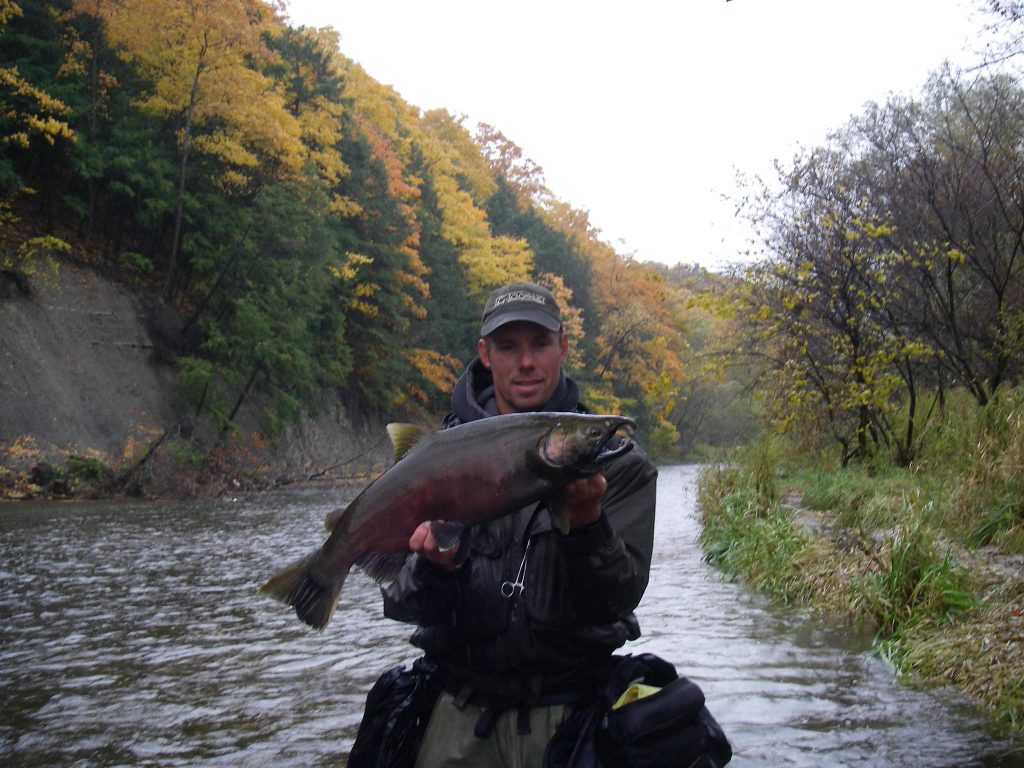 Other Ontario Salmon: Ontario also has Coho Salmon, Pink salmon and Atlantic salmon but they're in smaller numbers and are more sporadic when they run.
Gear for catching great lakes salmon: I leave the gear advice for the guys that sell it. For all you river needs check out Drift Outfitters and Fishheads Canada. The guys that run these stores know rivers and can help anglers get exactly what they need.
When fishing for Ontario salmon anglers use can use multiple methods for catching river salmon.
Fly Fishing: Fly fishing for Ontario Salmon can be one of the most fun and productive ways to catch these great fish. Some anglers choose to use indicators and nymph for them the same way they do with steelhead and trout and this works very good at times.
 Spey fishing or swinging streamer flies in front of salmon can be very productive and very rewarding especially since a lot of the times you can see them chase the fly and hit it giving anglers an extra thrill.
A new thing anglers are starting to do is Euro style nymphing for salmon and this method is also very productive if it is done right.
The guides at A Perfect Drift Company specialize in all of these methods.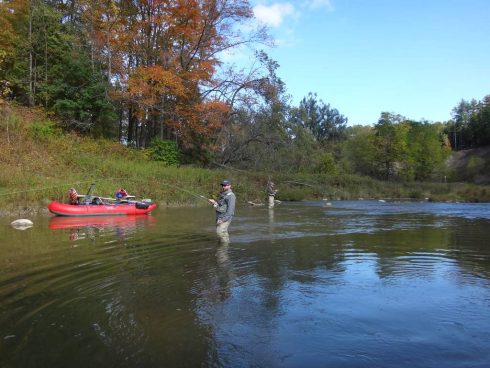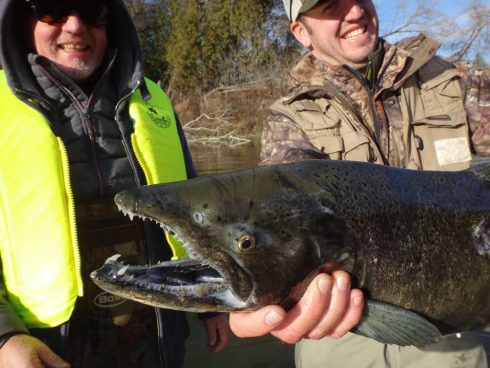 Centerpin Fishing : Salmon anglers in Ontario Centerpin for salmon the same way they Centerpin for steelhead. The long rods and the thrill of fighting these big fish on a centerpin reel make them a very popular species for the centerpin guys.
Spin Fishing : Spin fishing for great lakes salmon consists of lures, bait and float fishing.
When spin fishing some anglers prefer to throw lures like flatfish, kwikfish, spinners or minnow style lures like Rapalas.
A 9 to 11 foot medium action rod with 12pund test line is a good choice for throwing lures.
Check out Drift Outfitters, Fishheads Canada or Angling Sports in London for river rods. Some anglers also drift roe, worms, minnows, plastic baits, artificial flies and small marshmallows underneath steelhead floats which can all be very productive.
Bottom bouncing is another method that works providing the angler is good enough to detect strikes. This takes practice but if you get good at it, it can produce a lot of fish.
Double header days and days of 20 to 40 hook ups are possible but that doesn't mean you will land all 40 because they fight hard and break lines and rods.
It's not uncommon to do a trip with the guides from A Perfect Drift Guide Company and see over 20 Salmon a day.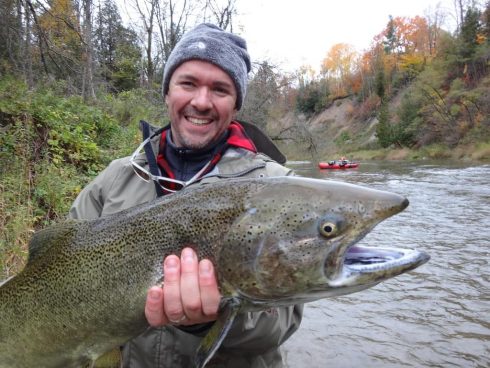 Guide Tip Of The Day . . . .
The good side to salmon fishing is that thousands of fish come up the rivers at once making for easy and fun fishing and providing a good opportunity to catch huge 20b + salmon.
The bad thing about the salmon runs is that they often attract the worst anglers.
These are guys that rarely fish but seam to show up to the rivers at this time in hope of landing a fish of a lifetime because its the only time when so many big fish are concentrated in such small areas.
Most of the time these are guys that couldn't catch a fish in a bucket if their life depended on it, but now with the salmon so thick in the river they think they might actually have a chance at a big fish, but . .
Most of the time they are clueless anglers that don't put in any time learning how to catch these big fish . . . They fish with the wrong rods, the wrong line, the wrong lures or baits and they often leave their garbage all over the rivers.
Unfortunately, you will see them snagging fish in the shallows, you will see them with huge treble hooks on their lines dragging them through the pools, you see them casting over other anglers lines without any consideration of other people, or even casting at fish that are already on another anglers line, and they crowd out other anglers not giving them adequate space, and you will even see them snagging fish in the tail or other body parts and fighting them for 30 minutes while everyone else has to wait, then they keep the fish which is illegal.
These guys suck and they may or may not even know it, but everyone hates these idiots and they give the good salmon anglers and bad name. Don't be a Salmon idiot!
Sometimes you can easily see these guys coming because they have rods that look like they're made for deep sea fishing and are as thick as a baseball bat.. Not to mention the chunk of lead that's as big as a golf ball which is placed just up from a giant treble hook or two.
I'm not sure if they are as dumb as rock or if they are just jerks that don't give a sh!t or it's that they have no common sense or common courtesy, but these jerks are out in droves come salmon season.
Of course there can be jerks on the river at any time, but during the salmon runs there's 10 times as many.
I'm not even sure many of these guys actually know what they are doing wrong, which is why I'm writing this. I really hope they read this and realize they don't need to be an idiot to catch salmon. In fact, with the right gear and some skill they could catch tens times more salmon LEGALLY!
If they just spent a little time learning how to fish for these big fish, which is not hard by-the-way, they could catch way more salmon without ever needing to snag them and piss everyone off.
If you are one of these guys, please STOP… seriously!!!
I can catch 20 salmon to your 1 salmon that you snagged because of pure skill and not because I have a bigger bare treble hook . Learn how to fish already, it's not rocket science!
Due to these idiots on the river many good anglers will avoid the salmon runs altogether and guides like me often won't guide clients on some rivers where lots of these idiots show up.
All I'm saying is if you're here to learn how to fishing for salmon and you're a new angler, please don't be one of these F'kn morons, you're better than that.
Learn to respect other anglers and the river, stop littering and learn how to fish in crowds without being that idiot casting over everyone.
Learn how to fish properly, that way, instead of snagging 3 fish like all the other idiots do, you might actually hook 20 huge salmon legally, like myself and many others do. Yes, it's possible, it's called skill.
All you really need to do to learn this is to be observant,
Go to the river when the salmon are running and watch the anglers in a busy pool, see how they plan or time their casts, see how the guys that are catching the fish set up their lines and what baits they are using, see what gear they are using, watch how they all react once someone gets a fish on.
Once you have figured all that out go fish and have fun and be a good ethical angler. 
If everyone followed these simple rules the salmon runs would be much more enjoyable for everyone.
Don't use treble hooks, with or without bait.

Don't snag fish PURPOSELY! There is no need for it.

Don't crowd guys out – Give at least a rods length if possible or if possible find another spot to yourself.
Break off fish immediately if they are not hooked in the mouth.
Don't keep a snagged fish – IT'S ILLEGAL!!!!!!!!

Don't gut a fish for the eggs or any other reason and leave the carcass on the side of the river. This gives anglers a bad name to on-lookers or non-anglers out for a walk enjoying the rivers too.
Remove your line from the water as soon as someone else hooks a fish so you don't tangle with them.
Don't cast over someones line while they are fighting a fish, just needing to say that blows me away..

Don't litter. DON'T LITTER, DON'T LITTER . Litter is the #1 reason so many land owners do not allow anglers to fish on their property.

Help out new anglers, offer advice and be polite. We were all there once before.
LEARN HOW TO FISH BETTER!!
And don't be one of those morons everyone hates.
Note: It is illegal and unethical to purposely snag salmon in Ontario and doing so can lead to large fines and many anglers like myself will report it if we see it.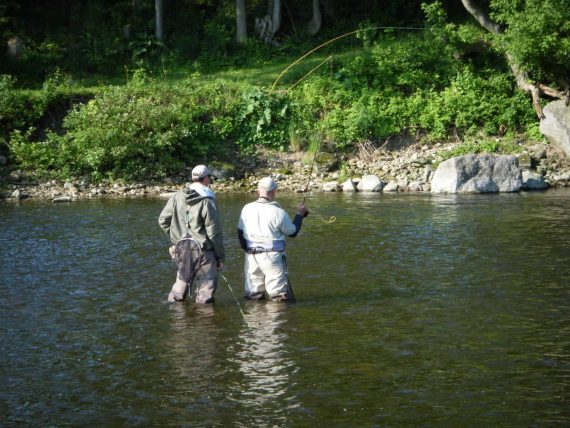 RIVER FISHING TIPS AND ADVICE
Have you ever wanted to know what the guides know? Now you can!
Anglers ask me all the time about what rods and reels and other gear that I recommend, or they ask me about my best flies, or my best methods or even which rivers are good to fish. I build a website that cover's all of that and more . . . . . You should checkout our sister site where I tell you exactly what gear you need and i give you free tips and tricks to help you catch more fish. Check out www.ontariotroutandsteelhead.com
Get a whole lot more on updated information about Fly Fishing, Centerpin Fishing and Spin Fishing For Trout and Steelhead on my new Blog Website. Current Blog Topics Include: