We offer many options for river guide trips in Ontario.
The type of guide trip is simply just personal preference and every angler is different so it's hard to say what's the best trip for you.
On this page, I will shed some light on our available guide trips to help you decide what the best type of trip is for you.
a
We mostly guide for steelhead, brown trout and brook trout. The basically means Steelhead or Trout. The reason for this is that these are the most preferred species.
We also offer other river species such as salmon, bass, pike, musky and carp.
Steelhead Guide Trips In Ontario

Steelhead are rainbow trout that migrate.
Because the Ontario steelhead migrate from a river to one of the great lakes, they tend to grow big and they are somewhat protected from anglers while they are miles out in the lake, they return to the river to spawn in spring fall, and over the winter, and they return as big fish and in good numbers.
Sometimes on some rivers over 20 thousand steelhead will swim up a river to spawn between September and May.
This gives anglers an good opportunity to sometimes catch many large trout, aka steelhead in a single day when they are on guided trips with us.
On average we usually see 3 to 6 steelhead a day between 3 and 10 pounds in our net for our clients.
However, we have had plenty of days days when our clients will hook and land over 20 big steelhead on a guide trip.
Because these are migratory fish, we also have days when we won't catch any steelhead at all.
The reason why we sometimes do not catch any steelhead is that one day a large run of steelhead can move through the area that we are guiding and we can put our clients onto many fish during that day.
But overnight or throughout the day, those steelhead could move miles up or down the river and that could mean few if any fish for our clients the next day. Basically there one day, gone the next.
With steelhead fishing it can be very hit and miss but, like I said before, our guides are usually helping our clients catch an average of 3 to 6 steelhead a day during peak times. Most years, my guess is that  1 out of 10 days will be a day when we just don't catch any steelhead.
Also, steelhead are fish like any other fish and can be affected by environmental changes and sometimes they simple do not eat no matter what we try. This happens with all fish species.
Our guides fish the best rivers at the best times and that greatly increases your chances of catching steelhead on you trip out with us.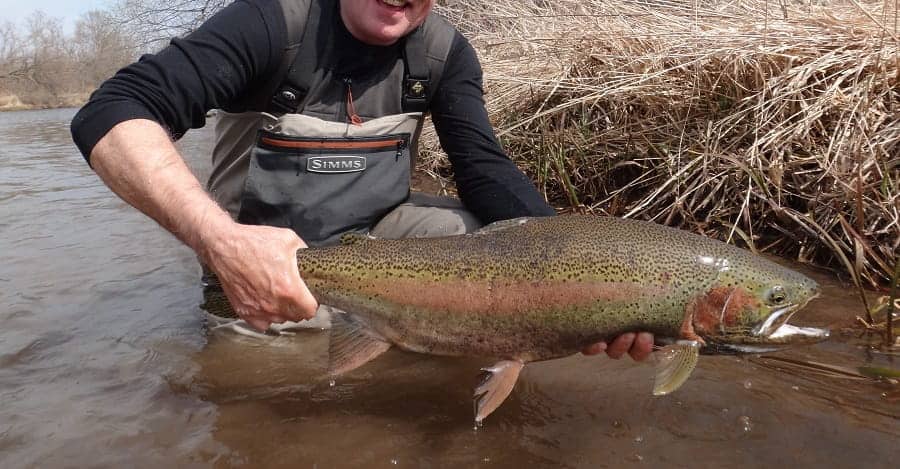 Regardless if you have a day with lots of steelhead action, or you have a day with no steelhead caught, we always ensure that you learn a lot and that you leave a much better angler which will mean more fish every time you go out fishing on your own.
Our style of educational type guiding is what makes us stand out from other guide services and is the reason we are the best guide river service in Ontario.
We offer guided steelhead trips with multiple methods such as fly fishing, Centerpin fishing or spin fishing during the steelhead season which runs from about October 1st to May 15th.
Peak steelhead is October 1st to December 15th and then again from the 4th Saturday in April to May 10th.
There can also be very good steelhead fishing in March, all of April and as late as May 25th.
Now that you know what steelhead fishing is all about, Is that something you think is best for you?
Trout Guide Trips In Ontario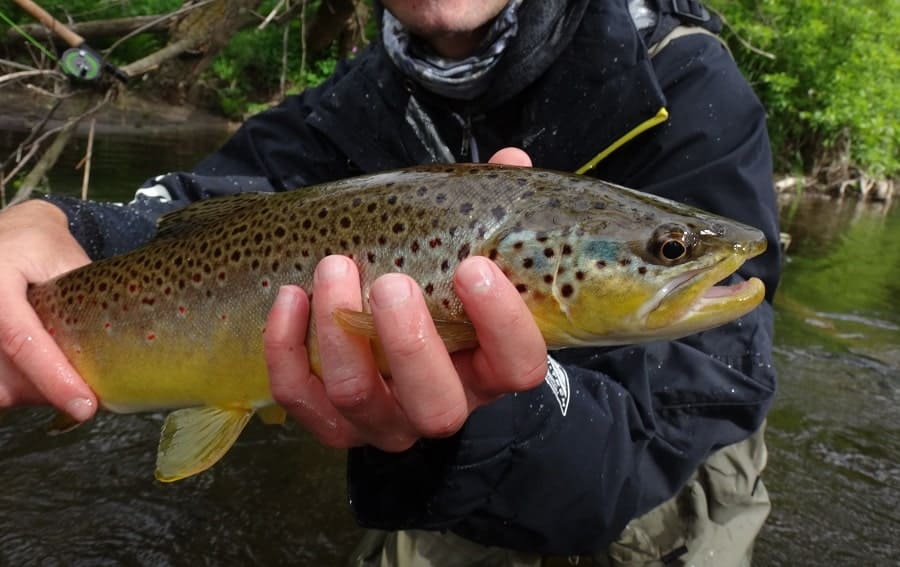 Trout fishing is also very popular and our trout guide trips run from the trout opening day which is the 4th Saturday in April to September 30th which is the last official day of the trout season in Ontario.
Many anglers like trout fishing because even though they are much smaller than steelhead, there is often lots of them to catch.
Lots of trout means lots of action and lots of fun.Trout like brown trout and book trout do not migrate which means they are always there.
Trout are also a better species to fish for you are new and just learning to fish. This is why most of our classes are during the trout season.
The good thing is that a lot of the methods we use for trout can also be used for steelhead and salmon.
Multiple Species Guide Trips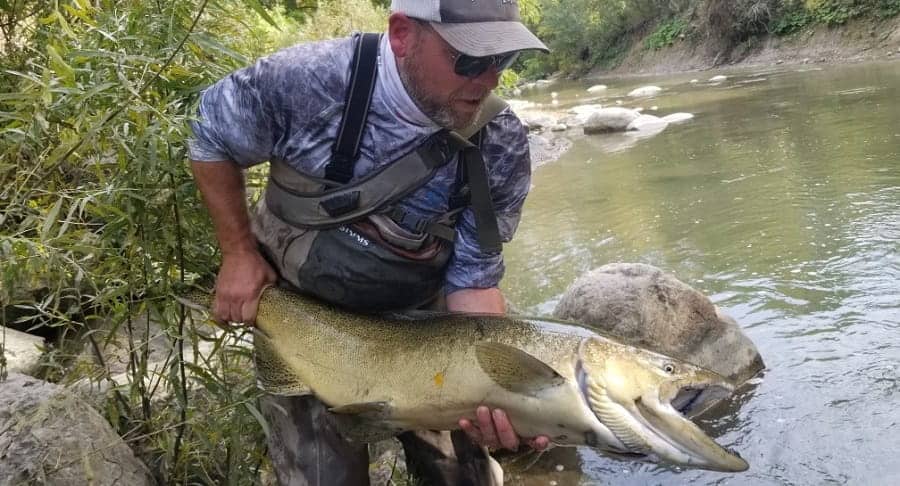 We also guide for salmon in September and October but only on select river that do not get a lot of fishing pressure.
Bass fishing can be a great alternative species for angler that want to fish in July to September for something other than trout. Bass can be big and plentiful and will sometimes take your bait on the surface or below the surface. This provides lots of action for angler.
Pike, Musky and Carp all tend to be bigger and are also great options for anglers looking to try something different. We offer guiding for these species between July 1st and September 15th.
4 Hour VS 7 Hour Guide Trips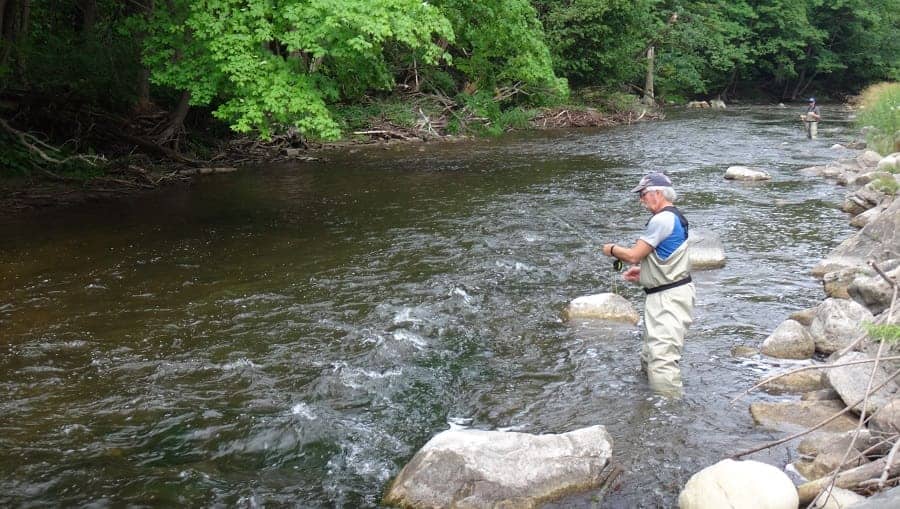 You have a choice between 4 hour trout trips or 7 hour trout trips.
4 hour trips are great for older anglers that might get tired on a 7 hour guide trip.
4 hour trips are also best during the summer simply because it's too hot mid-day to fish so we limite the 4 hour trip to the cooler hours of the morning and get off the water by about noon.
4 hour trips are only done from July to end of September only.
We also offer 4 hour trips for trout, bass and carp on select rivers.
We do not do 4 hour boat trips.
7 hour trips are best for steelhead and boat trips and for trout trips in May and June.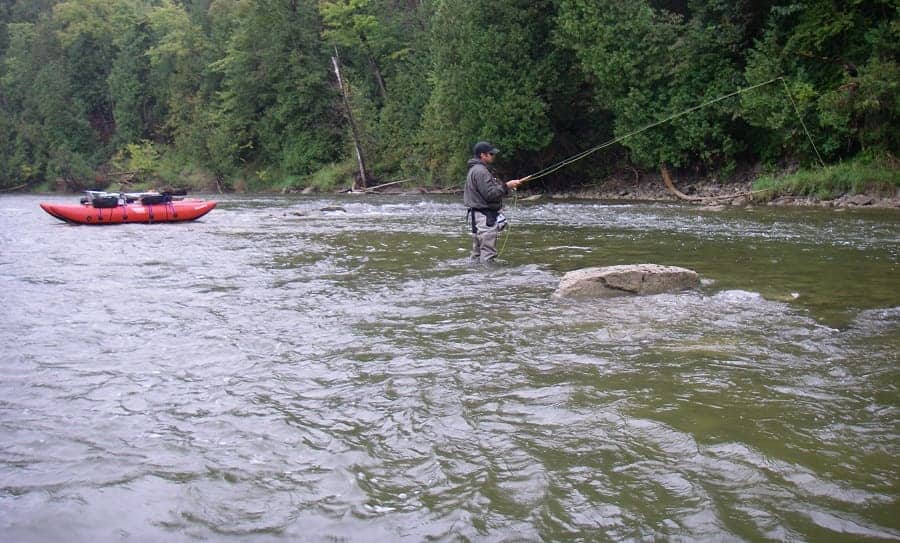 Boat trips are great because it's a unique experience that most anglers can't do on their own. 
I recommend boat trips over walk and wade trips in the fall for steelhead because the boat gets you into some private waters and away from crowds which can mean more fish.
Boat trips also mean we are not hiking through bush or up and down banks just to get to new water.
With our unique boats we can get you into almost any section of river that we want and that gets us into river that other guides don't fish.
We also get in and out of the boat, depending on our clients preferences.
Boat trips are simply a great way to see a lot of water in a single day.
We do not offer boat trips between June 1st and October 1st due to low summer water levels.
Walk and Wade Trips Are Preferred By Some Anglers
Some anglers prefer to do walk trips so they can go back to the same area and fish again and again.
Going back to the area that we guided you at is something you can't do with a boat trips since most of the land on our boat trips is through private property.
Spring walk and wade trips for steelhead can be a good option especially after the trout opening day (4th Saturday in April) because our guides have lots of options and spots to fish for steelhead, and they can often get you away from some of the crowds.
We do almost all of our trout trips by foot but we do some boat trips on select rivers for trout in May.
Fly Fishing, Centerpin Fishing, Or Spin Fishing
We offer guide trips for all of these species using Fly Fishing, Centerpin Fishing and Spin Fishing.
The method that you choose is personal preference. That simply means that some angler prefer one method over another.
You simply just need to let us know which method is best for you.
Centerpin Fishing is the most productive method for steelhead fishing in bigger rivers with bigger spots.
Centerpin fishing for trout during the summer months is not recommended because most trout rivers are low and clear during the summer and the pools are smaller so Centerpin is not as good in that type of water. We usually do not offer Centerpin for trout after May 20th.
Spin fishing with floats – Similar to Centerpin fishing just not as productive due to limitations with the spinning reel that prevent you from getting a great presentation.
Fly Fishing for steelhead is a great method for steelhead. It's not quite as effective for steelhead on bigger rivers as Centerpin fishing, and it's harder or more challenging to do, but some anglers like me prefer it over all other methods when steelhead fishing.
Fly Fishing For Trout is the most effective way to catch trout.
If you are not sure which method is best, check out these pages.
Now that you know a little more about what options are available to you you can contact us and let us know what works best for you.
To book your guide trip go to our Guide Trip Page