Ontario's Best Trout
and Steelhead Rivers
We Guide 13 Of The Best Rivers.
Ontario's best trout and steelhead rivers are right here.
We are blessed to have many great trout and steelhead rivers in our area. There is possibly hundreds of rivers and creeks with trout or steelhead and salmon in them spread out all over Ontario.
We have rivers that are 500 feet wide to small creeks that are only a few feet wide with trout and steelhead and even salmon in most of them, and we have all that that all in our area.
We just can't cover all of Ontario's best trout and steelhead rivers because there is over 400 rivers and creeks in Ontario. We discuss the main rivers and the 13 rivers that I guide on. Most of Ontario's best trout and steelhead rivers are all within a 60 to 90 minutes minutes drive from us in Orangeville Ontario. Orangeville is about an 81km drive west of Toronto.
The Saugeen River is probably the nicest river I've seen for brown trout, brook trout and resident rainbows in Ontario and is one of my favorites for drifting down in the boat. Not to mention great steelhead runs and good resident smallmouth bass and musky fishing. This is arguably one of Ontario's best trout and steelhead rivers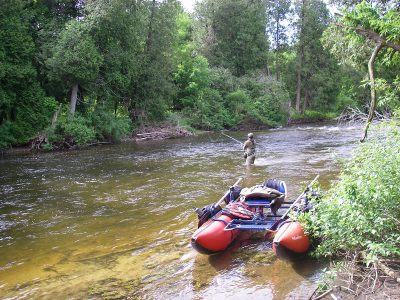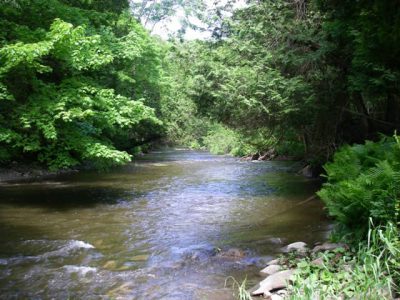 The beautiful upper Humber river has good populations of wild brook trout, with some nice brown trout mixed in. You may also catch the odd steelhead, big migratory brown trout and salmon in the lower sections of this large river. Its starts as small densely forested river and ends in the large city of Toronto where it finally drains into Lake Ontario.
This is the premier brown trout river in Ontario and is a fly fisherman's dream. In the lower sections it has good steelhead runs but the upper sections can be scenic with lot's of room to fish with often hundreds of trout in each pool. Plentiful hatches mean big brown trout over 20 inches will rise up for size 18 to 22 dry flies. When it comes to big brown trout and lost of brown trout this is one of Ontario's best trout and steelhead rivers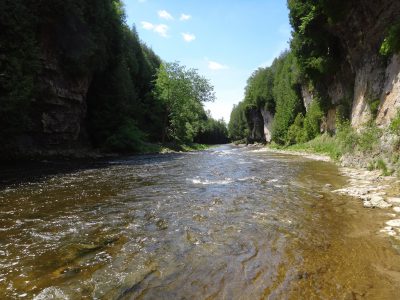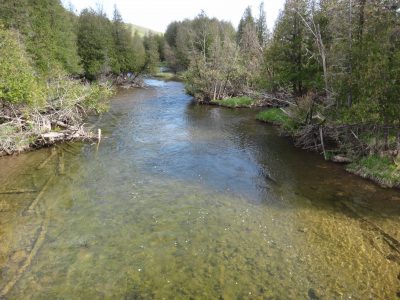 Beaver River is one awesome river! Big brown trout, lots of brook trout, a few resident rainbows, plus salmon, large runs of steelhead and awesome scenery make this river a fly anglers favorite.
But it's not just for the fly guys, it's a great river with a float rod or to throw lures with a spinning rod and reel. The Beaver river is one of Ontario's best trout and steelhead rivers
The upper Credit River is our specialty. In fact, my very first cast with a fly rod over 35 years ago was made in this section of the Credit River.  Although there are good numbers of wild brook trout, brown trout and some resident rainbows in the upper stretches it also has huge runs of salmon and steelhead only in the lower sections. The Credit river is on of Ontario's best trout and steelhead rivers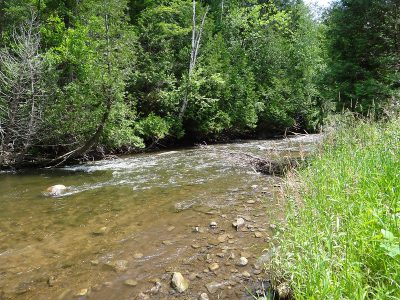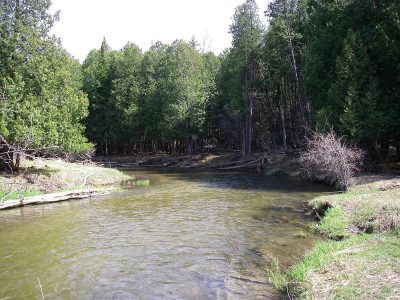 The Pine river is small tributary of the Nottawasaga that averages around 15 feet wide. It has plenty of different types of water from smaller rapid sections to slower riffles and pools.
The Pine river is likely the best tributary of the Nottawasaga for reproducing steelhead and salmon but also has good numbers of brown trout and brook trout in sections.
The Bighead River is probably my favorite steelhead river to fly fish because there's just so many great pockets and pools to put a fly and the fish seam to smash a well presented fly.
Some sections are also big enough to swing a fly with a Spey rod and is a great river to float fish.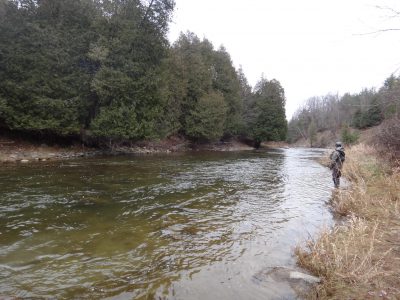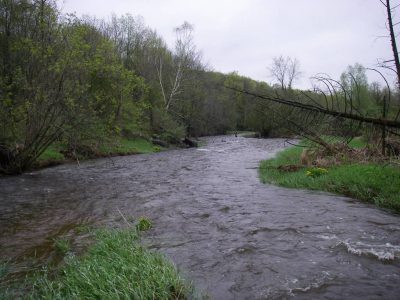 The Mad river is a tributary of the Nottawasaga river and the Noisy river is a tributary to the Mad River. Both have steelhead and salmon runs and have wild brook trout. There very few if any brown trout in these rivers.
The Boyne River is a tributary of the Nottawasaga river that enters the Nottawasaga River in the town of Alliston. Some sections of the Boyne river are very shallow and rocky while other sections have sandy or muddy bottom with lots of wood and fallen tree. This river has good fishing for steelhead in the lower sections and brown and brook trout in the upper sections.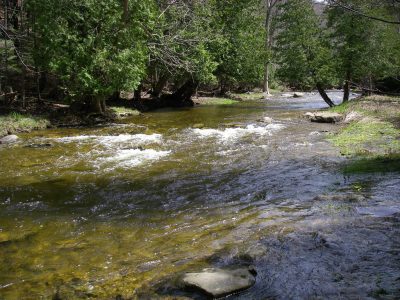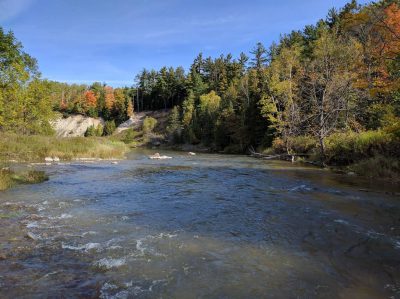 The Notty, as the locals call it is the biggest wild Steelhead river flowing into Georgian Bay and is said to have the largest runs of wild steelhead in all of Ontario. It also has good populations of brown trout and brook trout. The Nottawasaga is one of Ontario's best trout and steelhead rivers
The Beatty Saugeen river is tributary of the Saugeen river. It's heavily wooded in areas and has wild brook trout, brown trout. Lately there has been stocking of steelhead in this river.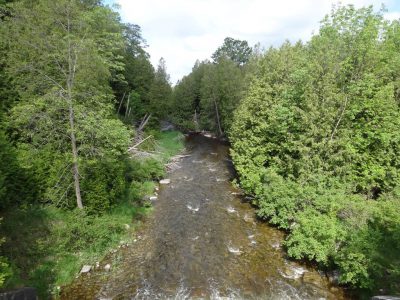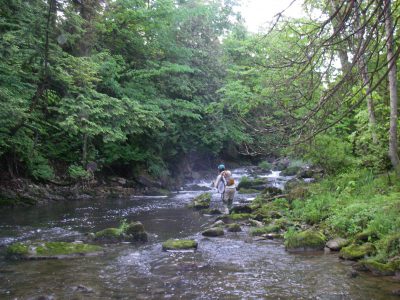 The Sydenham is a small river near the town of Owen Sound. It has steelhead and salmon in the lower sections and brown trout and brook trout in the upper sections. The steelhead and salmon can only access the lower river due to an impressive 100 foot water falls.
On occasion we fish and guide a few other small streams that we don't like to mention in public but if small stream fishing is your thing we might be able to help you out.
Small streams require more skill and accurate casts. Smaller streams also tend to have mostly smaller trout but they can stay cold all summer and the fishing can remain good.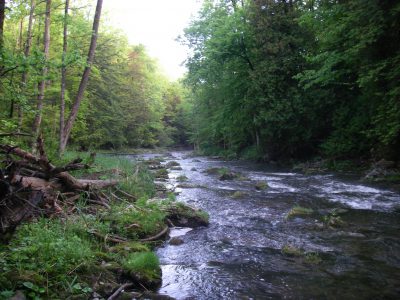 GUIDING ANGLERS SINCE 2000
WE MAY HAVE GUIDED MORE ANGLERS THAN ANY OTHER ONTARIO RIVER GUIDE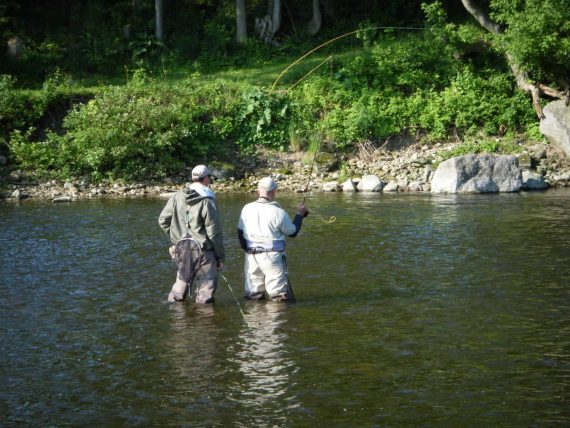 RIVER FISHING TIPS AND ADVICE
Have you ever wanted to know what the guides know? Now you can!
Anglers ask me all the time about what rods and reels and other gear that I recommend, or they ask me about my best flies, or my best methods or even which rivers are good to fish. I built a website that cover's all of that and more . . . . . You should checkout our sister site where I tell you exactly what gear you need and i give you free tips and tricks to help you catch more fish. Check out www.ontariotroutandsteelhead.com
Get a whole lot more on updated information about Fly Fishing, Centerpin Fishing and Spin Fishing For Trout and Steelhead on my new Blog Website. Current Blog Topics Include:
If any of these river interest you we have been fishing most of them for over 30 years and guiding them for the last 20 years.
Some of these rivers are only available for guide trips at certain times throughout the year due to Ontario's fishing regulations. Contact us for guided trip inquiries.